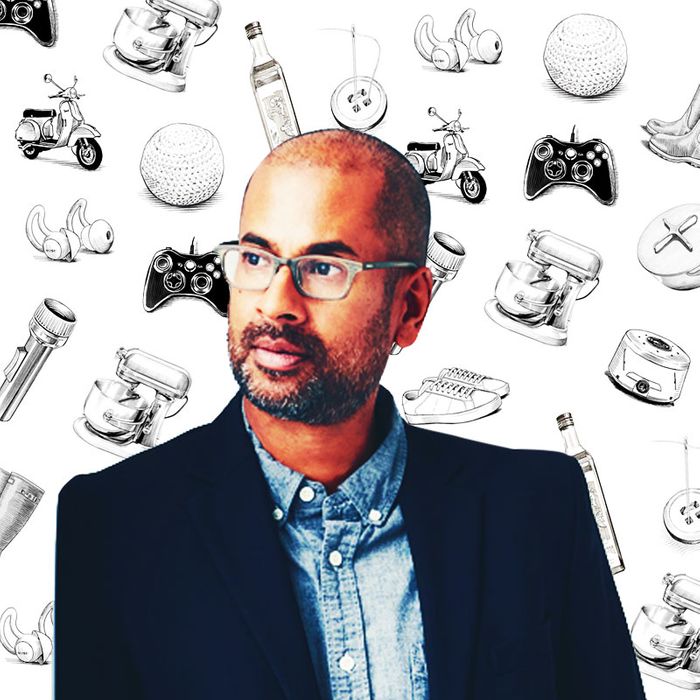 Photo-Illustration: David A. Land
If you're like us, you've probably wondered what famous people add to their carts. Not the JAR brooch and Louis XV chair, but the hairspray and the electric toothbrush. We asked author Rumaan Alam — whose new novel Leave the World Behind was recently short-listed for the National Book Award for Fiction — about the hand cream, jeans, and snack he can't live without.
I often work as a book critic, but even when I'm not reading a book for review, I have a certain mental tic to flag things inside of it. Simply underlining doesn't help because it's hard to locate where that thing that I underlined is. These stick outside of a book so that you can flip through all of the pages you've marked. I use them all the time. Also, I think they're very handsome. You can buy the little Post-it flags that lawyers will put on contracts to show you where you're supposed to sign, but these Semikolon ones are just more attractive. There's something European about them.
I used to work for women's magazines and one of the lessons I internalized from beauty editors was that a lot of that stuff is just kind of bullshit. A lot of real beauty editors use, like, olive oil and nothing else. They're in the business of recommending complex potions, but they themselves stay well-preserved by using natural, simple things. This coconut oil is that kind of thing. I prefer using it to lotion, especially in the summer: We go to the beach a lot so I use it after lying in the sun for six hours when I feel like a raisin. And in the dead of winter, when my hands are so dry I feel like I'm going to die, it helps. It feels like a way of doing something that's natural and healthy.
At some point in my adulthood, the experience of buying clothes fundamentally changed. I'm never in a dressing room trying anything on anymore. But I do remember trying these jeans on at Uniqlo, which is a brand that I love but a store that I absolutely hate going to. Whoever designed the stairs at the one in Soho is a sociopath because they're designed to feel like they're going to vanish and you're going to fall. Anyway, when I tried on these jeans I realized that I loved the way they fit, I loved the feel of the denim on my hand. When I'm not working in an office, these are the only pants I wear. I have them in black — I used to be anti–black jeans for a long time, and then I realized that if you wear black jeans and a black blazer, you look like you're wearing a suit, but you feel more comfortable. You can create the illusion of being dressed up.
Once every two years or so, I buy a new black blazer because I wear the hell out of them and they get sort of shiny and worn after a while. This is the last one I bought and I absolutely love it. It's so well-made and is the kind of thing that's deceptive in its simplicity. It's actually very hard to find a nicely made black blazer for men. It has Acne's signature pink-blush color under the collar, but that's kind of the only flourish that makes it seem in any way specific. It's the kind of clothing you put on and feel good in — you hold your body higher, you're attentive to your posture. It's a bit like armor, you feel equipped to go into any situation.
This is absolutely imperative in the dead of winter. Certainly what I do for a living is like the inverse of manual labor, but somehow my hands are always really dry in the winter. I'm cooking, I'm washing my hands, and I'm dealing with the kids who are elementary-aged, so I'm washing my hands again because they're always having runny noses and germs. This is a very, very nourishing cream that really moisturizes the skin. It is absolutely worth every penny.
These bars are so good. Normally, I am a profoundly anti-coconut person, but somehow, in this bar, it is so delicious. I eat one basically every day at 10 o'clock in the morning. It tastes like candy, but it also tastes like virtue. I used to eat Cliff Bars, but those taste like you're chewing on sawdust. I also ate Kind bars, and I felt like I was eating a Snickers. I don't know if the One Bar is healthy — I pretend that it is — but I do know that it's delicious.
A couple of years ago, for some reason, I switched from writing in pen almost all the time to writing in pencil. It's imperative to me that the pencil is really sharp, and since I can't carry around one of those elementary-school, plastic pencil sharpeners that catch the shavings, I needed a tiny pencil sharpener that I could carry with me. I found this very handsome brass one and bought a really beautiful vintage ashtray that I keep on my desk for the pencil shavings. It's very civilized. The sharpener is just a very well-made, utilitarian object. It's tiny, very heavy, and it really makes the pencil sharp.
This is a to-do list app and it's extremely easy to look at. You just pull down on the screen to add something to your list, and you swipe left to clear it off of your list. There's something deeply satisfying about that act of swiping it off to the left and watching it vanish. It makes a little ding — I usually keep my phone alerts turned off, but I'm fond of that one because it's like the sound of accomplishments. I have everything on my list, from the books I have to blurb, to my upcoming assignments, to reminders to make a dentist appointment for the kids. It's really how I keep track of basically everything that's happening in my household.
This bedding is completely handmade. It is not for somebody who wants really perfect things; it's a handcrafted item and more beautiful for it. It's a beautiful blue on a kind of creamy, neutral background. We have this one bedspread from the company that we use as our beach blanket, and it's basically been bleached completely because it's made of natural dyes. [Editor's note: Alam's exact bedding is no longer available, but this blue-and-cream set has a similar look.] The stuff is made by women and this particular organization is a collective; I believe that the money they raise from these sales gets invested in their community, so it feels ethical. When you order something, it comes wrapped in the most remarkable parcel. It really feels like you're buying from an artist.
Photo: Retailer
I'm wearing one right now. At some point in the last couple of years, I stopped wearing white T-shirts and started wearing black T-shirts. It's one of those things where your taste changes, and it's hard to explain why. I bought, like, 12 black T-shirts from Everlane, so I always have one waiting for me. I wear them all the time. I think they fit really comfortably. They're not close-fitting in a way that a feminine shirt would be, but they're not baggy in the way that an athletic-y shirt might be. Part of what's key is that they don't go down too long — a lot of men's clothes go down too long, and I'm short so it just makes me look ridiculous, like a child. I like that these land just below the waist.
I found these pouches on Amazon and absolutely love them. To me, there's something very Japanese about them. It's the ethos of pure utility. They're very durable and they don't get grungy looking. I'll put them in my nicer tote bags — one of the downfalls of buying a nice tote bag is that they're not that practical because they don't have a lot of pockets. I have one pouch that has my pens and my pencil sharpener and a pack of gum, and when I travel I have another one for my laptop cord and phone charger. I feel like I'm always rummaging in a bag, like a mom in a sitcom, looking for the hand sanitizer or the granola bar. But putting some of that stuff into these just helps keep things organized.
We are a coffee-intensive family. We take it very seriously. Sahadi's French roast is delicious, and it's not expensive. Sahadi's is a wonderful old family business, the kind of place where you want to spend your money. It's 100 percent worth it.
A couple of years ago now, my husband bought us these cups because basically every time we leave the house with our boys, whether for afternoon errands or first thing in the morning, one of the first stops we make is to get a cup of coffee. It felt like a tiny gesture toward thrift. Of course right now most coffee shops aren't letting you use your own cup, but before that we would bring these cups with us. Other travel mugs can be so insulated that the coffee is scalding for hours and you can never actually drink it. I like that these really replicate the feel of the kind of cup you'd get at Starbucks. Something is happening there psychologically, and I don't know exactly what it is, but I am very fond of that cup.
I have multiple Meg Cohen scarves. Weirdly, my 7-year-old is really into wearing them — actually, it's not weird at all because they're supersoft. Meg Cohen is just one of those small artisans who makes a couple of things and is really well-known and beloved for making those things and making them well. The fashion people I worked with once upon a time would always say, "You have to have a Meg Cohen scarf, you just have to." When you touch one or try one on, you're like, "I get it, I see why."
Photo: Retailer
I bought my first pair of these probably eight years ago. I'm about to buy my fourth pair. They last a long time. They are extremely handsome, in my opinion. They're very straightforward and incredibly comfortable and really, really well-made. They're a very comfy thing to wear ambling around the city, and if we were traveling, you could also wear them on the plane and feel good. Mine are always brown, and they have to be the driver, not the loafer. They look like what a really rich person would wear to feel comfortable, and that works a particular kind of magic on me.
The Strategist is designed to surface the most useful, expert recommendations for things to buy across the vast e-commerce landscape. Some of our latest conquests include the best acne treatments, rolling luggage, pillows for side sleepers, natural anxiety remedies, and bath towels. We update links when possible, but note that deals can expire and all prices are subject to change.