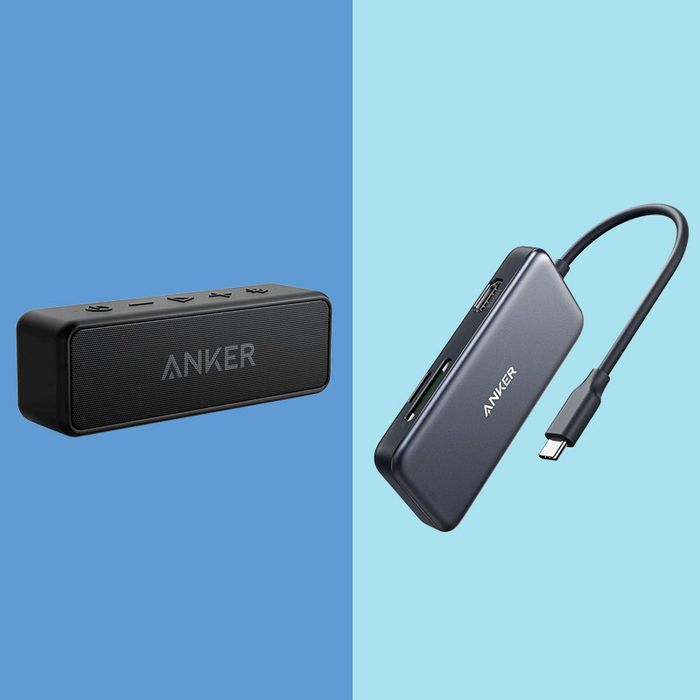 Photo-Illustration: retailer
If you've ever charged anything, you've probably heard of Anker. The company's power banks and chargers have become ubiquitous, and not without reason — they're some of the best we've ever used. The company makes a lot of other things, sometimes under sister brands like Eufy or Soundcore, including vacuums, docking stations, and speakers. But when you shop as regularly as we do, you learn that many brands just do some things better than other things. To help you find the best Anker has to offer, we've collected all its best products that we've written about here. You'll find former Strategist contributor David Pogue's favorite charging stand, the slim portable charger that Megababe founder Katie Sturino always gifts, a shockingly affordable portable speaker, and a robot vacuum that might save your relationship.
Charger stand
Strategist contributor David Pogue says, "My attitude toward wireless chargers changed when I found the Anker PowerWave charger." There's no annoying sweet spot to find on the wireless charger, and you don't have to worry about placing your phone horizontally or vertically; it always manages to charge in any position.
Wall chargers
The new Dual Port wall charger allows you to charge multiple phones, tablets, and other accessories at the same time — and so much faster than your 5W iPhone charger. The latest iPhones and Android phones support fast charging, which means this charger could get your phone from 0 to 50 percent in about 30 minutes.
This 2-port USB C 60W high-speed portable charger comes with easy-to-swap plugs for any travel situation. It's powerful enough to charge two laptops at the same time. And it has Anker's "Intelligent Power allocation" technology, which just means you can plug in other devices like a smartphone or tablet, and the charger will automatically figure out what type of device it is and give it the optimum level of charge.
Portable chargers
If you are "constantly scoping for your next outlet," Katie Sturino, founder of Megababe, recommends this slim portable charger. "It actually gives more than two times the amount of charge your phone needs," she says. The PowerCore Slim 10000 PD carries enough charge to fill your phone twice.
When we asked comedian Jacqueline Novak about the things she can't live without, she mentioned the Anker Fusion portable charger. Her boyfriend, a devout Anker user, gifted her with this portable charger. "Honestly, it's been huge. It's both the thing that plugs into the wall and the battery all in one … the wall charger is the battery. So all you need is this Anker and a USB cord," she says. When she got hers, Strategist writer Hilary Reid called Fusion "the most practical thing I bought this month." She says, "You use it as you would a normal wall charger and then remove it from the wall and take it with you as a fully charged portable battery."
"I call myself the Energizer Bunny, and if there is a battery pack that embodies this vibe, it's the Anker battery pack," says Ty Haney, the founder and CEO of Outdoor Voices. "I'm constantly on the road with my fiancé, Mark, or outdoors 'doing things,' so I always need a battery pack on me." The portable charger comes in three other colors — red, black, and white — and has two USB ports so you can charge two devices at the same time.
Our guide to the best portable chargers according to Amazon reviews surfaced the PowerCore+ Mini travel charger, with 4.3 stars and over 22,000 reviews. One reviewer says, "In celebration of my seniority of 70 years, I am making my next two-month trip with just a small Marmot backpack and an Eagle Creek Load Hauler Expandable duffel. Packing weight and compactness is my primary motivation for anything I take on the next trip. One extra pound is too much for this trip, so I chose the Anker PowerCore+ Mini 3350 mAh lipstick charger, which weighs around three ounces."
Another popular Amazon pick is the older version of this charger, which is great for laptops. One reviewer says, "It actually charges your Mac quickly while you use it, whereas other USB-C battery packs just help you maintain charge." According to another, "Anker stuff is always top of the heap, but this thing continues to amaze me. I've had it for over a year, and the fact that I can charge my 15-inch MacBook Pro with it still blows me away."
Cables
Strategist contributor Alison Freer says this comically long charging cable is virtually indestructible. "For two years, I've used it every single day. In my house, I'll drag it along everywhere I go. I can lie on any end of the couch and still charge my phone, or lie all the way down in bed (rather than awkwardly perch on one elbow next to the power strip), or even just ride in the back seat of a car with the phone plugged into the cigar socket and still use my phone while charging it," says Freer. "Two full years of heavy use later, it hasn't split, torn, bent, or even started to fray — and I've yanked, twisted, stretched, and dropped it repeatedly."