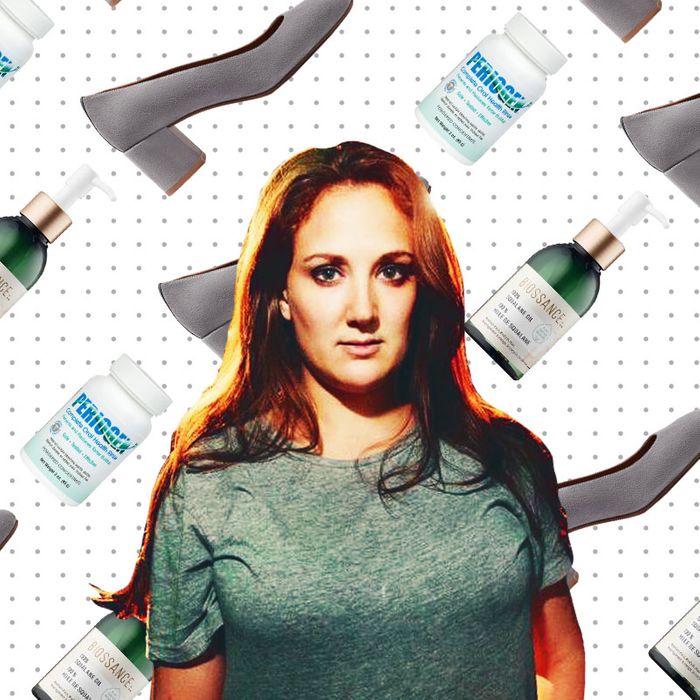 Photo: Courtesy of the subject
If you're like us, you've probably wondered what famous people add to their carts. Not the JAR brooch and Louis XV chair but the hand sanitizer and the electric toothbrush. We asked comedian Jacqueline Novak — whose show Get on Your Knees is at the Lucille Lortel Theater this month — about the face oil, mouth rinse, and jumpsuit she can't live without.
I still haven't found the perfect tee, but this Current/Elliott one is the current winner. It's not too long, not too short, and it's a really nice, almost mottled heather.
I was advertised this on Instagram and the photograph of the heel did something around the shape of the toe that actually pushed me past indecision into ordering. I just think it's the prettiest toe shape you can get — it has a look to it that makes your foot look a little bit like a cartoon foot in a heel. I then wore the gray ones around almost daily. They were the only heel I had for six months. It was the first time I've tolerated wearing a heeled shoe in a casual way. I buy stuff off Instagram a lot and I actually wish there was an option to only see ads, instead of people's content. I am not joking. I go on there to shop. Content is only in the way.
My Newm ring has a nice weaponry feel to it. It's primordial and futuristic at the same time. Erica Newman is a very unusual, toiling, little genius who is beyond thoughtful about what she makes. I once saw her in a T-shirt with a red snail on it that said "I'm slow, but I'm good." She does custom stuff, too, and if you're gonna deal with someone, I recommend seeking her out because then you get to deal with her. I fear she will blow up and become a huge bitch. Get in there while she's humble.
I love to try to find ways to eat everything I want in unlimited quantities and this involves a lot of homemade ice-cream adventures made from stevia- or sugar-alcohol blends and Lily's chocolate chips. The first time I saw it come together, I couldn't fucking believe it. When I tasted it and it tasted good, I truly felt like I was cheating death. It was a miracle. The ice-cream maker has four large parts that fit together easily, and it's easy to clean. I hate appliances but this one has been grand for me. It's a joy. I don't lose its parts. There aren't any little crevices to clean. It's ice cream, it should be easy and magical, even if I've made it out of glucomannan or some horror.
Photo: 19-08-13 briggsrudder AM2 B3 cor
I feel fucking cool in a jumpsuit, and I didn't know I would. I have a lot of Rachel's stuff — she is my cousin, so maybe it's too nepotistic, but it is true. There are a lot of jumpsuits out there now, but many are too flimsy to be actually comfortable. This one is nice, non-flimsy, and a comfortable weight. You can drop it on the floor by the bed, then later step back into it and head out — not unlike jeans. It's just great not to have to consider where one's top hits one's pants. The coolness of it is that it's still overall a baggy look — it's like, Look, I'm not trying to advertise the specific contours of my shape at this very moment. To me, that's what makes me feel confident wearing it. I'm obscured and I'm not upset about it. I'm also not hiding because I'm wearing a dalmation print.
Photo: Retailer
I read an article somewhere that said all the big facial oils of the last many years actually age the skin! I forget the science, but it made me swear off all oils … except this one. The article said squalane didn't have this issue. When I first got sold on it at Sephora, the woman at the store said, "Yeah, we just had a whole presentation on it, and Bill Gates invested in it." Hearing that Bill Gates was an investor, I was like, I'm listening. You don't hear that about all of the Sephora products. Also, squalene oil (which is different from squalane oil) comes from something weird, like shark livers or something — I'm getting this wrong, but the point is squalane is sustainable and plant-based. I dump it on my skin and it sinks in. I use it every day.
I love a good placebo and this may be just that. It's hydrogen-infused water? It's supposed to do a bunch of things … none of which I'm that concerned with. But for my theater run this summer in New York, I wanted to have some special water delivered there to feel like a grand asshole. Do I have any of my waters left? I require novelty in order to inspire myself to hydrate. If it turns out to be more than placebo, then hopefully they'll come out with a machine that let's you put extra hydrogen into your tap water at home. Then you can fill up your swell and go 'cause bottled water … is over.
This is an anti-plaque rinse thing that I can only get online off Amazon, and it claims to literally dissolve plaque. I'm convinced it's the rinse of the future. It's a powder which you have to mix yourself, which in my mind lends to the feeling that it's legitimate and not a quick money grab. Otherwise they'd make it more convenient. I try to use it every day. I dump it into my water flosser and shoot that between my teeth, and I feel like it's done me decently.
My boyfriend, Chris Laker, got me this because I tend not to stay on top of my device charging. He's an Anker user and his batteries are always charged, and mine never are. Honestly, it's been huge. It's both the thing that plugs into the wall and the battery all in one … the wall charger is the battery. So all you need is this Anker and a USB cord.
It's an auto-cat-feeder, and we have two of them because we have two cats. Our cats do better on more meals throughout the day, so we load up the ice pack and the wet food meals in here once a day, and the girls eat on the clock. They hear the mechanical whir and go running. Since the food comes from the machine, they don't yell at us as much to feed them.
I spent my youth rubbing my face with St. Ives Apricot Scrub, but now I'm all about that chemical exfoliation, baby. I like tearing open single-use packets. I like how they feel dermish versus, like, some nonsense. I think I found them from some good old-fashioned digging around in the Sephora forums. Then I watched some videos of Dr. Dennis Gross applying them and I was convinced. Single-use pockets are not eco, but they keep the product from degrading.
This is part shapewear, but also a bodysuit that you can wear alone under jeans. It's just cut differently than others, feels silky and stretchy, and comes in lots of colors. I always want to wear bodysuits, but a lot of them sort of dig in at the hip, creating a line under my jeans. This one has a different hip line. I'm definitely going to order many more. I've been wearing it under my tee shirts so I feel covered if my tee flies up during some of my more physical moments.
I just got these — they're socks designed to stick into your shoes and stay there. You don't have to wear socks, and you clean them every once in a while. They actually claim to clean themselves. I stuck them into my Air Jordans and now I can leave the house without finding socks. And I can never find socks, so these are possibly life changing for me.
The Strategist is designed to surface the most useful, expert recommendations for things to buy across the vast e-commerce landscape. Some of our latest conquests include the best acne treatments, rolling luggage, pillows for side sleepers, natural anxiety remedies, and bath towels. We update links when possible, but note that deals can expire and all prices are subject to change.