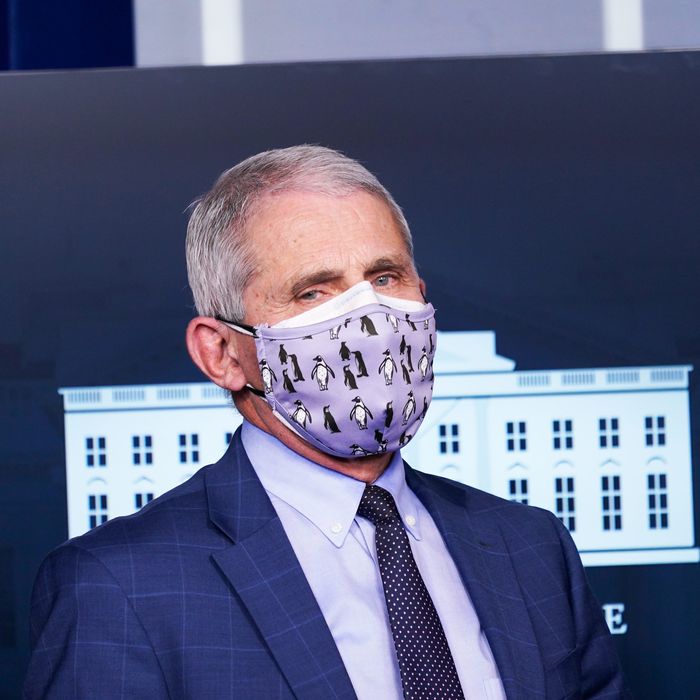 Photo: Bloomberg/Getty/Bloomberg via Getty Images
With new, more contagious variants of COVID-19 spreading around the world, mask-wearing is even more critical now than ever before. That's why doctors are doubling down on the importance of wearing a high-quality face mask to block the transmission of virus particles. In a study of 11 different face coverings, scientists at Virginia Tech found that the most efficient mask has two outer layers of "tightly woven fabric" with a filter layer in between. Not surprisingly, more layers equal more protection (as long as you can still breathe through the mask, of course). It's the same logic behind the practice of wearing two masks, which Pete Buttigieg and others did at President Biden's inauguration, and which Dr. Fauci recently told NBC News "likely would be more effective" than a single mask.
Just as fit is critical when selecting a face mask, when possible, you should look for filters specifically designed for your mask. As Christopher Zangmeister, a researcher at the National Institute of Standards and Technology who tested 32 face-mask materials in one study, explains, air — and the respiratory droplets it contains — will seek out the path of least resistance and escape through the parts of your mask not covered by a filter. He compares wearing a filter not designed for your mask to putting your thumb over a hose: The water will escape through the areas not covered by your finger.
We asked Zangmeister and three other experts to tell us about the most popular filter options available online.
PM2.5 filters
These filters are designed to filter particles down to 2.5 microns in size. This is larger than the size of a free-floating coronavirus particle, but when you consider that the virus is usually contained in larger particles of saliva, salt, and proteins, it's within that range. Dr. Krystal Pollitt, an assistant professor of epidemiology at the Yale School of Public Health, explains that because masks are generally more effective when they have more layers, a PM filter will add protection. Unlike masks, filters are not reusable and should be replaced roughly every 12 hours (which could be a few days of wear if you're only using your mask for quick errands).
Figs, which also makes stylish and functional scrubs for health-care workers, sells PM2.5 filters that'll fit in their masks and need to be replaced after 12 hours of wear.
We like this Vida mask because it's breathable and has adjustable ear loops so there's no need to struggle with string ties to get a good fit. Camilla Cho, senior VP of e-commerce at the Strategist, says the Vida mask is easy to breathe through, even with the filter. Vida's PM2.5 filters should be replaced weekly.
Polypropylene filters
You've likely heard of N95 respirator masks that are approved by the National Institute for Occupational Safety and Health (NIOSH) to filter out 95 percent of airborne particles. Along with being tightly fitted, N95 masks are so effective because they're made from nonwoven polypropylene, which has no gaps between the fibers (like you'd see in woven cotton). While N95 masks are currently only recommended for health-care workers, you can find filters made out of the same material.
Oura sells masks both with and without NIOSH-certified Honeywell filters that the brand says should be replaced every 800 hours. Strategist writer Liza Corsillo tried one out and says, "Oura's Air Mask does live up to its name: The fabric is indeed airy, and even with the extra N95 filter inserted, breathing is easy." It's also one of the few masks available that's been tested by a third-party lab.
Corsillo calls the Caraa masks "comfortable and well-fitting thanks to stretchy material, soft elastic ear loops, and a bendable metal strip in the nose bridge." Their filters look promising as well. They're laser-cut to fit Caraa's masks, are made from melt-blown polypropylene, and have gone through third-party testing. These should be replaced after ten hours of wear.
DIY filter materials
While it's ideal to use a filter made for your mask, if that's not an option, you can try using one of these materials proven to reduce particle transmission.
Amanda Wilson, an environmental health sciences doctoral candidate at the University of Arizona, led a recent study that used a mathematical model to compare how well different face-mask materials affected virus transmission during both short and long exposures. "Of the nontraditional materials that we compared in our model, the vacuum cleaner bag reduced infection risks the most," she says. "For a 30-second exposure in our model, it reduced infection risk by 83 percent, and for a 20-minute exposure, it reduced infection risk by 68 percent." Zangmeister agrees that a HEPA filter vacuum bag is an effective filter as long as you're inserting it between two breathable layers in a mask. This helps protect you from a major concern of vacuum bags: Some contain fiberglass, which you definitely don't want to inhale. According to retailer eVacuumStore, EnviroCare's vacuum bags are confirmed to not contain any fiberglass, and the brand states the same on their Facebook page.
You may not think the humble tissue would do much against a pandemic virus, but Stanford materials science and engineering professor Yi Cui, who co-authored a study on the best household materials for face masks, says that while they won't do much good on their own, tissues are actually fairly effective when used in a mask as a filter. He recommends adding two layers of tissue in the filter pocket of a cloth mask and changing the tissues out after each use. It's definitely an affordable choice.