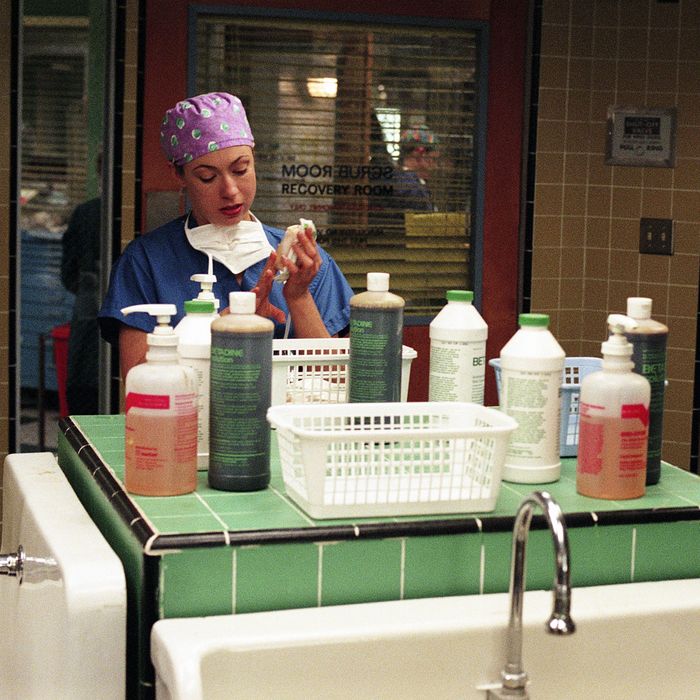 Photo: Paul Drinkwater/NBCUniversal via Getty Images
In light of the Omicron variant and at the urging of public-health experts, the CDC has updated its mask guidelines. The agency's new standards stress that fabric masks are the least protective against COVID-19, whereas well-fitting N95, KN95, and KF94 masks — which use special nonwoven materials with an electric charge to block tiny aerosol particles — do a much better job of stopping the virus's spread. Of course, any mask is better than no mask, but since this article was last updated in February 2021, we've talked to doctors, scientists, and public-health experts to help you find the best and most protective of the bunch. So whether you're looking for a comfortable N95 you can wear on a plane, a child-size KF94, KN95 masks your teenager can wear to school, or advice on double masking, we can help.
Since spring 2020, we've all become face-mask connoisseurs, with opinions on adjustable nose bridges, elastic ear loops versus string ties, and insertable filters. Even though nearly half of Americans are fully vaccinated, masks remain incredibly important now, over a year after the country's first lockdown and stay-at-home orders. This is due to the rapidly spreading Delta variant of the virus that is more contagious than the original. Now, the CDC recommends masks for all people — regardless of vaccination status — in areas with a high number of COVID cases, and individual city and state leaders are also beginning to once again recommend or mandate masks. In other words: We're not done with masks yet, and we need to keep some on hand.
While we've written a lot about masks before on the Strategist (including our personal favorites, the best options for kids, and the best masks for running outdoors), we were curious about the face masks that health-care professionals wear when they're off the clock, especially in light of the new recommendations. Some doctors and nurses we spoke with say they'll wear N95 masks outside of clinical settings, but because the current guidance for the public is to stick with cloth masks and save those for the professionals who need them, we've included only fabric and nonmedical disposable options below.
When it comes to double-masking, the doctors we spoke with recommended layering a disposable surgical mask under a fabric mask for the most protection. Samuel Lin, a plastic surgeon and associate professor of surgery at Harvard Medical School, tells us he wears paper masks when out shopping. This disposable mask is made from three layers of nonwoven material and is approved by the FDA for emergency use during the pandemic. As for what to wear on top, Shawn Nasseri, an ear, nose, and throat surgeon, and his wife and medical partner, anesthesiologist Bita Nasseri, suggest a mask with an outer protective barrier layer, two additional layers of protection, and a filter pocket.
Also authorized by the FDA for emergency use, these KN95 masks (considered the Chinese-made equivalent to N95 masks) would also work as a first layer under a fabric mask. "For conditions where there is little to no airflow, like an elevator or enclosed room, having a second mask might be a good idea," says Lin.
Another disposable mask that can be used under a fabric mask (or on its own if you're not in a crowded area) is this dust mask recommended by internist Jacob Teitelbaum, author of From Fatigued to Fantastic. "It leaves more room for my nose — which is somewhat prominent — and is much more comfortable," he says.
While dermatologist Marina Peredo uses N95 masks in the office, she doesn't like how they irritate her skin, so she switches to a HydraFacial mask when she's off duty. "I love that it has a metal piece on the nose to tighten the mask for more protection," she says. Peredo adds that the copper fibers in the mask help with moisture control to keep the skin cool, and they also have antibacterial properties.
Cosmetic dentist Marc Lowenberg says this mask from Israeli brand Sonovia is his "new go-to." These masks are coated with zinc oxide, which is gentle on the skin and may help prevent mask-related breakouts.
Because her wardrobe consists of "many vibrant colors," dermatologist Dendy Engelman says she gravitates toward these bright masks from LoveShackFancy. In light of the new recommendations for double-masking, she'll often layer these over an N95 mask to both up her protection level and "make it more fashionable." As Engelman says, "They have beautiful designs and soft fabrics, plus I'm protected with my N95 underneath.
A best seller among Strategist readers, these Buck Mason masks (made from three layers of the brand's thick cotton T-shirt material) are also a favorite of licensed medical pedicurist Marcela Correa, founder of Medi Pedi NYC. While she recommends cotton in general because it's "breathable, molds well to any shape of the face, and is machine washable," she particularly likes that the Buck Mason masks "have been treated with an antimicrobial layer, giving you that extra bit of protection." Underneath her Buck Mason mask, Correa wears a disposable surgical mask, like this one. She says, "It's thin enough that it doesn't feel constricting when worn underneath the cloth mask." She likes that they're affordable since she'll often swap out her disposable mask a few times during the day "to avoid breakouts and maintain a clean environment."