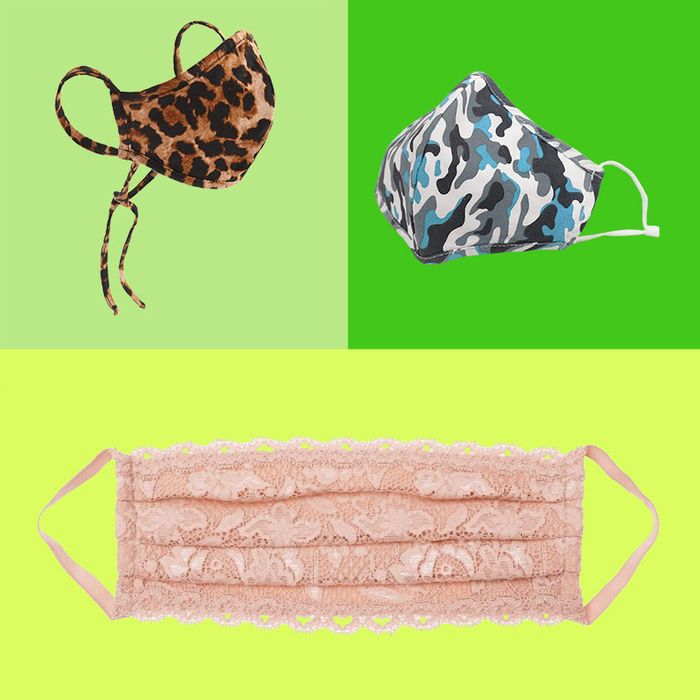 In just a couple of months, it seems like we've all become face mask connoisseurs, with opinions on adjustable nose bridges, elastic ear loops versus string ties, and insertable filters. This newfound expertise is a good thing, as the CDC and other medical experts agree that wearing face coverings — along with frequent hand-washing and social distancing whenever possible — is a key factor in slowing the spread of the coronavirus.
While we've written a lot about masks before on the Strategist (including our personal favorites, the best options for kids, and the best masks for running outdoors), we were curious about the face masks that health-care professionals wear when they're off the clock. Some doctors and nurses we spoke with say they'll wear N95 respirators or surgical masks outside of clinical settings, but because the current guidance for the public is to stick with cloth masks and save those for the professionals who need them, we've included only fabric options below.
A best seller among Strategist readers, these Buck Mason masks (made from three layers of the brand's thick cotton T-shirt material) are also a favorite of licensed medical pedicurist Marcela Correa, founder of Medi Pedi NYC. While she recommends cotton in general because it's "breathable, molds well to any shape of the face, and is machine washable," she particularly likes that the Buck Mason masks "have been treated with an antimicrobial layer, giving you that extra bit of protection."
San Diego–based facial plastic surgeon Amir Karam says he's tried lots of cloth masks but these three-ply cotton ones are his favorite. He tells us that cotton has "been shown to be the most protective material," and "it's light and breathable even if you use styles that include two or three layers." He says these masks "cover a fair amount of facial landscape," which maximizes protection, and are "less likely to require adjusting."
While the Fruit of the Loom mask above has elastic ear loops to keep it in place, if you want a more customizable fit, Karam likes that these masks have adjustable straps around the ears.
You'll find handmade masks on Etsy with pretty much any design available, but there are some key descriptions to look for to make sure you're getting one that's stylish and protective. Dr. Naveen Gupta makes her own face masks but says if you're shopping on Etsy to look for ones with at least three layers of tightly woven cotton. This style, for example, comes in a variety of patterns and is dentist Lana Rozenberg's pick for an out-of-office mask. "As the name suggests, the comfortable design has a nose wire and filter pocket along with four layers of cotton protection and adjustable ear loops," she says.
These Gap masks are a close dupe to disposable surgical masks, according to cosmetic dermatologist Michele Green. "They mimic the medical surgical face mask in design with three layers of fabric," she says. "They are breathable and washable too, which is why I like them."
These affordable masks are Green's top picks for running or other exercise. "They're made from breathable, tightly woven cotton that wicks moisture from your face to the outer layer of the mask," she explains. Having three layers also provides plenty of protection from droplets. According to Hanes, each mask should be replaced after 20 washes, which makes them less durable than some other options, but at $2 per mask, it's still an affordable option to save for workouts.
At the Detox of South Florida rehabilitation center, where gastroenterologist and addiction specialist Vikram Tarugu is both CEO and a clinician, employees are required to wear N95 respirator masks. However, when they're off duty, Tarugu says most of the staff relies on Vistaprint masks. He likes that the mask has a pocket for a filter and that Vistaprint sells replacement filters designed specifically for their masks. Tarugu says the mask and filter "do a great job at blocking airborne contaminants." Of the dozens of styles Strategist writer Liza Corsillo tested out to put together her seriously thorough guide to fabric face masks, the four-layer Vistaprint mask was also one of her favorites. Plus, it's a Strategist-reader best seller.
Green also likes Casetify masks, which come with two activated charcoal filters. Corsillo tested this mask and reported, "aside from some small gaps on either side of the nose, this mask fit well without feeling constricting. It's very soft inside and passes the light test without an added filter."
Internist Nesochi Okeke-Igbokwe says "comfort is key" when buying a mask and advises that "you may have to try a bunch of options out before finding the best fit for your face." She's personally had the best luck with this mask, which features a nose bridge wire that she calls "an added bonus to help facilitate a more secure and comfortable fit."
Baltimore-based internal medicine doctor Vivek Cherian tells us he recommends these Nordstrom masks to all his friends and family. "These masks are extremely comfortable, washable and reusable, adjustable, double-layered, and even have a built-in cotton filter pocket," he says. Some options even have both ear loops and a tie-on strap for an extra close fit.
When we went in search of the best gifts for nurses, several recommended the functional (and actually somewhat stylish) scrubs from Jaanuu. Konstantin Vasyukevich, a plastic surgeon in Manhattan, says they also make a high-quality face mask. "Jaanuu's masks are stylish, comfortable, and durable," he says. "They're a well-respected brand within the medical community."
When cosmetic dentist Marc Lowenberg isn't seeing patients at his Manhattan office, he wears one of these "comfortable, breathable, and easy to wash" cotton face masks. Lowenberg says, "I actually carry two or three with me all day so that if they get dirty, I have a backup ready."
This similar mask is what Croatian registered nurse and public-health doctoral candidate Boris Ilić wears outside of clinical settings. He likes the "tight-knit multilayer material" and interchangeable filters that "provide a certain level of protection against droplet transmission." This set of four masks comes with eight filters so you can go a while without buying replacements.
If you're suffering from — or worried about getting — maskne (acne caused by a face mask) dermatologist Dendy Engelman recommends these washable silk masks. "They do not cause any friction against the skin, which limits the risk of breakouts or irritation," she says.
For skin that's more sensitive than acne prone, Aanand Geria, a dermatologist with Apostrophe, likes soft cotton masks, specifically this one from Gildan. "The mask has a soft cotton lining making it breathable and perfect for sensitive skin," he says. "It can be tied in the back of the head which is nice because they don't put pressure on the back of the ears." Plus, Geria adds, he "can wear this mask all day long with no discomfort whatsoever."
Dermatologist Charlotte Birnbaum of Spring Street Dermatology also recommends silk or cotton for patients with acne-prone or sensitive skin. Her personal favorite is this lacy mask (with a soft, cotton lining) from the makers of some of our favorite underwear, Cosabella. "It comfortably fits my face, without being too tight or occlusive," she says. "The colorful options to choose from are a nice bonus."
As Beverly Hills plastic surgeon and Lipo Queen founder Suzanne Trott says, "It's nice to have something cheerful in these times," which is one of the reasons she loves these masks from Michelle Kim that come in a variety of styles, like Liberty of London florals and African Ankara prints. "They have a pima cotton lining and they are all made to order with customized elastic lengths, which makes them super-comfortable," says Trott. The different elastic lengths (as well as sizes for kids and toddlers) ensure a close fit for the best protection. You can also get a mask with a matching scrunchie if that's up your alley.
Here's a less-expensive floral mask that comes recommended by Houston-based dermatologist Elizabeth Mullans. It's made with two layers of cotton, a built-in filter, and adjustable ear loops for a close fit. "Cotton is the best fabric for the inner lining touching the skin because it is less irritating than synthetic materials," says Mullans.
If your aesthetic leans more athletic than flowery, there's likely a mask printed with the logo of your favorite team. Joshua Rivera, district director of operations at Brookdale Senior Living Community in New Jersey, says his Yankees mask reminds him of his grandma, who's a big fan.
Dentist Joseph Salim of Sutton Place Dental Associates custom-ordered masks from OC Mask with his practice's logo for everyone who works at his practice. The mask has an antiseptic liner and, with three layers of cloth, it's thick enough for sufficient filtration. While he wears a medical-grade mask in the office, he says that for everyday wear this cloth one is "lighter, more breathable [and] much more comfortable."
Registered nurse and clinical resource education manager Lisa Calabrese says that while some masks feel "suffocating," this Avon mask is surprisingly breathable. "The masks are truly very comfortable," she says. "The material is really soft and hasn't led to any breakouts." She also likes how the plastic nose piece contours to the shape of her nose "just like a medical mask."