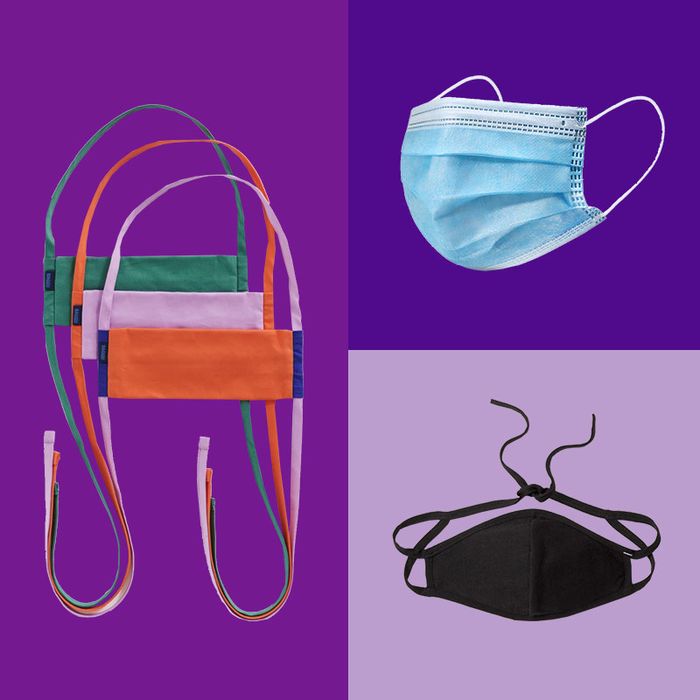 In light of the Omicron variant and at the urging of public-health experts, the CDC has updated its mask guidelines. The agency's new standards stress that fabric masks are the least protective against COVID-19, whereas well-fitting N95, KN95, and KF94 masks — which use special nonwoven materials with an electric charge to block tiny aerosol particles — do a much better job of stopping the virus's spread. Of course, any mask is better than no mask, but since this article was last updated in January 2021, we've talked to doctors, scientists, and public-health experts to help you find the best and most protective of the bunch. So whether you're looking for a comfortable N95 you can wear on a plane, a child-size KF94, KN95 masks your teenager can wear to school, or advice on double masking, we can help.
Masks now come in a vast array of materials and constructions. More choice is, of course, a positive, but since many of us are new to mask-wearing, the sudden influx of options can also occasionally make it challenging to determine which is the best one (fashion aside) from your collection to wear in any given situation.
Whether you're going to the grocery store or on the subway, both of the doctors we spoke to — Dr. Scott Segal, chairman of anesthesiology at Wake Forest Baptist Health, and Dr. Aaron Glatt, the chair of medicine at Mount Sinai South Nassau and a spokesman for the Infectious Diseases Society of America — agree that the best mask is one that is worn correctly, meaning tightly covering your entire mouth and nose without being suffocating. "You don't want big gaps around the sides or the top or the bottom because the whole point is to keep small droplets coming out of your mouth or nose from reaching somebody else," explains Dr. Segal, who points out that the public-health rationale behind wearing a mask is to protect others from your respiratory droplets, in the event that you're presymptomatic or asymptomatic for the coronavirus.
In addition to fit, both doctors agree that the best masks are multilayered; Dr. Segal, who is studying the protective effects of different fabric masks on the wearer, says that multiple layers of thicker, tightly woven quilting cotton, or a layer of thinner cotton plus an inner layer of flannel, are the most effective at filtering out small virus-size particles.
Though we already tested 32 fabric face masks according to efficacy and overall fit, there are more out there (and counting). So, here, we've consulted with doctors and folks who've worn masks in a bunch of different situations — from pop-up restaurants to the dentist's office — about the best masks for each of them.
On the subway
Both of the essential workers whom we spoke with — a foster-care case manager and grocery-store employee — mention that they prefer to wear surgical masks on the subway. Jason Weiner, a membership coordinator at the Park Slope Food Co-op who has been commuting about a half-hour on the subway to work throughout the pandemic, wears a surgical mask and face shield on the subway in order "to stay as protected as possible and keep myself and those I come in contact with safe." Though neither doctor we spoke to "routinely recommends" wearing N95 respirator masks, they don't discourage the use of medical-grade masks in riskier nonmedical environments, including a crowded subway where not everyone is masked. "If you're going to have to be in a high-risk environment, something like the subway, with lots of other people in a relatively closely confined area, perhaps for a prolonged period of time, then mask effectiveness might really play a difference in protecting you," explains Dr. Segal, who "couldn't argue" with someone wearing an N95 in such a situation but encourages folks not to divert supplies away from health-care providers when stocks are low. Dr. Glatt agrees that it's "not wrong" to wear an N95 in that kind of situation but still "wouldn't recommend it routinely."
On an airplane
Although the duration of airplane travel is usually longer than a trip on the subway, both the doctors we spoke to say that flights aren't necessarily riskier — depending on the social-distancing measures onboard — because airplanes are usually better aerated, and there are more regulations in place for ensuring that everyone onboard is masked. "The air is filtered reasonably frequently on the plane; you're not facing other people directly; and everybody's wearing a mask. So I have not heard about major outbreaks that have been traced back to airplanes," says Dr. Segal, adding that the mask you wear on an airplane should be especially comfortable, since you'll likely be wearing it for a long duration of time. When Mia Leimkuhler, Strategist newsletter editor, flew from Philadelphia to Montreal a few weeks ago, she wore a Baggu fabric mask for the entire four hours of traveling (door to Uber to plane to home), save for a sip of water in the airport. "The cotton is sturdy but totally breathable and really comfortable, and the tying apparatus meant I was less likely to futz with the mask," she says, adding that the lack of ear loops also meant she could wear her over-ear headphones on the plane.
While teaching
Photo: retailer
As schools across the country grapple with reopening, classrooms pose a risk for teachers this fall. In addition to the challenge of getting children to wear a face mask in the first place, teachers "may be in close proximity with students for a prolonged period of time, which increases the risk for everybody," explains Dr. Segal, who differentiates this level of risk from that of crossing paths with somebody in an indoor grocery store for a few seconds. Everyone in the New York City public-school system will be required to wear a mask at school this year, and Connay Bratton, a special-education music teacher in Queens, will also be expected to wear more full-body protective equipment, like a face shield, when in close contact with her students — some of whom need help going to the bathroom or have behaviors that aren't conducive to social distancing. Dr. Glatt agrees that for teachers who are in close contact with students (especially if they're unmasked), wearing "goggles or a face shield to cover your eyes, in addition to a mask, is reasonable." Although Bratton hopes that the state or city provides her with this gear, she doesn't know if they'll be able to because of budget cuts, in which case she's planning to wear the 100% Human Everlane mask as well. "I like how it fits my entire mouth and chin area and doesn't slip," she says, adding that her Vegamour mask (which comes with the purchase of the brand's hand sanitizer) has adjustable ear strings and also fits well.
At the office
Anna Kalm, an employment-development associate at the reentry-services organization Getting Out and Staying Out, returned to her office in June and has been wearing fabric masks from Sisters PPE (emblazoned with her organization's logo) ever since. "They're soft but still breathable," she says, adding that the multilayered masks are good for an air-conditioned workplace because they are a bit "warmer" than typical cotton T-shirt material. The doctors we spoke to say that wearing a well-fitting fabric mask in most workplaces should be sufficient, assuming there's some degree of air circulation as well as consistent mask-wearing and social-distancing measures in place.
At the grocery store
Although trips to the grocery store have become more stressful during the coronavirus, the doctors we spoke to agree that, barring crowds of unmasked shoppers, a fabric mask is sufficient protective gear. During the pandemic, Weiner was on the committee responsible for outfitting Park Slope Food Co-op employees with protective gear, and he helped secure Hanes cotton masks for all full-time and temporary staff, including Anya Shiferson. "They're quite snug on the face but breathable," says Shiferson, who is a temporary staff member during the pandemic. "I thought it looked boring, so I dyed it with beets and turmeric," she adds. Weiner himself likes the fabric masks made by a Co-op member, or those from Diop, a Black-owned brand making masks inspired by mud cloth, which we've said "fit tightly, without being constricting, and passed the light test."
At the hairdresser
Although you might be in closer proximity to your hairdresser than anyone in a grocery store, most hair salons are less densely occupied right now, since cities have set standards for reopening. At Sabine's Hallway Natural Hair Salon — where there are only three people in the salon at a time — owner Sabine Bellevue keeps disposable masks on hand for her clients because she doesn't want to dirty their masks during a coloring treatment. During the day, Bellevue herself often wears a fabric mask emblazoned with her salon's logo from a promotional company, which has a minimum order quantity of 48 masks ($3.99 a piece). "It's comfortable around the ear, and our days are maybe ten or 12 hours long, so having on a mask that long, you really want it to be comfortable," she says, adding that she's only able to see four clients per day, since each appointment takes time and she sanitizes for a half-hour in between. When Dr. Segal got his haircut recently, he wore a "high-quality fabric mask" that was donated by his local sewing community, adding, "I practice what I preach and try to save medical masks for the medical areas."
At the dentist
It's not possible to wear a mask at the dentist, which is why "you're hoping that the dentist is wearing appropriate protective equipment — to protect you as well as them" in that scenario, explains Dr. Glatt. When Strategist writer Lauren Ro recently went to her dentist, she wore her Buck Mason mask (which also comes doctor approved) and says that the dental hygienist wore two surgical masks and a face shield during the cleaning, adding that the office also had a bunch of other safety measures in place, including air filtration and a reception barrier.
At an outdoor restaurant or coffee shop
The food-industry professionals we spoke with said they preferred to wear medical-grade surgical masks while at work. At Cravo, a Portuguese concept pop-up restaurant that's appeared across the city — from the Gibson in Williamsburg to Dame Summer Club on the Lower East Side — chef and co-owner Nick Slemko (alongside Chris Dos Reis) says they wear disposable masks for sanitary considerations. "Once you're serving the public at any level, you need to be extra cautious and aware, and we need to hold ourselves more accountable than the average person, especially since we're making a space for people to congregate," he says, explaining that the team wears surgical masks on their trips to Portuguese markets, while prepping the food, and during service. Though Slemko also has a now-sold-out Anti Social Social Club mask (which is still available on eBay for $50), he found that it was harder to be more aware of washing it, adding, "First, people need to start wearing masks in general and then be more conscious to keep whatever mask they're wearing clean and sanitary." Similarly, Alfonso Wright, co-owner of Brooklyn Tea, says that any time his team is around customers, they usually opt for surgical masks, or fabric masks that were distributed by the Bed-Stuy Gateway BID. As an outdoor diner, remember to tip extra and bring your fabric mask — our resident kitchen and dining expert, Strategist writer Nikita Richardson, last wore her Hedley & Bennett mask (which gives money back to ensuring that front-line workers have proper PPE) to eat a "beautiful" meal of "a drippy rotisserie-chicken sandwich, French fries, and three glasses of wine" at the Fly. "I wear my mask up until I've been seated and then I feel like I have permission to take it off," she explains, adding that she also wears it when going inside to order food or drinks or use the bathroom. When it comes to other outdoor-dining safety measures, Dr. Glatt adds, "I wouldn't recommend people eat near others, at the same table, as others who aren't in their bubble [pod], it's a potential risk."
At a small, socially distanced outdoor event
Since aeration is better outside, the doctors we spoke to agree that "the same social interaction is certainly riskier indoors than it is outdoors," as Dr. Segal puts it, adding that, while social distancing and mask-wearing while close to others is still advisable outside, "we think that the degree of protection required is a little bit less outdoors." When Mike Del Moro, a booking producer on MSNBC's Morning Joe, married his husband, Alec Vlahos, in a socially distanced ceremony with eight immediate family members, they both wore masks designed by his mother-in-law. "She'd already been making masks for health-care workers, since my husband is an OB/GYN, and for the ceremony, she made masks for everybody. She made us ones that said "Mr." and "Mr.," and it was a really nice touch — obviously, not an ideal situation getting married during a pandemic, but a little thing like that goes a long way in making a moment feel special," he says. Since then, on the few occasions during which Del Moro has attended other outdoor, socially distanced events, like a friend's 30th-birthday party, he likes to wear his pride-themed mask from Henry, which "is easy to put on and off and very breathable. The main outer layer is almost porous looking, but the piece that goes against your nose and mouth has a filter," he explains, adding that it's important to him to save medical masks for medical workers and to try and wear something "that's a little more aesthetically pleasing."
While running
When Strategist senior writer Karen Iorio Adelson asked a handful of runners about the best masks to wear while running outside, nearly all of them recommended a neck gaiter, but a recent study revealed that these "gaiter-type neck fleeces" are worse than wearing no mask at all: They produce and leave a larger number of small respiratory droplets in the air than what is produced when wearing no mask at all. That's why Adelson also recommends this double-layered, breathable mask from BOA, which is specifically made for running. (Del Moro notes that he wears his breathable Henry mask while running, since it "hangs around my neck, and I can easily slip it over my nose when I'm near people.") "If you're outdoors, at a distance, you probably don't need to wear a mask; if you're within six feet, I would say to still wear a mask," echoes Dr. Glatt.
While hiking
Nailah Blades, founder of Color Outside, an organization that promotes outdoor exploration among women of color, opts for this "comfortable, adjustable" mask from Eddie Bauer, which has room for a filter, when she's hiking around others. "It doesn't make you uncomfortable" she says, noting that the mask is breathable, which Dr. Segal agrees is especially important because "you're going to breathe harder, so breathability is important to ensure that you wear it while exercising outdoors" (when you're near others).
The Strategist is designed to surface the most useful, expert recommendations for things to buy across the vast e-commerce landscape. Some of our latest conquests include the best acne treatments, rolling luggage, pillows for side sleepers, natural anxiety remedies, and bath towels. We update links when possible, but note that deals can expire and all prices are subject to change.