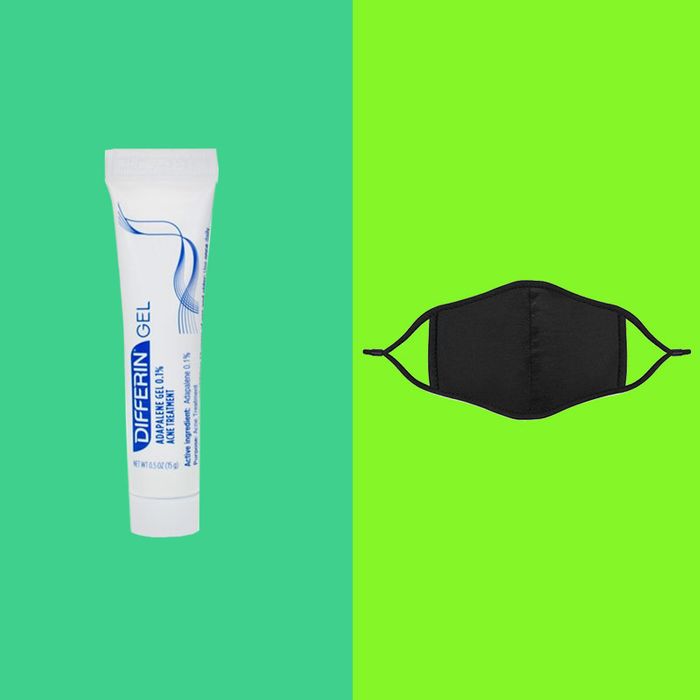 Photo-Illustration: Retailers
It's hard to believe that just a few months ago, phrases like "social distancing," "quarantine pod," and "flattening the curve" weren't part of our everyday vocabulary. If you've been a responsible mask-wearing citizen during the COVID-19 pandemic, you've likely uttered another new word recently: "maskne" — pimples caused by wearing a cloth mask.
"The technical term for maskne is 'acne mechanica,' and it is the result of the mechanical friction of fabric against the skin," says board-certified dermatologist Carlos Charles, founder of Derma di Colore. "That friction can lead to inflammation and irritation of the skin that impacts the pores, contributing to acne," he says, and it can be exacerbated by moisture getting caught in the mask from humidity and sweating — two things we deal with on a daily basis in the summer.
The good news is, you are not doomed to break out whenever you wear a face mask (which, come on now, should be whenever you're in public or can't social-distance). According to Charles and the three other experts we spoke with, a few simple changes to your mask-wearing and skin-care routine can make a big difference in getting rid of maskne and stopping it from forming in the first place.
Best masks for preventing maskne
One of the first steps in preventing maskne is choosing the right face masks. The dermatologists we spoke with all agree that you should stick with lightweight cotton or silk, both of which are gentler on the skin and create less friction than synthetics like polyester and rayon. This Vida mask is made from two layers of 100% cotton and even comes with a filter. Strategist senior VP of e-commerce Camilla Cho, who owns the Vida, says it's easy to breathe through, and she appreciates the snug fit from the metal nose piece. Another thing to do is get a mask that fits well. As celebrity facialist and dermatological nurse Natalie Aguilar explains, "I've noticed people constantly adjusting their mask every 20 seconds, which only makes friction worse and your mask dirtier."
After that, it's just keeping it clean. Board-certified dermatologist Dendy Engelman says, "use dye-free, fragrance-free detergents and fabric softeners. It's often scents and dyes that cause the problem." In her thorough guide to mask-washing, Strategist writer Hilary Reid calls this Arm & Hammer detergent one of the best for sensitive (and maskne-prone) skin. You'll want to wash your mask daily, so make sure you buy enough masks to last between laundry days.
If you want to give silk a try, these masks come from the same brand as our favorite silk pillowcase, which is also a top pick among those with sensitive skin.
Dermatologist Marina Peredo of Skinfluence tells us that copper's antibacterial properties can stop the growth of acne-causing bacteria — much the same way that silver or copper fibers in some athleticwear can prevent odors caused by bacteria. This mask, from FaceLife, can be washed up to 60 times without losing its bacteria-fighting properties.
If you're really struggling with keeping your mask clean and dry, Aguilar suggests disposable masks, which mean you'll always be wearing a fresh one. Strategist writer Louis Cheslaw switched from reusable masks to these disposables because they're thin enough to keep him from sweating in the summer's extreme heat.
Best maskne-preventing cleansers
When it comes to treating maskne, dermatologists say to look for gentle products that target acne without further irritating your skin. "Avoid products containing sodium lauryl sulfate, or SLS, a harsh chemical that can strip away the skin's natural protective oils and impair," Charles says. For acne-prone patients, Peredo recommends this gentle cleanser from CeraVe that's free of irritants and contains salicylic acid, which clears out dead skin cells and unclogs pores.
You might be tempted to wash your face every time you take your mask off, but dermatologists caution that this may dry out your skin and potentially cause additional irritation. "Overwashing can strip our skin's natural barrier," says Aguilar. If you're especially sweaty or have been wearing your mask for several hours, she suggests using a gentle wipe, like this one from Simple that's free of artificial dyes and fragrances.
Best maskne treatments
Even if you've been meticulous about keeping your mask and face clean, there's still a chance you can break out, especially if you have oily or acne-prone skin. To address these pimples, Charles recommends "classic spot treatments like benzoyl peroxide and salicylic acid." Engelman agrees that "spot treatments are great for pimples because they deliver a powerful dose of active ingredients — typically salicylic acid or benzoyl peroxide." Engelman likes Proactiv Emergency Blemish Relief as a spot treatment since it contains a powerful dose of 5% benzoyl peroxide. And although Medik8's salicylic acid gel is definitely on the pricey side, Strategist contributing writer Frankie May Wong raves about it, telling us it stops "painful cysts from fully forming, all in less than eight hours."