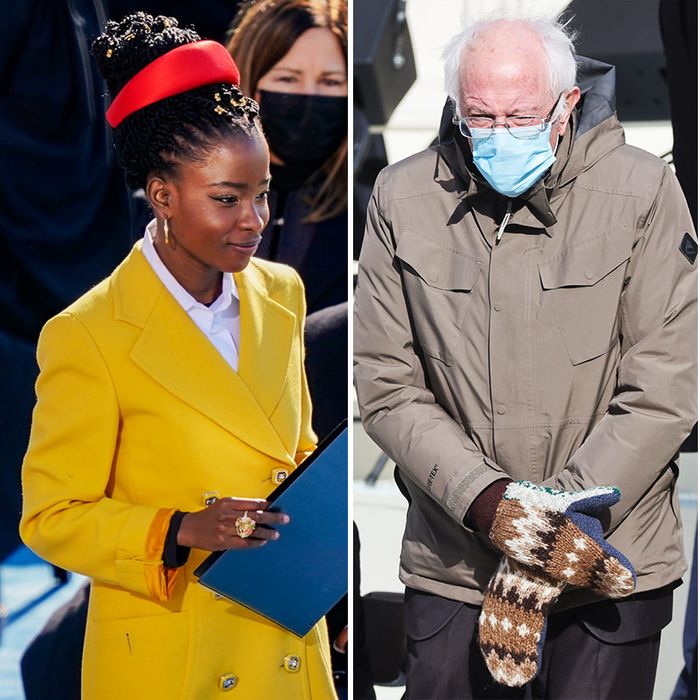 Amanda Gorman, Bernie Sanders, and Ella Emhoff on Inauguration Day
Photo-Illustration: Getty Images
While everyone else was (understandably) atwitter about Kamala Harris's purple Christopher John Rogers dress-and-jacket duo and Michelle Obama's Sergio Hudson belted jumpsuit, we — in true Strategist fashion — found ourselves obsessing over some of the lesser-discussed Inauguration Day accessories. How fast could we find baby Beau Biden's itty-bitty plaid blazer, we wondered? Who was behind Cory Booker and Rosario Dawson's indigo-dyed couple's masks? And where in the world did Lady Gaga buy that massive bird brooch? Those answers and more, below.
Bernie Sanders's mittens
As our friends at the Cut observed, Senator Bernie Sanders showed up "looking like a man who was preparing to shovel the driveway, a man who was standing in line at the post office, a man who was about to get into his Subaru Forester and head to the grocery store." According to BuzzFeed News political reporter Ruby Cramer, the handmade mittens were gifted to Bernie by Vermont schoolteacher Jen Ellis, who uses repurposed wool sweaters and fleece made from recycled water bottles. (Ellis is now, unfortunately, fresh out of mittens.) – Dominique Pariso
Cory and Rosario's matching tie-dye masks
Among all the masks worn at the inauguration, few were as nice-looking as the matching pair worn by Senator Cory Booker and Rosario Dawson. The couple donned blue batik masks from Studio 189, a line of made-in-Africa clothing and accessories founded by Dawson and Abrima Erwiah, a former executive at Bottega Veneta. Hand-dyed by local artisans in Ghana, the Lola mask has cotton straps for an adjustable fit and a filter pocket (two features we always like to see in a face mask). – Karen Adelson
Ella Emhoff's crystal-covered coat
The inauguration outfit coveted by everyone in Brooklyn: Today, Second Daughter Ella Emhoff ushered Gen-Z fashion into the White House in a Batsheva dress and plaid, crystal-emblazoned Miu Miu coat, which style writer Rachel Tashjian identified within minutes. Emhoff paired the coat — and its attached oversize collar — with all-black accessories, including a black surgical mask, a subtly textured black headband, and black leather gloves (we'd believe if you said she got them at the Frankie Shop, along with her now TikTok ubiquitous pinstripe suit). Until it sells out, you can buy a similar Miu Miu coat online, or, à la Emhoff's own DIY sensibilities, just buy some sparkly baubles and affix them to a plaid coat yourself. – Kayla Levy
Amanda Gorman's red headband
Inaugural poet Amanda Gorman wore a similarly excellent coat during her speech, but we (and much of the internet, it seems) couldn't take our eyes off her bold red headband. When the camera flashed to her profile, we spotted the signature Prada triangle logo stitched into the side of the headband, confirming our suspicions. The bright-cherry headband can still be found on Farfetch; her coat, also Prada, is nearly sold out, while her earrings are apparently a gift from Oprah. – Chloe Anello
Lady Gaga's bird brooch
Inside the Capitol building yesterday, Lady Gaga, draped in a white, futuristic Givenchy cape, posted to Instagram her wish for peace on Inauguration Day. Today she wore that wish on her chest in the form of a golden dove carrying an olive branch.
Gaga's fitted navy jacket and voluminous red silk skirt — both of which are custom Schiaparelli couture — represent the red and blue of the American flag, while her bleach-blonde braided updo looks to be inspired by Lady Liberty's crown. But it was the golden Hunger Games–esque brooch (and her moving rendition of the national anthem) that caught our eye. While most lapel pins are tiny, modest salutes to a personal cause, this enormous, shining gold bird was a call to the nation to put the past four years behind us and focus on a brighter future. Or so we imagine. And while custom Schiaparelli pins are hard to come by if you're not Lady Gaga, slightly less theatrical (and considerably less expensive) options abound. – Liza Corsillo