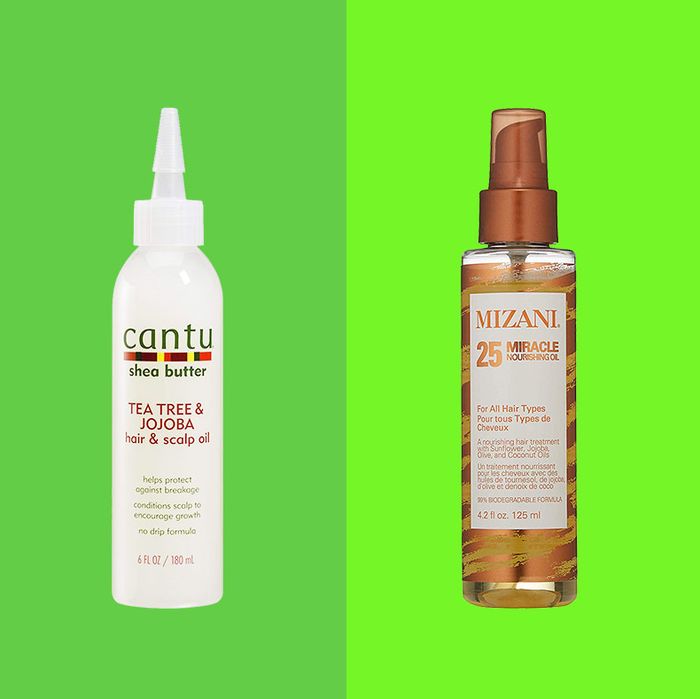 If you have textured hair, oils are a must. In addition to imparting shine, they're key when it comes to moisturizing, conditioning, and reducing (or, when they're really good, even eliminating) frizz. "Oils are definitely our best friend," says celebrity hairstylist Ursula Stephen, who particularly likes avocado, almond, coconut, and jojoba oils (the latter, she says, because it's so similar to the natural sebum actual hair produces, and works well on coarse hair, fine hair, and hair that falls somewhere in between). We talked to Stephen and eight other hairstylists and beauty editors about their favorite oils for curly, kinky, and coily hair — and many included the products they themselves use.
Best Lightweight, Nongreasy Oil
Beloved for its nourishing ingredients and nongreasy feel, Mizani 25 Miracle Nourishing Oil was highly recommended by both the Zoe Report's beauty editor Khalea Underwood, who uses it on her natural curls and protective styles, and Daryce Brown-Willis, founder of A Curl Can Dream. "It smells fantastic and delivers hydration and shine without all of that yucky stick," says Underwood.
For naturals who wear their hair straight, like freelance beauty writer Blake Newby, a highly penetrating, but still very lightweight, oil is a must. Newby particularly likes this Oribe option, which she says leaves her hair moisturized, but not the least bit greasy. To use, she applies to wet hair prior to blow-drying. "A little goes a long way with this one," she says.
Best Pretreatment Oil
Akili King, beauty assistant at Vogue, recommends Bomba Curls Dominican Forbidden Oil as a pre-shampoo treatment to help detangle hair before washing, noting its thicker, but still nonsticky, consistency. "I saturate my scalp and strands and let it sit while I'm doing chores around the apartment, or keep it in overnight, then wash it out the next day," she says. "I like that it protects my hair from shampoos, which often strip your hair's natural moisture."
Best Oil for Hair Growth and Repair
Nigella Miller, owner of Nigella Hair Studio, likes Eden BodyWorks Peppermint-Tea-Tree Hair Oil for its ability to decrease dandruff (that's thanks to the combination of peppermint- and tea-tree oils) and deeply moisturize and condition (via the coconut oil). "I love to use it on my clients to make sure their scalps are getting the nutrients they need," says Miller.
L.A.-based celebrity stylist Angela C. Styles likes to use natural-oil blends on curly textures. Her absolute favorite, for its versatility, is jojoba (it works well on a variety of different hair types and textures). Cantu Beauty's Tea Tree & Jojoba Hair & Scalp Oil is her favorite product for repairing and preventing damage. "It combines several of my favorite oils — namely, jojoba and tea tree," she says, "and helps prevent breakage, encourages hair growth, promotes healthy, shiny hair, and conditions the scalp."