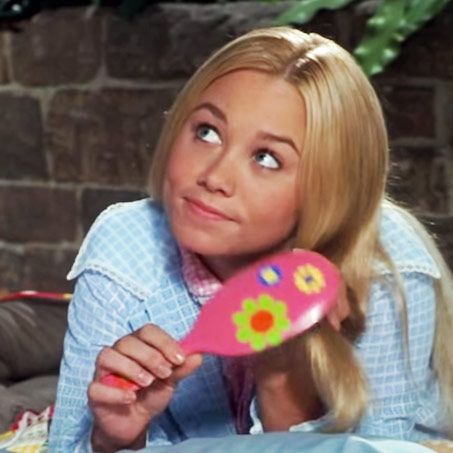 Photo: Courtesy Paramount Pictures
While certain types of hair (like the chemically treated and long, fine strands) are more prone to tangling, anything from an especially windy day to sleeping on unbrushed hair can lead to knotted strands that are difficult, and often painful, to detangle. But matted hair doesn't have to be a literal headache to deal with, especially if you're armed with the right products and tools. We spoke to eleven hair stylists who shared their techniques and favorite shampoos, sprays, and oils, for getting out knots — and preventing them.
Best overall tool for detangling hair
When we asked hair stylists and salon owners about the best hairbrushes, Masami Hosono, founder and creative director of Vacancy Project, and Jennifer MacDougall, a New York–based beauty expert, told us about wet brushes, which refers to the kinds of brushes that have plastic, rather than boar, bristles. While the term "wet brush" could apply to any plastic-bristle paddle brush, the name is drawn from the original: The Wet Brush Pro Detangler. We had heard about it from writer Alice Gregory, who says that she'll "bring the one I keep at home with me when I go to get my haircut, lest they're not equipped for the job" — and from three of the hair stylists who we reached out to for this story. Stylist Brooke Jordan of The Bird House salon calls the Wet Brush "brilliant," adding, "I don't know WHAT kind of technology they use to create this brush, but it's really amazing how well it works to detangle without damaging and without pain." Stylists Andrew Chen and Kyle Malone are fans, too. "It has gotten tangles out of really matted hair," Malone says. "It's very durable and it really gets through everything. It's literally like magic." True to its name, it's ideal for detangling wet hair, but Malone says it can also be used on dry hair as an everyday brush. And whether you're brushing wet or dry hair, take a tip from Jordan: "Anytime you're brushing you should always start at the bottom to gently detangle the ends then move up the hair shaft," she says.
Best products for preventing tangles
To stop hair from tangling in the first place, stylists stress the importance of keeping hair healthy. "If you're really struggling with tangled hair, or you're finding it hard to brush through, it's likely the most obvious solution is the simplest — you need a haircut," says Jordan. Hairstylist Kristi Wilczopolski agrees: "You do really have to start with the health of the hair," she says. "The healthier the hair, the less tangles it's going to have." She explains that build-up on the scalp, from product use or even environmental pollution, makes hair brittle and more likely to tangle. A weekly scalp detox — her favorite is this all-natural one from Act+Acre — cleanses and stimulates the scalp to encourage healthy hair growth. "It's really fresh, and it's made of all-natural oils, so it's super nourishing," she says.
Stylist Antonio Diaz's philosophy is similar to Wilczopolski's. "The best thing is just to use a good shampoo and a good conditioner to prepare the hair when it's wet so it doesn't get too tangled," he says. He calls this duo from Manhattan's Salon AKS "amazing" for taming frizzy hair, which is especially prone to getting knotty.
Like the scalp detox, a clarifying shampoo gives hair a deep clean, washing away the buildup that causes strands to tangle. "It's important to get a good one because you don't want it to fully strip and dry out the hair," says Wilczopolski. As its name suggests, Bumble and Bumble's Sunday Shampoo, one of her "tried and true" picks, should be used once a week to cleanse hair of any residue.