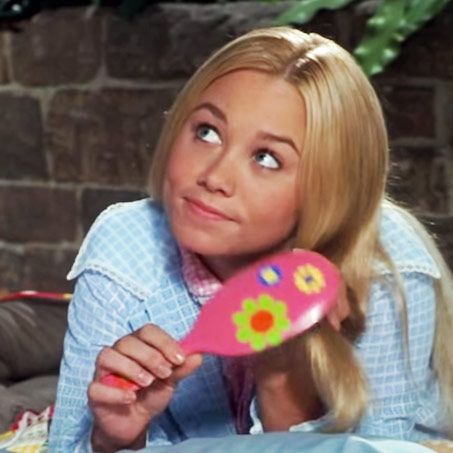 Photo: Courtesy Paramount Pictures
While certain types of hair (like the chemically treated and long, fine strands) are more prone to tangling, anything from an especially windy day to sleeping on unbrushed hair can lead to knotted strands that are difficult, and often painful, to detangle. But matted hair doesn't have to be a literal headache to deal with, especially if you're armed with the right products and tools. We spoke to eleven hair stylists who shared their techniques and favorite shampoos, sprays, and oils, for getting out knots — and preventing them.
Best overall tool for detangling hair
When we asked hair stylists and salon owners about the best hairbrushes, Masami Hosono, founder and creative director of Vacancy Project, and Jennifer MacDougall, a New York–based beauty expert, told us about wet brushes, which refers to the kinds of brushes that have plastic, rather than boar, bristles. While the term "wet brush" could apply to any plastic-bristle paddle brush, the name is drawn from the original: The Wet Brush Pro Detangler. We had heard about it from writer Alice Gregory, who says that she'll "bring the one I keep at home with me when I go to get my haircut, lest they're not equipped for the job" — and from three of the hair stylists who we reached out to for this story. Stylist Brooke Jordan of The Bird House salon calls the Wet Brush "brilliant," adding, "I don't know WHAT kind of technology they use to create this brush, but it's really amazing how well it works to detangle without damaging and without pain." Stylists Andrew Chen and Kyle Malone are fans, too. "It has gotten tangles out of really matted hair," Malone says. "It's very durable and it really gets through everything. It's literally like magic." True to its name, it's ideal for detangling wet hair, but Malone says it can also be used on dry hair as an everyday brush. And whether you're brushing wet or dry hair, take a tip from Jordan: "Anytime you're brushing you should always start at the bottom to gently detangle the ends then move up the hair shaft," she says.
Best products for preventing tangles
To stop hair from tangling in the first place, stylists stress the importance of keeping hair healthy. "If you're really struggling with tangled hair, or you're finding it hard to brush through, it's likely the most obvious solution is the simplest — you need a haircut," says Jordan. Hairstylist Kristi Wilczopolski agrees: "You do really have to start with the health of the hair," she says. "The healthier the hair, the less tangles it's going to have." She explains that build-up on the scalp, from product use or even environmental pollution, makes hair brittle and more likely to tangle. A weekly scalp detox — her favorite is this all-natural one from Act+Acre — cleanses and stimulates the scalp to encourage healthy hair growth. "It's really fresh, and it's made of all-natural oils, so it's super nourishing," she says.
Stylist Antonio Diaz's philosophy is similar to Wilczopolski's. "The best thing is just to use a good shampoo and a good conditioner to prepare the hair when it's wet so it doesn't get too tangled," he says. He calls this duo from Manhattan's Salon AKS "amazing" for taming frizzy hair, which is especially prone to getting knotty.
Like the scalp detox, a clarifying shampoo gives hair a deep clean, washing away the buildup that causes strands to tangle. "It's important to get a good one because you don't want it to fully strip and dry out the hair," says Wilczopolski. As its name suggests, Bumble and Bumble's Sunday Shampoo, one of her "tried and true" picks, should be used once a week to cleanse hair of any residue.
Wilczopolski likes R+Co's deep-cleaning Oblivion shampoo because it's actually gentle enough to use daily. "They've made this crazy formula that's in between a clarifying and everyday shampoo," she says. "It leaves the hair pretty glossy." Coconut oil moisturizes the hair, preventing it from drying out.
For a cruelty-free, vegan clarifying shampoo that's also free of parabens and sulfates, Wilczopolski likes this surprisingly affordable option from Acure. "It leaves the hair clean yet the oils in the shampoo are going to nourish and be super nutrient-rich for the actual hair follicles."
Sara Jane Booth, a hair stylist at Ion Studio in Soho, says that she'll apply this "somewhat heavy" conditioner to the mid-length section and ends of hair before combing out her clients' knots. "It's my go-to product for getting out tangles," she says. The conditioner is made for breakage-prone hair, and is packed with moisturizing ingredients like lentil seed extract, which helps protect fragile hair from damage. A note: If your hair is on the thinner side, you might want to skip this one. "This is too thick to be used as a daily conditioner on someone who has fine hair," says Booth. "But it does work better than anything else at getting out tangles."
Best tools for preventing tangles
Along with washing with a clarifying shampoo to rid hair of impurities, Wilczopolski says you can eliminate some buildup by using a water-softening shower filter, especially if you live in an area with hard water. "Hard water has a ton of calcium and minerals in it that gets built up on the hair over time," she says. "It's the same thing as if you're using lots of products every day." She uses the T3 filter to ensure she's only rinsing with clear, clean water.
According to hair stylist Kyle Malone, not brushing your hair regularly quickly leads to knots. Stylist Andrew Chen agrees, adding, "Finer, textured, and denser hair will need more TLC, so you'll need to brush more frequently throughout the day." He recommends using a Mason Pearson brush daily to keep hair snarl-free, though it works best as a preventative measure rather than a detangling tool (more on those below).
Best detangling oils and serums
If you're already dealing with a head full of tangles, stylists have lots of suggestions for products that'll help you work through the knots. Chen likes using oils, especially this hydrating one from Shu Uemura. "A little drop goes a long way," he says. "[It's] never greasy and moisturizes amazingly. Always start on the ends of your hair and work your way up."
Two products Diaz loves for detangling, as well as prepping hair for heat styling, are an old standby L'Oréal oil and a newer serum from Iles Formula. "Neither of these products weigh down the hair," he says. "[They] give it shine and also prepare it for blow-drying."
Best detangling sprays
Both Jordan and Booth told us about Davines OI All In One Milk, which Booth describes as "a lightweight conditioning oil spray with a milky finish." Booth applies it to all types of wet hair, and says that by the time the hair dries most of the product will have absorbed, so that it doesn't leave behind an overly shiny, or greasy-looking, finish. Jordan calls the Davines milk "absolutely amazing for providing moisture and frizz control," and notes that it can be used as a protectant before blow-drying or styling hair with heat.
If your hair tends greasy, and you prefer something oil-free, Jordan also told us about Sachajuan's leave-in conditioner, which she says is perfect for finer hair. "It works great as a replacement for regular wash-out conditioner for those with fine hair, who need detangling and moisture but don't need a full glop of super, super-thick conditioner."
Those with color-treated hair might want to try IGK's Thirsty Girl Leave-In Conditioner, which comes recommended by Dhiran Mistry, stylist at David Mallett salon. "It's a great product for all hair types and contains UV protection — plus, it's color-safe," he says. "Spray it on damp hair for really excellent frizz control." According to IGK, the spray also uses hyaluronic acid technology — similar to what you might find in your hyaluronic serum — to lock moisture into your strands.
Most leave-in conditioners are meant to be used on damp or wet hair, but hair stylist Shirley Hagel says that this one from Aveda is "light enough to be used in wet or dry hair," and can be used on all hair types, from fine to super-thick. Despite its light consistency, the conditioner is full of hydrating ingredients, including organic pomegranate seed oil and sand ginger, which, according to Hagel, "help revitalize and restore dull, dry hair." It also works as a heat protectant, so if you're looking for a light-but-powerful detangler to spritz on dry hair before reaching for your straightener in the morning, this might be your best bet.
If you want to take your detangling to the next level, hair stylist Jehnna Foster told us that for her especially tangle-prone clients she will make a 50/50 mix of these two Davines products. Paired together, the mist and oil create a lightweight mixture that can be sprayed on hair to detangle and control frizz both. "The key ingredient in the Dede mist is red celery, which is full of salts and minerals that help hair retain moisture and nourish the hair," says Foster. Meanwhile, the oil includes castor oil and wheat protein, two ingredients known for nourishing and thickening hair.
"Detangling hair wet is best," says Chen. "Using a little bit of conditioner or hair masque will make the job easier in the shower. Another trick is to use a light leave-in conditioner." Like all of these detangling sprays, the Wella leave-in conditioner (that Chen calls "super light and nourishing") should be spritzed on damp hair for best results.
A combination leave-in conditioner and detangler, this "milky" spray is a go-to for both Malone and stylist Romina Manenti. Manenti says it "acts as a moisturizer and contains humectants which will draw moisture into your hair and promote [detangling]." She explains that moisturizing hair helps seal the cuticles that are otherwise raised and prone to knot-causing friction.
A "luxurious, elegant" spray, according to Wilczopolski, Oribe's detangling primer both breaks up knots and nourishes hair. "It instantly detangles and is best used with a comb," she says. While it'll work for all hair types, Wilczopolski says that because it's on the more expensive side, it may be a better deal for people with finer hair who won't have to use as much product each time.
Another option for fine hair, this R+Co mist is Wilczopolski's pick for those who may find other products too heavy. "This one's really, really light and it doesn't weigh down the roots," she says.
On the other hand, if you have thicker hair, Wilczopolski likes Verb's creamy mist. "It's super hydrating so you don't want to use it so much on the roots, you want to concentrate it more on the ends." It's perfectly suited for coarse hair that won't be weighed down by its rich formula.
For very curly hair, Wilczopolski says DevaCurl is her go-to for detangling. "DevaCurl is good whether the hair is fine or coarse, and it still helps hold the curl pattern," she says. Like a lightweight leave-in conditioner, it untangle curls without even a brush or comb.
Best detangling tools
"I use this brush for everything — it is totally my go-to — but it's especially great for hair that tends to tangle," says Foster. "The large, wide-set bristles are gentle on hair with large tangles and great for detangling messy hair, wet or dry." The brush has an ionic soft cushion, which means that if you use it on dry hair it has the added effect of fighting static. "It's such a bang for the cost, and it last years," says Foster.
Diaz's brush of choice is designed by celebrity stylist Yves Durif, who owns an eponymous salon in the Carlyle Hotel. He likes that even on the most matted, tangled hair, it's gentle enough to not break or split strands.
If you prefer a brush with a denser spread of bristles, Mistry told us that this nylon bristle Shu Uemera brush is "the absolute best brush I've ever had." What makes the brush stand out is its bristles, which simultaneously detangle hair, stimulate the scalp, and enhance overall shine. To get the most out of your brushing, take a tip from Mistry: "The trick is to not press the whole thing down on your head at once, but slowly work the tip of the brush gently through the knots and tangles," he says.
Manenti takes a high-tech approach to detangling with this electric brush, which she discovered after working on-set with models who had "big hair, antigravity" looks (that were achieved by lots of tangle-inducing backcombing and product use). "I had to upgrade my tools to detangle hair," she says. "The detangling brush generates negative ions, which counteract the static charge of the hair, creating smooth, luscious hair."
The Strategist is designed to surface the most useful, expert recommendations for things to buy across the vast e-commerce landscape. Some of our latest conquests include the best acne treatments, rolling luggage, pillows for side sleepers, natural anxiety remedies, and bath towels. We update links when possible, but note that deals can expire and all prices are subject to change.