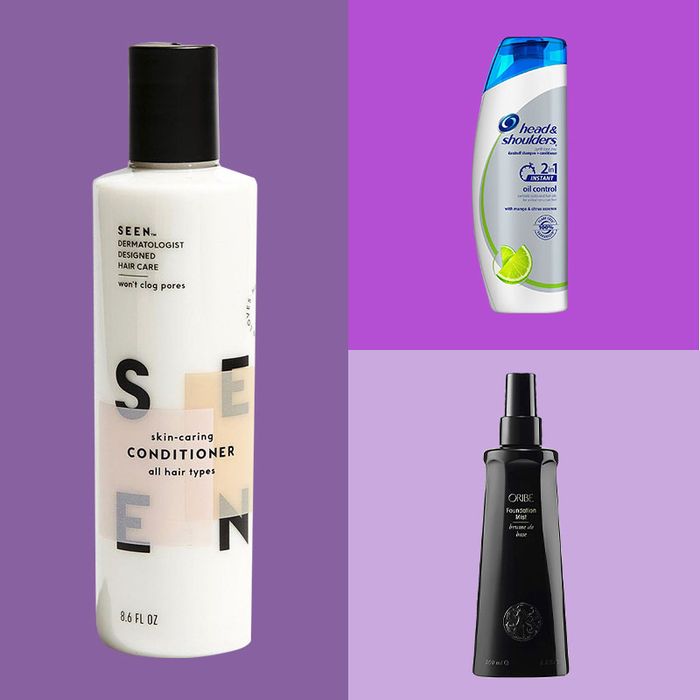 What's best for your hair isn't always what's best for your skin. While a hydrating hair-care routine can tame frizz, define curls, and lock in moisture, it can also wreak havoc on your complexion. "Many of the comedogenic ingredients in hair products work great for hydrating the hair, but let's face it — they can cause acne," says board-certified dermatologist Hope Mitchell, especially along your hairline, neck, and back. "Even if you've never had acne, some hair products can cause breakouts. The bumps can be subtle, or bold whiteheads that can be spotted across the room."
In order to prevent hair-care-induced acne, as well as other skin conditions like psoriasis, seborrheic dermatitis, or even dandruff, board-certified dermatologist Sapna Palep of Spring Street Dermatology recommends to first eliminate a (rather long) list of comedogenic ingredients from your routine. "I tell patients the most problematic ingredients are oils like coconut, argan, palm kernel, apricot kernel, wheat germ, olive, and moroccan. You also want to avoid a lot of heavy petrolatum, sodium lauryl sulfate, sodium laureth sulfate, sodium chloride, isopropyl myristate, fragrance. Too much glycerin is tough for the skin, too."
Lastly, both dermatologists recommend wearing your hair pulled back while sleeping and working out. They also suggest changing your pillowcases regularly, to prevent product transfer. But if you're looking for some products that won't break you out in the first place, we asked three dermatologists for their favorites (and hunted down some other products that met their requirements, too), including fragrance-free conditioner, plant-based dry shampoo, and even oil-free curl cream — all of which are safe for skin.
Shampoos and Conditioners
Both Mitchell and Palep recommend SEEN hair care, a dermatologist-formulated line that the brand says is "clinically proven to be noncomedogenic and nonirritating." The line is free from "sulfates, phthalates, silicones, dyes, or pore-clogging oils," says Mitchell, and all of its products are available in both lightly fragranced or fragrance-free options. "SEEN is a really good [brand] that comes up over and over again," agrees Palep. The shampoo and conditioner are formulated for all hair and skin types, too, including color-treated hair.
"If you're someone whose skin is sensitive to everything, that's your go-to," says Palep of the Free & Clear shampoo and conditioner. "They're probably the most recommended by dermatologists." Both the shampoo and conditioner are free from dyes, fragrance, parabens, sulfates, oils, and gluten, meaning they won't "clog you or break you out," Palep says.