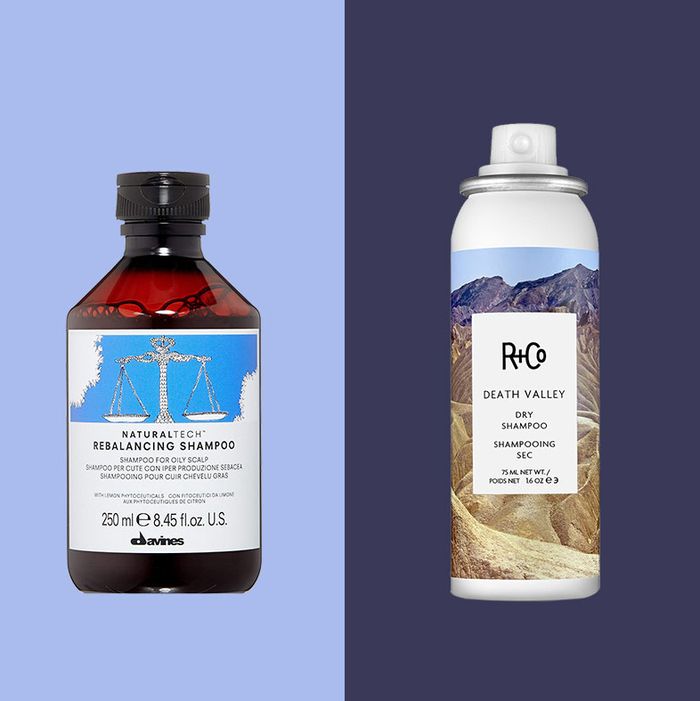 Photo: Courtesy of the retailers
No matter your hair type, an oily scalp can weigh down your strands, a look that most people try to avoid. But shampooing constantly isn't the answer either. Like oily skin, oily hair is a result of hyperactive sebaceous glands, which, aside from genetics and hormones, can be caused by the overuse of astringent shampoos and other styling products. "Though everyone's initial reaction is to wash their hair at the sight of oil, truth is it's best to wait," says Eric Torneros, a stylist at the Karcher salon in Greenpoint. "The longer you can wait, the more your scalp will get used to not having to overproduce. Washing too much makes the scalp freak out and go into protection mode, producing more oil."
"That is one of those myths we've been conditioned to believe: to have squeaky clean hair," says Chelsey Pickthorn, owner of Pickthorn Salon in Bushwick, Brooklyn. "Instead, we should allow our natural oils to find their balance, and then they will really stop overproducing over time." While it may seem counterintuitive (and impossible), one way to fight oily hair is by cutting back on how often you shampoo your hair. According to the experts we consulted, limiting washing your hair to one to three times a week is ideal if you're trying to control oil production.
To help you choose the right product, we consulted five hairstylists about their favorite shampoos and washes for bringing your hair back to a less-greasy, more balanced state. While our experts recommended a range of products, they all agreed that the most effective shampoos are ones that can remove excess oil build-up without stripping hair of its natural oils. Pickthorn notes, however, that the process could take "anywhere from four to six weeks" and that the oil in your hair will get worse before it gets better. "You're gonna go through a pretty crappy stage where it is just gonna try to get all the excess out, and then it will definitely reset itself."
Best shampoos for oily hair
According to Pickthorn, factors like stress, lifestyle, and how often you color or otherwise process your hair can also affect how greasy it is. For those with more chronic issues, she recommends incorporating a rebalancing shampoo, like this one from Davines's Naturaltech line, into your hair-care regimen. "It shouldn't necessarily be something that you're using every shampoo, but more as a treatment-based kind of situation," she says. It contains lemon phytoceuticals, which she says is "basically vitamin C," and that helps to rebalance the pH levels of your scalp by deep-cleaning excess oil without stripping your hair's natural moisturizer. Matt King, hairstylist and director of education at Fox and Jane salon in Manhattan agrees, saying that Davines's rebalancing shampoo "is a great option for people who are looking to handle an oily scalp without drying out their hair." He also appreciates the fact that Davines uses natural ingredients as often as possible and sustainable packaging.
According to Stephanie Louis, owner of Stylebox Salon in Brooklyn, it's "not so much how often you shampoo your hair, but with what." For those with super oily hair, she recommends sticking with a once-a-week shampoo regimen using her go-to combination of Euforia's Urgent Repair Shampoo, and Verb's Reset Clarifying Shampoo. They're "not too harsh, which can strip away the sebum from the scalp, causing the sebaceous glands to kick into overdrive and make more sebum, or too weak, so that they don't really do much to clear any oil build-up." She notes that they're both primarily water-based cleansers, meaning they won't add extra oil to your hair. Kyriakos also likes Verb and says that it works well on curly hair. "It adds a lot of shine and really helps control an oily scalp."
The weight of your hair can also play a role in how greasy it can appear, according to hairstylist George Kyriakos at Honey Artists. "Very fine hair can be washed in the morning and look greasy and limp by mid-day," he says. "Oily hair is a bit easier to conceal with thicker, coarser hair. You can get away with washing your hair every day, but could dry the scalp, causing excess dandruff." In either case, "the more often you wash your hair, the more oil the scalp produces in order to compensate for the dryness from over-washing." For fine hair, Kyriakos recommends "alternating between a regular foaming shampoo and a dry shampoo every couple of washes," and for coarser hair, "washing every three to four days, rinsing with water, and perhaps rotating in a dry shampoo in between washes." His go-to shampoo is Inoar's Divine Curls Shampoo, which he says "doesn't have the harsh detergents that most shampoos contain." Although it's meant for curly hair, he notes that it works on all hair textures. "It also doesn't lather, which may take some getting used to, but your hair will feel clean and your scalp will thank you."
"This is a cold-processed shampoo and conditioner that is just really nice and balanced," says Pickthorn. "We get into these patterns and cycles of thinking, 'Oh, my hair is oily, it's flat, it's this,' and so then we go for a volume shampoo, or something for texture, but a lot of the time, volume shampoos can be very alcoholic or acidic, which basically roughs up the cuticle. You're just compounding the problem." Rich in antioxidants, it contains natural ingredients like ylang ylang, vetiver, rosemary, lavender, and amaranth oil that help protect your hair from damage. "I like what they're doing with the product. It's not too one-way or another," she adds.
King says that when there's a buildup of product in your scalp, its natural oils can't spread through your hair. But washing it too often causes irritation to the scalp, which secretes more oil to protect itself. In addition to washing oily hair a couple of times a week, he suggests using a clarifying shampoo like this sulfate- and paraben-free one from Evo once a week to get excess product off the scalp. Even though it's deep-cleaning, "it doesn't feel like your hair is stripped after." It also won't affect your hair color if it's processed, and it doesn't require an intensive conditioner. King suggests following up with a dry shampoo, and also recommends Evo's Therapist shampoo for when your hair needs moisturizer, or Mane Tamer if your hair is frizzy.
Pickthorn also recommends this sulfate- and paraben-free product from Iles Formula. "It has a root vegetable extract that basically buffs the actual cuticle of the hair," she says, "balancing the scalp and stripping out any impurities and gunk."
This silicone-free shampoo from Kérastase is specifically formulated for oily hair and roots. Kyriakos recommends it, saying, "This is a hypoallergenic shampoo that calms the scalp, reduces dryness, and promotes over all good scalp health."
Here's another recommendation from Kyriakos: "This Aveda Scalp Benefits works well on balancing your scalp's pH, which can help reduce the overall production of oil." It works by cleaning the hair down to the roots, removing excess sebum and other build-up.
Best washes for oily hair