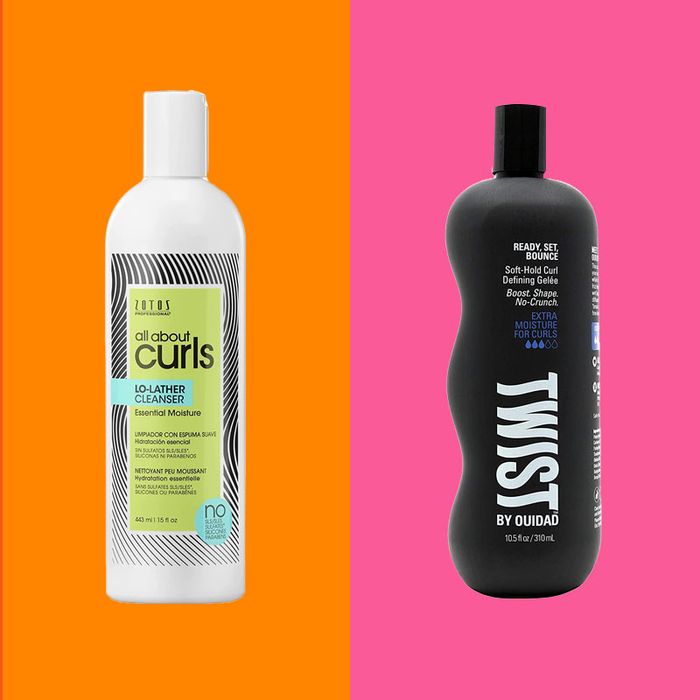 Photo-Illustration: The Strategist; Photos: Retailers
Let's set the record straight about my curly bangs: I was not drunk, high, heartbroken, nor even hungry when they happened. I did not lop them off with a pair of kitchen scissors like a college freshman who just had an argument with her roommate. They were cut by a talented stylist at a chic salon (ask for Dionysiou at Marie Robinson). But, like all bang cuts before it and all bang cuts since, the decision was still not entirely thought through.
A bit of background: I was a teenager in the '80s, when the curly bang (and its evil twin, the claw bang) was everywhere in pop culture: on every Flashdance poster; on Tony Montana's sister, Gina; and on Baby, who should not, by anyone, be put in the corner. Like many of my peers, I succumbed to the scissors and wore bangs — sometimes curly, sometimes blown "under" into the "wisps" sported by Teen magazine's cover models.
Lately, I had begun to romanticize those bangs and started thinking about how nicely they would camouflage some forehead wrinkles and the thinning around my hairline. It wasn't until after the chop that I remembered what a pain in the ass bangs can be: the frizz, the ringlets that go rogue, the freaking cowlick that makes my bangs part like the Red Sea. "You can't have an expectation for consistency every day with curls, let alone curly bangs," says texture guru Dickey, founder of the Hair Rules Salon and product line. "But there are tried and true rules that will make styling easier." Between the advice of my curl coaches — Dickey and All About Curls' ambassador Sophie Rose Gutterman — and my own curl-making muscle memory, I'm able to style my bangs into boingy, bouncy, face-framing fringe. Here's how.
Long before the hair world turned against sulfates, curly folks avoided sulfate-based surfactants because they can strip hair of the natural oils that help keep it hydrated (curls dry out more easily than straight or wavy hair). But, oh, how I miss that luxe sulfate lather. Somehow, All About Curls manages to straddle the lather line, with an SLS/SLES formula that satisfies my suds cravings and leaves hair both clean and detangled.
Faster than you can say Rumplestiltskin, this heavenly scented hair mask spins strawlike hair into gold. It's infused with avocado oil, which has fatty acids to moisturize and strengthen hair, and coconut oil, which has a low molecular weight to give you super-light conditioning and breakage prevention. I reach for it nearly every time I'm in the shower and it hasn't weighed my fairly fine curls down yet.
Why, pray tell, does my hair need "taming" if I just rinsed out a conditioning mask? Because curls demand all the moisture. The twists and turns of curly hair mean that natural scalp oils, which confer shine and protection, don't distribute easily down the hair shaft. And because my curls are 52 years old (I was pretty bald for the first two years of my life), they're especially needy: scalp sebum production decreases with age. This spray by Better Not Younger, a line of hair care created with women ages 40-plus in mind, replaces those oils with argan and avocado oils (clearly my hair adores avocado) along with vitamin E, mixed into a milk that comes out as a lightweight mist that locks in moisture and protects hair from heat and environmental damage. The trick, says Dickey, is to apply a leave-in like this while hair is soaking wet so it acts like a primer, balancing out the porosity of your hair so your styling products go on evenly. I just mist it on and comb it through.
And now, we plop. If you don't speak Curl, "plopping" is wrapping your hair in a microfiber towel to remove moisture without roughing up the cuticle, which reads as frizz. The Aquis wrap has a loop in the front and button in the back so it's easy to use, even for the turban-inept. I wear it only long enough to towel-dry my body and put moisturizer on my face (because once those bangs are in place, your forehead becomes a no apply zone). When the wrap comes off, my curls start to take shape.
I once told my boss that I'd rather be late to work than show up with crunchy curls. The crunch-free key is to combine hold with (yes, more) moisture. So, because I can't leave the '80s movies alone, I offer up one more Cocktail: two Twist styling gels, each one pre-blended with a different level of conditioning ingredients. I rub the two products together between my palms, then apply the mixture first through the length of my hair and in the back, then whatever's left over goes on to the bangs. At this point, if there are any spots that have started to dry, I'll wet my hands in the sink and rake my fingers through those areas. You need your hair to be wet enough so that you can place it exactly where you want it. "How your bangs look when you put the product on is how they're going to look when they dry," explains Sophie. I then squeeze my bangs from the ends towards the roots, creating fusilli-shaped curls.
This is the crucial last step before I step away from the stylers: I dab this foam right at the roots of my bangs. It allows me to redirect any pieces that want to stray out of their territory and lock them into place. It's not such a firm hold that it creates crunch; it just gives me a little more control over my curls.
Maybe it's the New Yorker in me, but diffuser attachments make me crazy; they dry my hair sooo slooowly. I prefer to dick around online while my hair air dries, then hit it with higher velocity air to add volume. My method of choice is what I call the four-wheel blow dryer: all the windows down in the backseat of an Uber, wind whipping and lifting my curls. A close second is this Curlsmith hair dryer (which comes with a diffuser if that's your jam). It uses frizz-minimizing ions and has a great range of settings. I like medium airflow + low heat to do what Sophie calls, "The 360. You flip your head upside down and direct the air at all angles to give you lift and volume." But, she warns, "touch your hair as little as possible during this process, so you don't disrupt the curl pattern."
Even if you do everything "right," curly bangs can sometimes have a mind of their own. For the random curls that do not understand the assignment, a little heat goes a long way. This curling iron comes with three interchangeable barrels, including a half-inch one that's just right for tweaking individual curls.
Every night before bed, my grandmother would don a silk sleeping cap to preserve her 'do between salon visits. My modern version skips the cap and relies on this biomimetic silk-infused cream. I'd describe it as a light pomade, with a little bit of hold and a lot of shine, thanks to iridescent mica. I rub a drop between my fingers, then use them to re-twist any curls that have gone too flat or too fluffy; it rehydrates those hairs and makes them look healthy again, putting the spring back into pillow-smushed spirals.
The Strategist is designed to surface the most useful, expert recommendations for things to buy across the vast e-commerce landscape. Some of our latest conquests include the best acne treatments, rolling luggage, pillows for side sleepers, natural anxiety remedies, and bath towels. We update links when possible, but note that deals can expire and all prices are subject to change.