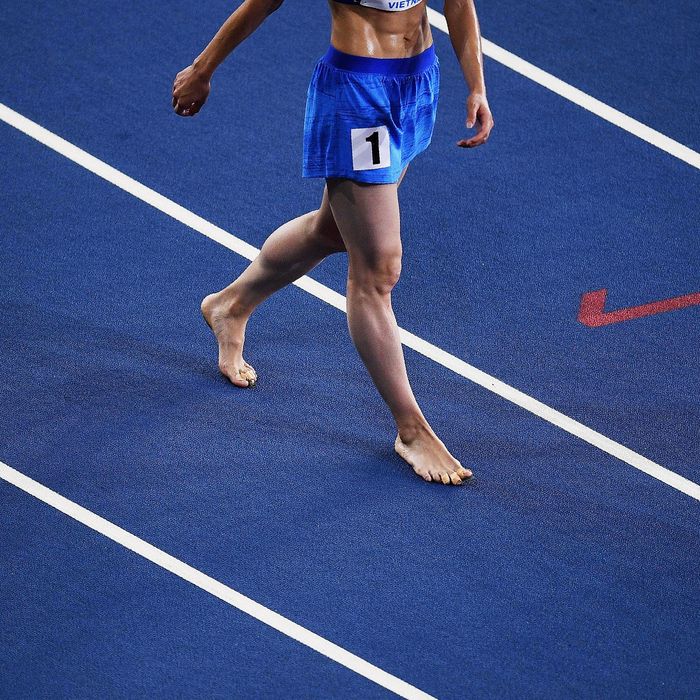 Photo: MANAN VATSYAYANA/AFP/Getty Images
While we might all be curious about the best plunger or probiotic tampon or cold-sore remedy, it can be difficult to discuss these more personal items. That's why we're tackling Things We Don't Talk About, a series in which we track down the best hygiene-, sex-, and bodily function–related things we all need but might be too embarrassed to ask about. In this installment, we consult experts on the best remedies for athlete's foot.
So called because it often affects those who wear sweaty, smelly shoes for long hours, athlete's foot is a fungal infection that develops on the skin between toes (and looks and feels itchy and even slimy). While it isn't difficult to treat, it definitely isn't pleasant. People who get athlete's foot also tend to frequent the warm, moist places where the contagious fungus abounds — like locker and shower rooms or pools — which is why Florida-based dermatologist Todd Minars suggests drying the toe webs thoroughly post-shower and not walking barefoot in those shared spaces. But if you have gotten it already and want to get rid of it fast, we talked to four dermatologists, four podiatrists, and a naturopathic physician for recommendations on how to treat athlete's foot at home, from antifungal creams and sprays, to powders, balms, and foot soaks.
Best-overall product for athlete's foot


Across the board, Lamisil was recommended by almost all the experts we spoke to as the best topical product for treating athlete's foot. Available in cream and gel form, it's a powerful, broad-spectrum antifungal that Maral K. Skelsey — the director of the Dermatologic Surgery Center of Washington — says is helpful because it does double duty in killing fungus and stopping its growth. "It is well-absorbed into the outer layer of the skin, which is where athlete's foot lives. A cream formulation is good for someone with dry skin, whereas the gel or spray is preferable for anyone whose feet perspire a lot." Podiatrist Amnon Barnea, owner of Walk NYC Podiatry, adds, " I usually advise patients to wash their feet with an antibacterial soap and then dry their feet well before applying the cream."
Best powder deodorant spray for athlete's foot
Several of the experts we spoke to also recommended using Lotrimin's popular foot products — which come in both spray and powder form — and contains the helpful antifungal miconazole. According to podiatrist Miguel Cunha, founder of Gotham Footcare, Lotrimin is "greaseless, odorless, and non-staining cream that soothes itching, burning, cracking, scaling, and discomfort." Dermatologist Tsippora Shainhouse of the Dermatology Institute & Skin Care Center says miconazole is most effective at killing both yeast and fungus, and can be used twice a day for two to three weeks for the best results. Dr. Rebecca Pruthi of Foot Care of Manhattan is also "good at reducing odor."
Best liquid spray for athlete's foot
If you prefer a liquid spray, Cunha likes the clinically effective Tinactin Antifungal Liquid Spray, which will dry out most fungus and help sooth itching and burning.
Best powder for athlete's foot


Zeasorb antifungal powder was another popular recommendation, since experts tell me that its drier, powdery finish is ideal for treating athlete's foot, rather than something that will make your feet wetter and swampier. Skelsey and Barnea both suggest applying this between your toes and right inside your shoes for the best results.
Best medicated towels for athlete's foot
If you prefer a medicated foot towel, podiatrist Priya Parthasarathy loves these because they contain tolnaftate, a potent antifungal. As a bonus, they're also alcohol-free so they won't dry skin out.
Best athlete's foot product for diabetics
And because athlete's foot is often linked to toenail fungus — podiatrist Paul I. Belitz explains that bacteria, fungus, and viral pathogens from one part of the foot can easily contaminate and reinfect another area if left untreated — it's helpful to use a two-pronged approach that will treat toe fungus, as well. He says that anyone who isn't willing to see a specialist should at least try something like Gold Mountain Beauty's Total Foot Care line — which sells a fungal nail eliminator — especially if you're diabetic and more prone to serious foot problems.