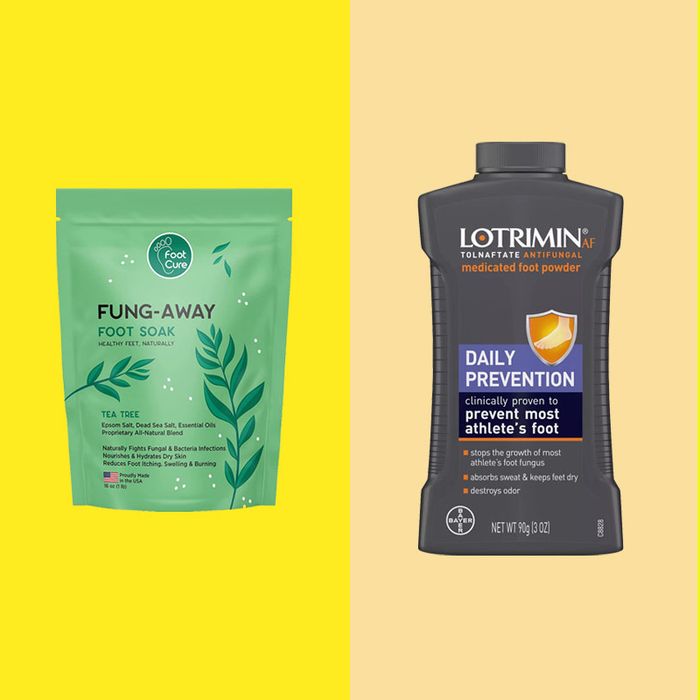 Photo-Illustration: The Strategist. Photos: Courtesy of the Retailer
While we might all be curious about the best plunger or probiotic tampon or cold-sore remedy, it can be difficult to discuss these more personal items. That's why we're tackling Things We Don't Talk About, a series in which we track down the best hygiene-, sex-, and bodily function–related things we all need but might be too embarrassed to ask about. In this installment, we consult experts on the best remedies for athlete's foot.
Its technical name is tinea pedis — and athlete's foot is actually a fungal infection, resulting in a sometimes red rash on the feet and in between toes, according to dermatologist Dr. Michele Green. "Often, but not always, it itches," says Dr. Bruce Pinker, a board-certified podiatrist and foot surgeon. Athlete's foot is a pretty common condition. The culprit is usually what you put on your feet — so you can blame it on too tight sneakers and sweaty socks. Unfortunately, it can happen to anyone: "The gold standard to prevent fungal infection is to stop wearing enclosed shoes. Understandably, that is not possible for most of us," explains Dr. Edgard Nau of Manhattan Home Podiatric.
The condition is also contagious — spreading in shared spaces rife with bare feet like gyms, swimming pools, and locker rooms, Green told us. That's why Florida-based dermatologist Todd Minars suggests drying the toe webs thoroughly post-shower, and Green advises packing a pair of flip-flops before heading out to those places. The best advice to avoid athlete's foot in the first place? Keep your feet and shoes clean and dry — managing excessive perspiration with powders and changing socks frequently, cautions podiatrist Dr. Emily Splichal. Of course, there are over-the-counter solutions to help treat athlete's foot. Still, if you feel that the infection is much more serious, Pinker points out that prescription creams and gels are necessary. If you're looking for antifungal creams and sprays, powders, balms, and foot soaks that are more readily available and can help get rid of it fast, we asked dermatologists, podiatrists, and even a naturopathic physician for recommendations on how to treat athlete's foot at home.
Best product to prevent athlete's foot
Of course, if you have athlete's foot and are looking to fend it off on your next run, Green recommends adding an antifungal powder for your feet to your routine. Nau seconded this, suggesting not to wear the same shoe two days in a row and to put powder on the insides of your preferred pair. Green says this powder from Lotrimin (a brand that several experts we talked to also gave their thumb's up to, but more on that below) can be used daily to help absorb moisture, which can be effective in preventing the infection in the first place.
Best-overall product for athlete's foot


Across the board, Lamisil was recommended by almost all the experts we spoke to as the best topical product for treating athlete's foot. Available in cream and gel form, it's a powerful, broad-spectrum antifungal that Maral K. Skelsey — the director of the Dermatologic Surgery Center of Washington — says is helpful because it does double duty in killing fungus and stopping its growth. "It is well-absorbed into the outer layer of the skin, which is where athlete's foot lives. A cream formulation is good for someone with dry skin, whereas the gel or spray is preferable for anyone whose feet perspire a lot." Podiatrist Amnon Barnea, owner of Walk NYC Podiatry, adds, " I usually advise patients to wash their feet with an antibacterial soap and then dry their feet well before applying the cream."
Best powder deodorant spray for athlete's foot
Several of the experts we spoke to also recommended using Lotrimin's popular foot products. Pinker explains that Lotrimin's sprays are effective, especially if athlete's foot is treated early on; since they've been available for a while now, they've proven to be beneficial. But you can also find the products in powder form. Both spray and powders contain the helpful antifungal miconazole. According to podiatrist Miguel Cunha, founder of Gotham Footcare, Lotrimin is "greaseless, odorless, and non-staining cream that soothes itching, burning, cracking, scaling, and discomfort." Dermatologist Tsippora Shainhouse of the Dermatology Institute & Skin Care Center says miconazole is most effective at killing both yeast and fungus, and can be used twice a day for two to three weeks for the best results. Dr. Rebecca Pruthi of Foot Care of Manhattan is also "good at reducing odor."
Best no-mess spray for athlete's foot
For a spray that's meant to be invisible (with little mess involved), Splichal recommends this one from Arm & Hammer to help fight against foot sweating. The company says this spray also features baking soda and other odor-neutralizing ingredients meant to absorb moisture.
Best liquid spray for athlete's foot
If you prefer a liquid spray, Cunha likes the clinically effective Tinactin Antifungal Liquid Spray, which will dry out most fungus and help sooth itching and burning. Along with Lamisil and Lotrimin, Pinker calls Tinactin a useful over-the-counter solution, too.
Best powder for athlete's foot


Zeasorb antifungal powder was another popular recommendation, since experts explain that its drier, powdery finish is ideal for treating athlete's foot, rather than something that will make your feet wetter and swampier. Pinker specifically recommends the superabsorbent version of Zeasorb's powder over other products from the brand (which he still deems acceptable for their anti-fungal abilities). Skelsey and Barnea both suggest applying this between your toes and right inside your shoes for the best results.
Best medicated towels for athlete's foot
If you prefer a medicated foot towel, podiatrist Priya Parthasarathy loves these because they contain tolnaftate, a potent antifungal. As a bonus, they're also alcohol-free so they won't dry skin out.
Best athlete's foot product for diabetics
And because athlete's foot is often linked to toenail fungus — podiatrist Paul I. Belitz explains that bacteria, fungus, and viral pathogens from one part of the foot can easily contaminate and reinfect another area if left untreated — it's helpful to use a two-pronged approach that will treat toe fungus, as well. He says that anyone who isn't willing to see a specialist should at least try something like Gold Mountain Beauty's Total Foot Care line — which sells a fungal nail eliminator — especially if you're diabetic and more prone to serious foot problems.
Best rinse solutions for athlete's foot