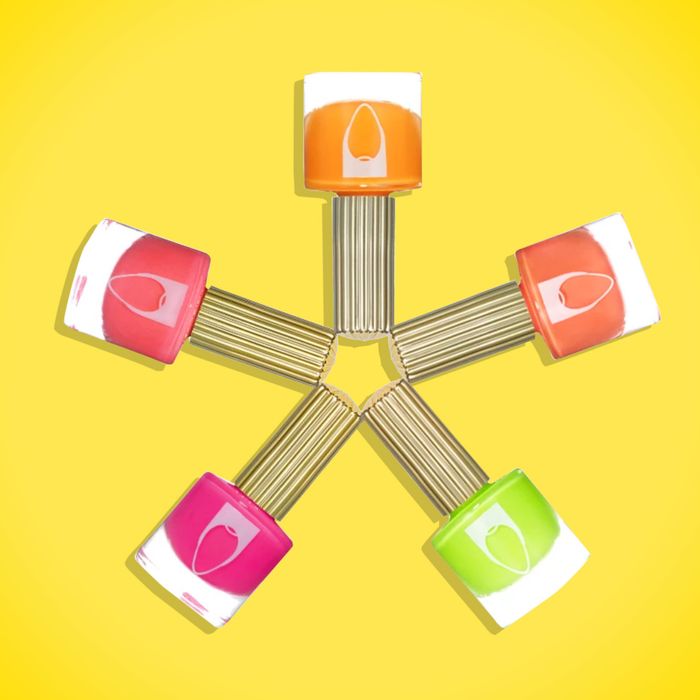 Whether or not you're a regular at your local nail salon, chances are you've heard of certain brands of polish — Essie, OPI, Jinsoon, Deborah Lipmann — thanks to their classic shades beloved by your friends, your mom, and even our skin-care and beauty hobbyist Buzz Bissinger, who recently shared his favorite colors with us. Some of these companies' shades have risen to become cult favorites, including Essie's Clambake (a bright orange-red that Into the Gloss named "Nail Color of the Summer" in 2017) and OPI's Big Apple Red (a vivid red that's one of the brand's best sellers of all time), with the cultiest of the cult favorites even sparking websites dedicated to discontinued colors, where fans can purchase a rare remaining bottle — sometimes at twice the original retail price.
Over the past several years, though, we've noticed new crops of lesser-known polishes slowly taking up more and more space in our nail-obsessed friends' medicine cabinets, which got us thinking about what the latest status shade might be. It turns out that those days of brand-name, single-color obsession may be over, according to Rita Pinto, the founder of Vanity Projects, a nail salon and gallery on the Lower East Side and in Miami that Bissinger and thousands of nail fanatics (112,000 on Instagram, to be exact) love for its artists' intricate work. "It's no longer like that one time, about ten or eight years ago, when there was that kind of Yves Klein Blue that Essie did — it was literally everywhere and the color to get. That's not really happening so much anymore." Pinto attributes this shift in part to the rise in popularity of longer-lasting gel manicures, for which you choose from a technical catalog of colors instead of picking out a bottle of polish you recognize by name.
Still, plenty of people continue to use your standard lacquer on their nails, and Pinto and the other folks we asked about status polishes — including four other nail artists and designers, our other beauty obsessive Rio Viera-Newton, and the editor-in-chief of Allure — had no shortage of opinions on the ones that in-the-know people are using today. There may not have been a consensus on a specific status shade, but the group did overwhelmingly point to a specific brand of polish that you will now seemingly find on the fingertips of every person with cool nails (and some of the brand's more popular colors), as well as a few other brands that will impress your most nail-obsessed friends.
The next status nail polish: Floss Gloss
When asked what they considered the next status nail polish, all of the nail artists we spoke to said Floss Gloss. While not new (co-founders Janine Lee and Aretha Sack started the company back in 2011 after meeting at art school in San Francisco), Floss Gloss is beloved by nail designers, polish enthusiasts, and celebrities like Emma Watson, who in 2017 told Into the Gloss that the brand's blue El Capitan color was probably her "go-to shade."
Pinto confirms Floss Gloss polishes are a go-to at hers and other trendy salons, chalking the brand's popularity up to what she calls its "Metallica chic" aesthetic, "youthful energy," and "I-don't-give-a-fuck kind of attitude." "Floss Gloss is probably the most used brand by professionals in the industry who know the trends," she says. "Their colors are really fun and inspired by a gamut of influences, whether it's '90s references, like lip liner, or a Britney Spears throwback; there's even one inspired by a rapper called Gangsta Boo, the first and only female member of Three 6 Mafia." (The fact that other '90s favorites — like hair clips, scrunchies, and flip-flops — have had a general resurgence might help with Floss Gloss's throwback appeal.) Nail artist Fleury Rose is also a fan. "It's definitely a brand that nail girls are obsessed with," she says. "The opaque colors are supersaturated and go on very smooth." Rose notes that since the colors are so saturated, you can apply a thinner layer that will dry faster than other polishes. "I also love the cute little bottles, which look great displayed on your desk," Rose says.
The brand currently offers 47 colors (as well as a clear top coat and base coat) with many selling out and being restocked. Watson's favorite El Capitan color is popular, and so is the brand's neon green, Con Limon. "Con Limon has been a staple in my kit since it first came out, and I can always spot it on others," says nail artist Jessica Washick, who is also a designer for Nike. "That color has a major following behind it. I'd say the same for El Capitan, a deep royal blue." This set is the brand's "Neon Drip Trip" collection, which showcases some of the supersaturated and neon shades for which Floss Gloss is beloved.
Our own Rio Viera-Newton says she's loved Floss Gloss since college and told us, "Without fail, I get a compliment every time I have one of their polishes on. Right now, I'm super-obsessed with Bobby Bobby, this neon baby blue. And I always love Fastlane for my toes." Beyond the colors and the fun branding, Floss Gloss is also vegan, cruelty-free, and 7-free, meaning it doesn't have seven of the harsh chemicals, including formaldehyde, that are often found in nail polish. Floss Gloss co-founder Lee told us that formulating polishes without those chemicals was a "no-brainer," adding, "It was just so obvious, and our approach to that was not focusing on that or the quote-unquote granola vibe — it should just be included," Lee says. Floss Gloss is also part of a community of women-owned nail-polish brands, which Eda and Anna Levenson, owners of nail-art brand Lady Fancy Nail, say is part of its appeal. "We started at the same time as Floss Gloss, and they're a favorite of ours," Levenson says. "We're so excited about women-founded, -created, -driven brands."
Some more Floss Gloss shades that we like
This is the red shade Pinto told us was inspired by Three 6 Mafia member Gangsta Boo.