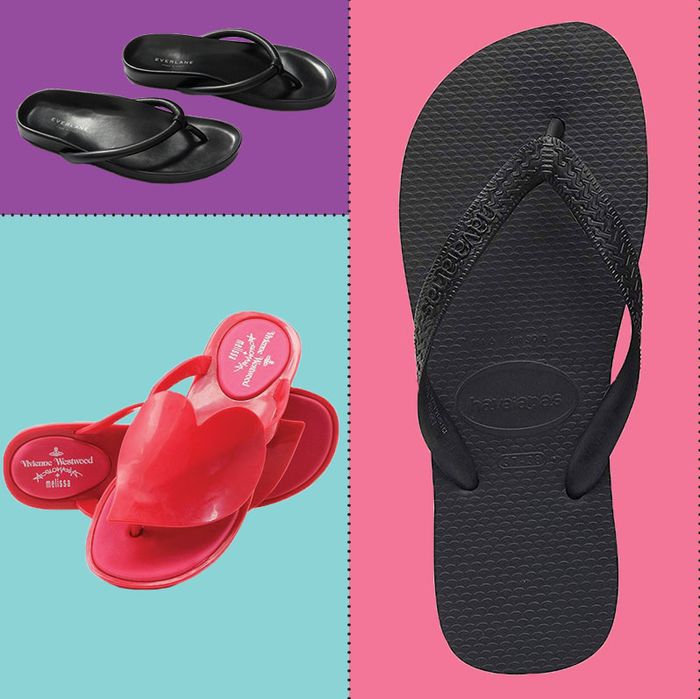 Flip-flops — the footwear favored by beachgoers and early-aughts celebrities alike — are arguably as much a wardrobe staple as white button-downs, jeans, or a good white T-shirt. That may be because, according to Wikipedia, people have been wearing flip-flops since at least at least 1,500 B.C. But unlike those other wardrobe staples above (except for tees), flip-flops are often simple and inexpensive, meaning you might not give much thought to picking out a pair. Still, there are a lot of styles out there — especially now that, like other things that were popular in the '90s and early aughts, flip-flops are having a bit of a style renaissance, showing up in collections from brands that never made them before like Totême, Everlane, and Staud.
To find the coolest flip-flops for women, we asked 13 stylish ladies about their favorites. Before we go any further, though, we think it's important to note how we defined a "flip-flop" for the purposes of this investigation. Generally, we subscribe to Merriam-Webster's definition, which calls flip-flops "a rubber sandal loosely fastened to the foot by a thong." But what about those leather Reefs you might have had in high school, or the Clarks Breeze Sea flip-flops with a canvas upper that topped our list of the best women's sandals? We think those make the cut, too. So we decided to classify a flip-flop as anything in the toe-thong style that wraps around the sides of your feet. Now that we're all on the same page, read on for our cool panelists' picks for the best women's flip-flops.
Best classic rubber flip-flops
Founded in Brazil in 1966, Havaianas is one of the best known flip-flop brands, and one that has become so synonymous with flip-flops that the Museum of Modern Art included a simple black pair in its last fashion exhibition as an example of the style. It should come as no surprise, then, that Havaianas were the pick of several of the women we spoke to. Lisa Buhler, the founder of ecommerce site Lisa Says Gah, says "I'm in love with all the leather renditions out there, but you can't beat the classic black Havaianas option for the same effect, a true Mary Kate and Ashley Olsen look from 2005." French model Sabina Socol seconded the recommendation, telling us that she wore Havaianas for years before trying out Birkenstocks, which she found made her feet appear wider than they are (which, she says, is "not a look I'm going for"). Eventually, she came back to Havaianas: "I actually have to admit that Havanaias combine the 'fine foot' look and the super-practical part, as in, you're not afraid to drop them in the water," Socol says. "Which comes in handy, especially if you're spending your holiday on a boat." Literary agent Marya Spence loves them, too. "As a Cali girl, my pick would have to be Havaianas," she says.
Best (less expensive) classic rubber flip-flops
Photo: Reid, Hilary
"For as long as I can remember, I've worn the same pair of nondescript black rubber flip-flops, and I find them incredibly chic," says writer and NYR Daily editor Lucy McKeon. While she doesn't remember where she bought hers, she points to these $4 Target ones as a close approximation. For McKeon, simple and inexpensive is best: "If it ain't broke don't fix it — or, as Leonardo da Vinci apparently said, 'Simplicity is the ultimate sophistication.' I imagine Mona Lisa wearing them, too, beneath her robes."
Best fashion flip-flops
Chop Suey Club founder Ruoyi Jiang says that for comfort she'll throw on some Havaianas, but for "unique styles" she goes to jelly-shoe brand Melissa. "I used to have a pair of the Melissa x Vivienne Westwood collab, the ones with a big heart on them," she says. Luckily for today's shoppers, her beloved style is still available — along with plenty of other Melissa flip-flops with a similarly playful vibe. In addition to being designed by Westwood, we think the heart on these flip-flops looks kind of Comme des Garçons–esque.
Best maximalist flip-flops
Suzzan Atala, the jewelry designer behind Tuza, says her favorite pairs of flip-flops have platforms and a lot of glitz. She got the platformed, embellished pair she currently wears at a store in Oaxaca City, but says she sees similar pairs all the time in Chinatown and the Rockaways. "I love them because they remind me of when I was 11 and I first got my pair of thong flip-flops," Atala says. "I remember feeling so cool." After looking at a photo of Atala's current pair, which are white with rainbow rhinestones, we found this pair with white and clear crystals to be a very close approximation.
Best flip-flops that mold to your feet
"I live in Mexico City above a torta restaurant owned by a mother and son, and they call out my name when they hear the clacking of my chancletas coming down the stairs," says photographer Mallika Vora. She actually has two pairs of flip-flops — a plastic pair printed with pink emoji hearts that she bought from a street vendor for 50 cents (we found a similar pair that isn't too much more expensive), and this Flojos Fiesta pair that, over time, she says will conform to your feet for even more comfort. "The simple silhouette goes with any type of beachwear, they are flat and easy to pack for travel, and have a lightly cushioned sole that molds to your feet over time," Vora says, adding that her black Flojos are also easy to clean. "The soft fabric can be cleaned easily with soap and water and doesn't give me those awful blisters between my toes."
Best day-to-night flip-flops