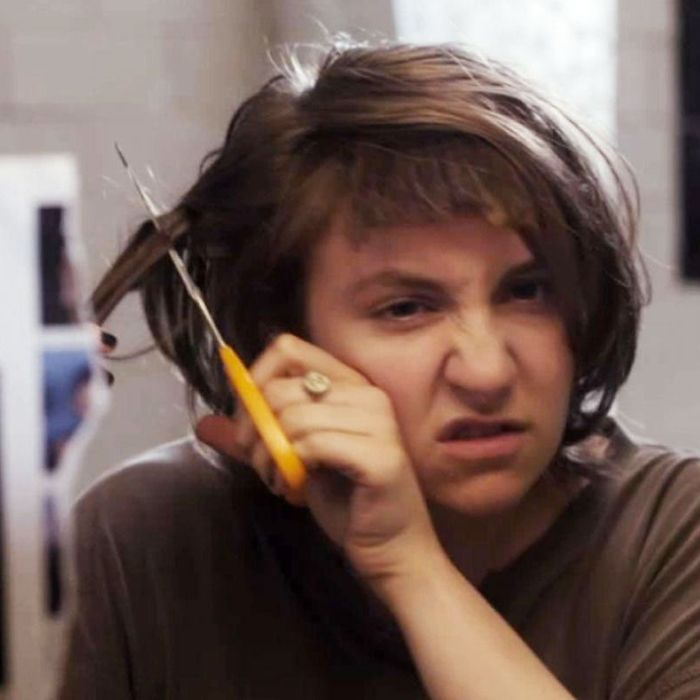 A month into quarantine, you're likely finding yourself pushing your bangs out of your eyes more frequently or noticing a few more split ends than usual. Or maybe your hair is looking a little thick, and you're ready to try something you'd generally never attempt at home, like a trim — or shaving your head entirely. To get some tips about how to trim bangs, shave your head, or trim ends without ending up looking like Hannah Horvath after she tried to cut her hair at home in Girls, we reached out to four hairstylists. And while all suggested that your best bet is waiting until you can see your hairstylist again (those hundreds of hours of training aren't for nothing), they did have some tips for touching up your hair in the meantime. Before we get started, one piece of advice from all: less is more. "Remember, it's not what's on the floor, it's what's left on your head," says Lorraine Massey, the founder of CurlyWorld.
Trimming your own hair
Whether your hair is straight, wavy, or curly, our experts agreed that if you're going to trim your own hair, it's best to do it when it's dry. "It's better to approach the hair as it really is," says Massey, who notes that you should not trim your own hair after artificially straightening or curling it. Both Massey and Dhiran Mistry, a hairstylist at David Mallett salon, told us that it's worth investing in proper hair scissors. "You don't need to spend a fortune on hair scissors, but you also don't want to use blunt scissors, like kitchen or paper scissors," says Massey. "Think of your hair as being a priceless fabric." Mistry agrees. "One thousand percent I would not recommend using anything but a hairdressing scissor because they're meant for cutting hair," he says. "You can buy cheap hairdressing scissors online for like $20 or you can buy ones that we have for $1,000 — I would say you should feel safe if you spend in the $100 range." Mistry and Massey both suggested these shears from Jowell and a pair made from Japanese cobalt.