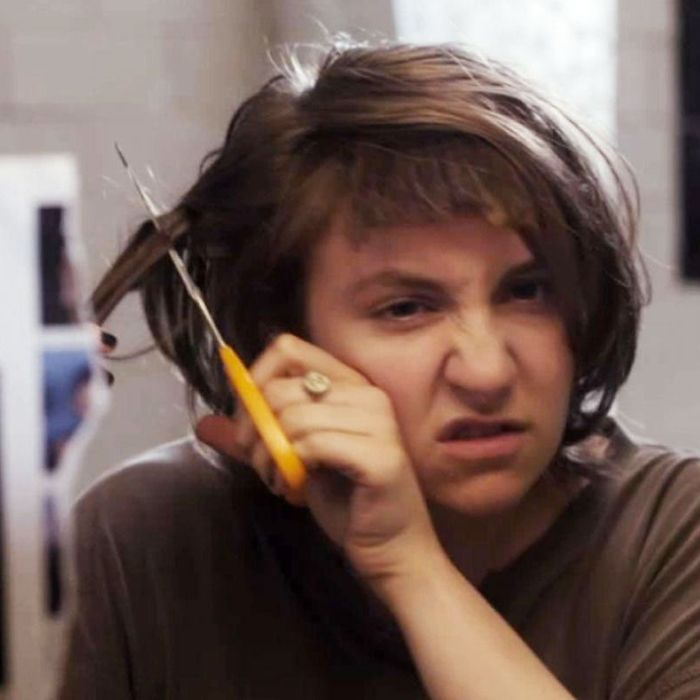 A month into quarantine, you're likely finding yourself pushing your bangs out of your eyes more frequently or noticing a few more split ends than usual. Or maybe your hair is looking a little thick, and you're ready to try something you'd generally never attempt at home, like a trim — or shaving your head entirely. To get some tips about how to trim bangs, shave your head, or trim ends without ending up looking like Hannah Horvath after she tried to cut her hair at home in Girls, we reached out to four hairstylists. And while all suggested that your best bet is waiting until you can see your hairstylist again (those hundreds of hours of training aren't for nothing), they did have some tips for touching up your hair in the meantime. Before we get started, one piece of advice from all: less is more. "Remember, it's not what's on the floor, it's what's left on your head," says Lorraine Massey, the founder of CurlyWorld.
Trimming your own hair
Whether your hair is straight, wavy, or curly, our experts agreed that if you're going to trim your own hair, it's best to do it when it's dry. "It's better to approach the hair as it really is," says Massey, who notes that you should not trim your own hair after artificially straightening or curling it. Both Massey and Dhiran Mistry, a hairstylist at David Mallett salon, told us that it's worth investing in proper hair scissors. "You don't need to spend a fortune on hair scissors, but you also don't want to use blunt scissors, like kitchen or paper scissors," says Massey. "Think of your hair as being a priceless fabric." Mistry agrees. "One thousand percent I would not recommend using anything but a hairdressing scissor because they're meant for cutting hair," he says. "You can buy cheap hairdressing scissors online for like $20 or you can buy ones that we have for $1,000 — I would say you should feel safe if you spend in the $100 range." Mistry and Massey both suggested these shears from Jowell and a pair made from Japanese cobalt.
To get started, Massey says, first sway your hair back and forth, so that it falls the way it's naturally inclined to. The technique you're going to want to use is "point cutting," says Massey — rather than chopping the hair straight across. To point cut, you hold the scissors below the line of your hair, with the points oriented upwards. When it comes time to snip, you open the scissors only slightly, so just the points are cutting the hair, rather than chopping with the full length of the blade. Point cutting is "much, much more forgiving," according to independent hairstylist and "long-time home haircutter" Stefanie Albaeck, and can be used for trimming dry ends and bangs as well.
If your hair is past your shoulders, part it, and then place it in front of your shoulders "as though you are making pigtails," says Massey. Then, with your hair in front of your chest and using the point-cutting technique, trim evenly across the ends of each side. The key to this and all at-home haircuts is to cut less than you feel initially inclined to: You can always go back and trim more later.
If you have curly hair, Massey says, "Simply stretch a small section of strands to their furthest point, and holding your scissors, snip off the ends." As with straight hair, use the tip of the scissors to cut, and don't open the blade too widely. Continue cutting in small sections. "In between snips, gently shuffle or sway the hair to see how the snipped hair looks in relation to the neighboring strands," says Massey.
If you simply have a few split ends, you don't necessarily need to do a full trim. Mistry recommends just snipping the strand with the split end, instead of taking on the whole shape of your hair.
Trimming someone else's hair
If you're at home with somebody you trust to cut your hair, you might be able to achieve a straighter line across the back than if you were to cut it yourself. To start, have your haircutter brush the back section of your hair so that it falls straight down your back. Then they can eyeball a straight line, and using the point-cutting technique (do not allow them attempt one big chop), work their way across the ends of the hair. At this point, you'll have a straight cut across the hair on the back of your head, and will need to even out the sides. (Just trim from the back along the left side, then the right.)
Trimming bangs
Brooke Jordan of Birdhouse Salon in Gowanus (who also just launched an at-home color product) warns: "Do not cut bangs if you don't already have them" (in general, the stylists we talked to agreed that you shouldn't try any cut that's very different from what's already on your head). When it comes to trimming already-existing bangs, she recommends working in front of a mirror and using the point-cutting method rather than cutting straight across. And as for shaping, Jordan says, "In most cases, it's best to keep the bangs longer on the outside and shorter on the insides, to create a face-framing effect."
If your hair is curly, Massey says that you should not "pull down your bangs" before cutting them, otherwise you might take too much off and leave them too short. Standing in front of the mirror with your hair in its natural position, start with a strand in the middle of your forehead and carefully snip the ends. Then trim the neighboring strand to the left, leaving it ever-so-slightly longer than the previously cut strand, and repeat until you've reached the edge of your bangs on the left side side. Repeat from center to the right edge of your bangs.
Hairdressing shears work just as well for trimming bangs, but Albaeck told us about a surprising alternative she uses in a pinch: "While I do have more specialized equipment, I like trimming my bangs on the fly with the yellow-handled Ikea scissors — they're a great size, and have (surprisingly) a great sharpness that works well for bangs and trims." Albaeck says that if you don't have these or hairdressers' shears, "choose the sharpest scissors you have." She adds that it is possible to trim bangs with dull scissors, but "just know this will take much longer."