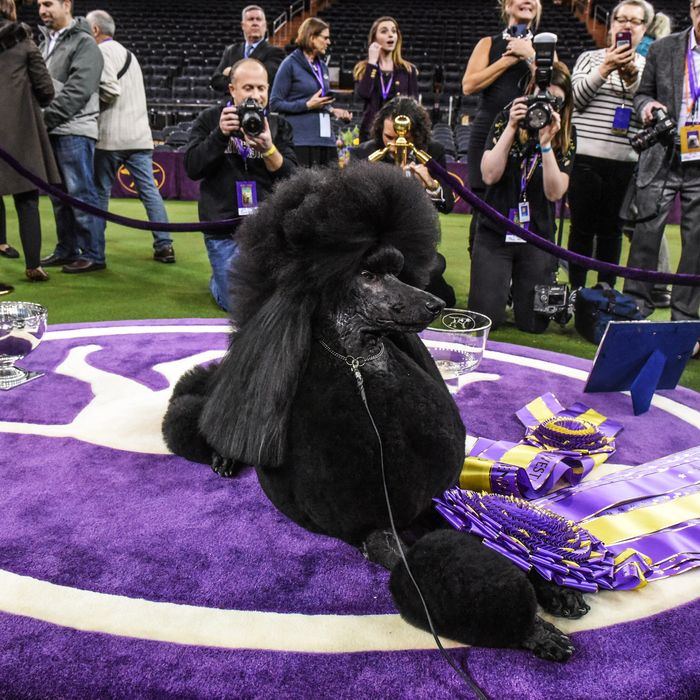 Siba, the standard poodle who won Best in Show at the 144th Westminster Dog Show.
Photo: 2020 Getty Images
Status can be a funny thing. Of course, it is most obviously expressed through shiny hardware and easily recognizable logos, but it gets far more interesting when you start to observe the more subtle signals — the way you tuck your shirt, or what you eat for breakfast, or your particular brand of notebook can mark you as in or out. And, of course, what counts as a status item varies wildly across human tribes. In our series "Insider Goods," we're talking to members of different tribes (some with their real names, some anonymously) to learn about the niche status items among Broadway actors, ballerinas, or brain surgeons. 
Today, to mark the 144th Westminster Kennel Club Dog Show, we heard from various dog owners and handlers about the leashes, collars, and zebra-print hair straighteners they buy for their dogs, and the sparkly suits and supportive shoes they procure for themselves in preparation for the day of the show.
For dogs
"Choosing a lead is a little bit about function, a little bit flair, and a little bit superstition. There are some really, really classic leads out there that have been around since the beginning of dog show days — Resco is the oldest one, and the most classic. It's a basic waxed-cotton lead, with a little sliding buckle that slides down to fit as a collar on the dog. I always recommend it to new beginners, especially with smaller dogs, and it's what I start training all my baby puppies on. Personally, I like a lead that's subtle and not too thick, so that you can hide it in your hand. You want the judge and the audience to look at the dog, not at the leash. A true handler makes himself blend into the background and lets the dog shine." —Anna Stromberg, dog handler
"The Martingale lead has a flat collar that can correct the dog. We call them safety collars because the dog can't back out of it. With a regular buckle collar, the dog can slip out, but with the half-slickers they couldn't do that. It's a safety collar technically, but we use them for showing, too. It comes down to safety, first of all — this all but ensures the dogs aren't getting loose. But they also give you the ability to control the dogs while you go around the ring and through the crowds." —A.S.
"It's a colorless, odorless shampoo, and it gets the dog's coat nice and clean, and removes all the oil without stripping the coat. Then we use Pure Paws hydrating conditioner, which is pretty much the best. Over the years, we've had different products from different companies. They all work well for a little while, but they don't hold up over time, or you get a buildup after you've used it a half-dozen times. But we've used both of these for 20, 25 years, and there's really just not a better combination. No residue." —Christian Manelopoulos, dog handler
"With handlers, it's 'my lucky brush, my lucky that.' My Kiwi brush was handed down to me from my former boss when I worked as an assistant and a trainee. When he retired he gave me this lucky brush and we did some very, very serious winning with that one — the brush has been handed down for generations. So, it's still in my possession, it's still with me and it comes everywhere with me and especially to Westminster. Believe it or not, it's a shoe brush made of natural hair, and we use it to get a real shine on the dogs. It's made of natural hair." —A.S.