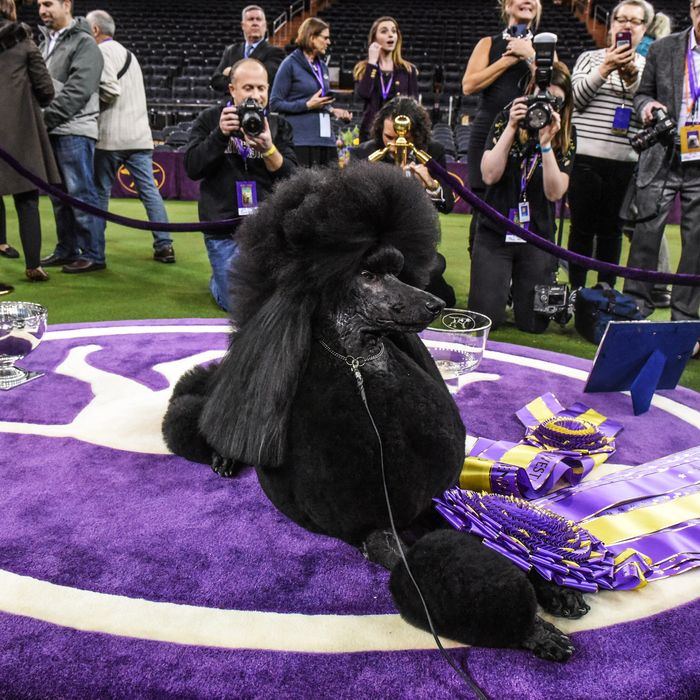 Siba, the standard poodle who won Best in Show at the 144th Westminster Dog Show.
Photo: 2020 Getty Images
Status can be a funny thing. Of course, it is most obviously expressed through shiny hardware and easily recognizable logos, but it gets far more interesting when you start to observe the more subtle signals — the way you tuck your shirt, or what you eat for breakfast, or your particular brand of notebook can mark you as in or out. And, of course, what counts as a status item varies wildly across human tribes. In our series "Insider Goods," we're talking to members of different tribes (some with their real names, some anonymously) to learn about the niche status items among Broadway actors, ballerinas, or brain surgeons. 
Today, to mark the 144th Westminster Kennel Club Dog Show, we heard from various dog owners and handlers about the leashes, collars, and zebra-print hair straighteners they buy for their dogs, and the sparkly suits and supportive shoes they procure for themselves in preparation for the day of the show.
For dogs
"Choosing a lead is a little bit about function, a little bit flair, and a little bit superstition. There are some really, really classic leads out there that have been around since the beginning of dog show days — Resco is the oldest one, and the most classic. It's a basic waxed-cotton lead, with a little sliding buckle that slides down to fit as a collar on the dog. I always recommend it to new beginners, especially with smaller dogs, and it's what I start training all my baby puppies on. Personally, I like a lead that's subtle and not too thick, so that you can hide it in your hand. You want the judge and the audience to look at the dog, not at the leash. A true handler makes himself blend into the background and lets the dog shine." —Anna Stromberg, dog handler
"The Martingale lead has a flat collar that can correct the dog. We call them safety collars because the dog can't back out of it. With a regular buckle collar, the dog can slip out, but with the half-slickers they couldn't do that. It's a safety collar technically, but we use them for showing, too. It comes down to safety, first of all — this all but ensures the dogs aren't getting loose. But they also give you the ability to control the dogs while you go around the ring and through the crowds." —A.S.
"It's a colorless, odorless shampoo, and it gets the dog's coat nice and clean, and removes all the oil without stripping the coat. Then we use Pure Paws hydrating conditioner, which is pretty much the best. Over the years, we've had different products from different companies. They all work well for a little while, but they don't hold up over time, or you get a buildup after you've used it a half-dozen times. But we've used both of these for 20, 25 years, and there's really just not a better combination. No residue." —Christian Manelopoulos, dog handler
"With handlers, it's 'my lucky brush, my lucky that.' My Kiwi brush was handed down to me from my former boss when I worked as an assistant and a trainee. When he retired he gave me this lucky brush and we did some very, very serious winning with that one — the brush has been handed down for generations. So, it's still in my possession, it's still with me and it comes everywhere with me and especially to Westminster. Believe it or not, it's a shoe brush made of natural hair, and we use it to get a real shine on the dogs. It's made of natural hair." —A.S.
"One of the best brands for grooming is Chris Christensen. They give you the whole spectrum of products, from things to wash your puppy to things to groom your standard poodle. Everything from brushes to conditioners to shampoo to spray-on products. Whatever you might need. These are totally devoted to the pet-grooming environment." —A.S.
"There's an exceptionally good cordless clipper that I use for grooming poodles that's made by a company from Spain called Artero. It's cordless with a lithium ion battery and it's kind of revolutionized things. Cordless clippers have been around for a while, but this new Artero one has blades that are better than any on the older clippers, it's lightweight, the battery lasts much longer, it tells you when it needs to be oiled, you can adjust the speed with which it clips. I would say that is one newer product that has, in a way, changed the game for poodle people." —C.M.
For handlers
"We all have plantar fasciitis because we run in circles so much. Everybody loves a beautiful Coach shoe, but they're the most uncomfortable things to run around in. Personally, all my shoes are Aerosoles. Everything. I find the most blingy Aerosoles that I can find. I love them. Aerosoles are wonderful because they're good shoes, they're ergonomically correct, but also pretty. Some of us like to use Dr. Scholl's. They have a cute line too, believe it or not. But Aerosole shoes have saved my life many times over." —A.S.
"We wear really utilitarian shoes. I personally wear Kurus, with my supports in them, in the Mary Jane style. Sometimes with loafers and ballet flats your feet can slip right out of them, I've had that happen. The floor here isn't slippery, but every now and then someone still catches it and you end up with only one shoe on." —Kay Peiser, dog handler
"I have a couple pairs of Doc Marten AirWair shoes I actually bought when I was in Europe and they're really good. Generally, what you need is a good shoe with a rubber sole, because when you run on the carpet at Westminster, a plastic or leather sole actually slides. Even at outdoor dog shows, where we show on the grass, sometimes late in the afternoon the grass gets dry and slippery. So you do have to be mindful of that. The Doc Marten AirWairs have rubber soles, and they look like a dress shoe — even though they still have the Doc Marten stitching on them. You want something with a kind of gentlemanly presentation." —C.M.
"The most favorite of all outfits is St. John. You can write a book about St. John's suits and dog shows. Every single person wears them, practically. Oh, my God. I think it's an obsession more so than anything. I think handlers stress more over these St. John's suits than how their dogs are groomed, I swear to God. Personally, I own two." —A.S.
"I also wear Tahari suits, because they're comfortable and easy. You can get them at Macy's. You want to find something that goes well with your dog's color. I'm showing nine different dogs, each of which is a different color, this year, so I had to go with a neutral color. If you get lucky enough to win on the Piers in the morning, normally a trip to Macy's across the street from Madison Square Garden is in order to find something for the evening." —A.S.
Other goods we spotted behind the scenes
"Like any model that gets ready, she puts her hair up, gets it sprayed, and she's ready to rock and roll," says handler Roxanne Wolf of the dog she showed at Westminster, a toy poodle named Cami. To keep Cami's hair in place, Wolf uses Chris Christensen Super Hold spray.
We spotted a groomer using this dry shampoo to give volume to the coat of an Italian Lhasa apso named Eric.
This zebra-print hair straightener was being used to achieve pin-straight hair on a Yorkshire terrier.
"It's a CVS special — Remington," one handler told us of this blow-dryer, used to style the hair of a Cavalier King Charles spaniel. "It was Westminster purple so we bought it."
The handler of a Chinese Crested dog told us that she "shares products all the time" with her dogs. "Mostly shampoos — we use TreSemmé." (Naturally, the handler was wearing a St. John's suit.)
The Strategist is designed to surface the most useful, expert recommendations for things to buy across the vast e-commerce landscape. Some of our latest conquests include the best acne treatments, rolling luggage, pillows for side sleepers, natural anxiety remedies, and bath towels. We update links when possible, but note that deals can expire and all prices are subject to change.