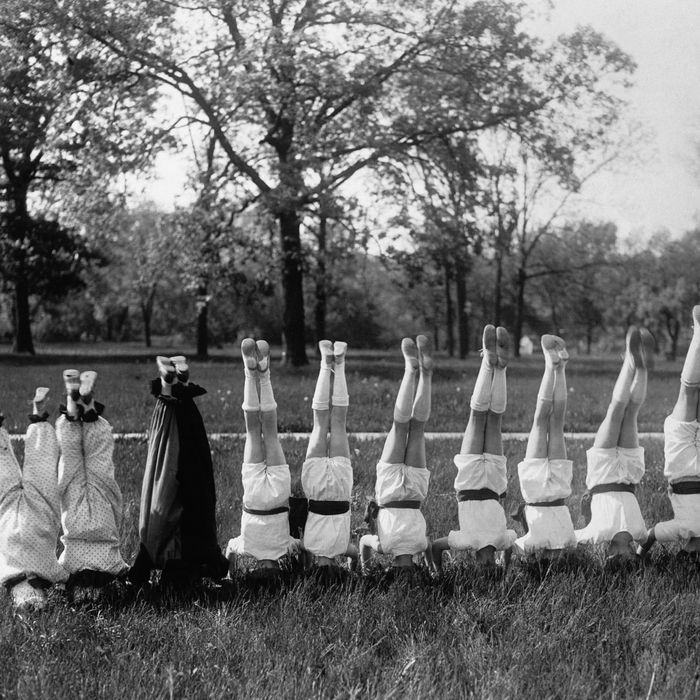 Photo: Bettmann Archive/Getty Images
White socks are incredibly basic. Almost everyone owns a pair, and they often go unnoticed in the grander scheme of an outfit formula. Sometimes, though, the white sock adds a little something extra, like when it's juxtaposed against a loafer à la Michael Jackson (or, more recently, YG) or bunched around an ankle in a Princess Diana–like fashion. But not all white socks are created equal. Some, like Nike's classic white athletic sock, communicate status (you can spot the black swoosh from a mile away), while others are scrunchy in just the right way. To find out what makes a white sock good and which ones are worth purchasing, we asked eight stylish women about their favorites, which we've rounded up below.
Best overall white socks
Three of our experts — By Colby founder and stylist Ryan Gale, fashion editor and stylist Michelle Li, and stylist Juliana Salazar — name-checked the statusy Comme Si Everyday sock, which comes in an off-white. The sock has a wide rib and a contrasting grass-green back tab, and it is made of GOTS-certified cotton. Salazar likes the sock's ribbing, noting that she prefers it to any other brand. "Comme Si wins ribbing every time," she says. Gale loves the brand's "subtle" branding and "luxurious fabric," which she says look great with dressier shoes like loafers and mary janes.
Best affordable white socks
"If I'm wearing white socks, it's definitely intentional," says Carrie Carrollo, a decorator, content creator, and sock enthusiast. "I want them to be visible — peeking out from my wide-leg pants, layered over leggings, or with sneakers." Her sock of choice is the Urban Outfitters basic ribbed crew sock, which, although she owns a handful of white crew socks, are the pair she hopes are clean when she needs them. "The fabric has just the right amount of stretch and give, always staying put where I slightly scrunch and fold them on my lower calf without feeling tight around my ankle."
The Muji right-angle rib socks are a favorite of writer Harling Ross, who says they fit really well. They're knitted at a right angle, which mimics the way the foot extends from the leg. This eliminates unwanted bunching or slipping and ensures a comfortable, secure fit.
Best statusy white socks
White socks tend to complete a look without making a statement, but the ubiquitous Nike swoosh is an exception. Almost everyone we spoke to mentioned seeing it in the wild. The athletic crew sock has become a status symbol and pairs with a dress shoe just as easily as an Air Force One. "I see them everywhere," says Carrollo. Celebrity stylist Nichole Goodman refers to them as "quintessential" and says in addition to its recognizable logo, it's also a quality sock. "They're perfectly thick and have the right amount of ribbing so it won't squeeze your ankles purple." Toniesha Renee, the head of content strategy for hip-hop and R&B at Interscope Records, says they're her go-to. "I wear them every day because they offer cushioned support," she says. "They also just look cool."
If you have smaller feet, Li recommends buying the boys' crew socks, which she finds more durable and better fitting than the adult socks.
Ross is also a Comme Si fan, but prefers the Angelli, which has a tighter rib and is inspired by a classic men's trouser sock. It's made from an ultra-soft, longtime staple Egyptian cotton. "The tabs on the back are so chic for some reason," she says. Naomi Elizee, an editor at Vogue, also likes the Angelli, which she pairs with loafers and slides. "I love how lightweight these are," she says. "They aren't super-bulky and slip on easily."
While these logo-less socks might not be spottable from across the street, Aime Leon Dore is very much a statusy streetwear brand. Salazar is a fan of the basic white crew, which she says are the most worn of any in her collection. "They're consistently good, and I never have to worry about them in the wash," she says.
Best thick white socks
Li likes these socks from REI, which are made of a thick, moisture-wicking fabric and have reinforced toes and heels. "What makes them extra good is the quality of the material," she says. "I love white socks that are thick, and you can tell which socks are thick and which are thin and kind of scraggly just by looking at them. And if you want the option to fold the ankle part over, extra thickness can be a major game changer."
Best white socks without ribbing
In case you'd like a crew without ribbing, Gross suggests these from Organic Basics, which are made from ultra-soft, GOTS-certified cotton. In addition to being soft, they're also ethically made in sustainable factories and are cruelty free.
For a more affordable non-ribbed option, Gale recommends the Summer Sock from Los Angeles Apparel, which she says is ideal for warm weather due to its lightweight fabric. The socks also have a small cuff at the top, which helps them to stay up throughout the day.
Best white ankle socks