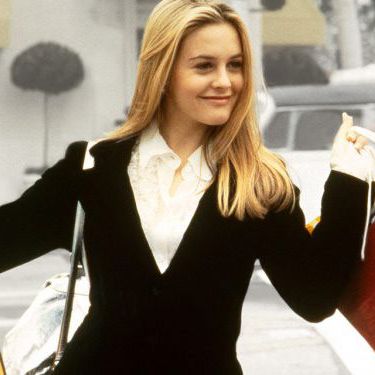 Photo: Paramount Pictures
Over the past couple of years, a new crop of "shop now, pay later" companies have emerged, including Affirm, AfterPay, Klarna, and QuadPay. Their logos can be found on the checkout pages of a wide range of online retailers — everywhere from West Elm and Amazon to Urban Outfitters and Sephora, and even on some airlines. Offering various payment installation plans, these companies are a new spin on the old concept of layaway, a payment plan in which shoppers pay for their purchase in installments, and can only collect the item from the retailer once it's paid off in full. What differentiates Affirm, AfterPay, Klarna, and QuadPay from traditional layaway programs, though, is that you don't have to wait until the purchase is paid off to get your goods — and each is branded in particularly "millennial-friendly" ways, with accessible start-up-y how-to guides, and apps that you can use both to shop and make payments. Of course, after-pay programs might sound too good to be true, and sometimes they are — rife with small print, some come with high late fees and interest charges. To find out the pros and cons of each of these new companies, we've broken down how they work and what, if any, catches you should be aware of before using them for online shopping.
Affirm
How it works: You can sign up for Affirm either on the company's app, or do so at checkout on retailers' sites where the payment option is available. Once you've signed up, you can look for the Affirm logo on the checkout page of online retailers (or any retailer in Affirm's website and app directories). When you checkout, Affirm will determine (in real-time) your eligibility to use their service to pay at the time of purchase. Upon approval, Affirm offers shoppers payment options ranging from 0-30% APR and payment terms from 3-48 months. In the company's terms of service, Affirm is described as a "closed-end installation loan product," which means that when you use Affirm to pay you are essentially taking a loan from the company and paying it back over a fixed period.
Where to use it: Peloton, Audi Service and Parts, Dyson, a diamond company — Affirm has partnered with a number of higher-end brands across home, fitness, auto, apparel, and electronics categories.
Payment options: Affirm offers payment installation plans that span three to forty-eight months. You can make a payment using a debit or credit card through Affirm's website or app, or mail in a check. If you want to use Affirm at a store that has not partnered with the company, you can apply for a loan through Affirm's website or app, and then receive a virtual credit card that you can use in the way you would a standard credit card (enter the number at checkout, pay when your balance is due).
The fine print: There are no late, prepayment, or annual fees, but you will be charged an interest rate of 0 percent to 30 percent for most products — though some have 0 percent interest, which is indicated on Affirm's site — determined in part by your creditworthiness, which depends on factors including your repayment history and credit score. The amount of interest you are expected to pay will be shown before you checkout.
TLDR: Affirm is likely best for people who already have a good credit score (if you don't, you might get hit with interest fees up to 30 percent) and for larger, higher-priced purchases, like a Peloton bike or a Casper mattress, that you might want months, rather than weeks, to pay off.
AfterPay
How it works: You can sign up on AfterPay's website by providing basic information (name, contact, address), without providing a credit check. After you've signed up, you can shop through AfterPay's site, or go to a specific retailer's site and select AfterPay at checkout.
Where to use it: A wide range of millennial-friendly, mid-range clothing beauty, and fitness retailers (think Madewell, Ulta, Coyuchi, and Sakara).
Payment options: AfterPay offers a four-part, interest-free payment installation plan. For some purchases, the first installment payment will be higher than the following three (AfterPay shows you the breakdown of how much each of the four payments will be before you place your order). To pay, you would connect a debit or credit card to your account, and then opt for manual or automatic payments through AfterPay's app. You cannot change your payment due dates if your payment is already overdue, or due within the next 24 hours. Depending on the purchase, you can move the second or third payment installation one time per order (though new AfterPay users have to wait 42 days since their first purchase to use the payment date movement option).
The fine print: If you miss a payment, AfterPay will automatically not let you make any other purchases with the program. You will incur a late fee if the installation is not paid off after "the applicable grace period," which AfterPay says is "usually" ten days. AfterPay only charges one late fee per installment, and states that the total amount of late fees for a purchase will never exceed 25 percent of the initial value of the purchase.
TLDR: Because of AfterPay's four-part installation payment plan, it would likely be most useful for that slightly-more-expensive-than-you'd-typically-spend Madewell jumpsuit, or that Coyuchi duvet and sheet set you know you'll have for a while, but feels like a bit of a splurge in the moment. Paying in four parts might make it easier to factor the purchase into your weekly budgeting, without dragging the payment period out for so long that it feels like a burden.
Klarna
How it works: You can select Klarna at checkout from specific retailers that offer the option (a full directory is available here). Klarna also has an app which allows you to use the service for purchases at any U.S. retailer.
Where to use it: Klarna is available from many clothing, beauty, health, and electronics retailers, including The North Face, Bose, and Asos.
Payment options: Klarna has three options for how and when you pay for your purchase. The first option is to pay for your purchase in four interest-free payments, which get charged to your card every two weeks. If you miss a payment, Klarna will try charging your card again, and if on the second try they do not receive payment, you will be charged up to $7 in late fees that will be tacked on to the amount you're due to pay in the next scheduled payment.
The second option is Klarna's Pay in 30 days program, in which you have 30 days to pay for your purchase, starting from the day the order is shipped. The idea here is that you can receive an online order, try it on, and if decide to return it, send it back before the 30-day period is up, and not be charged (whereas with a standard online purchase, your card would be charged at the time of checkout, and you would then be reimbursed later if you return the item.)
The third option is a six to 36 month financing program, which is essentially a Klarna credit card. First, you'll need to complete a credit application. Once you've been approved, you can make monthly payments through Klarna's app that will pull the money from your bank account or charge to another credit card. There is an annual interest rate of 19.99 percent, which means that the monthly interest rate is 1.666 percent if you do not pay your balance in full by the due date. If you do pay your balance in full by the due date, you won't be charged interest, and there are no annual fees.
The fine print: Whether you are charged interest will depend on which payment plan you choose, and if you pay your balance in full by the due date. If you opt for the four-payments program, you will not be charged interest. If you use Klarna Credit and do not pay your balance in full by the due date, you'll be charged interest at an annual interest rate of 19.99 percent, meaning 1.666 percent monthly.
TLDR: Because of its 30 Days program, Klarna is a good option for when you're not quite sure which clothing size to order, so you order a few different ones to try out, or if you're not totally convinced those pillows will go with your couch, and think you might need to return them. You can return the items before the 30 day period is up, and not have to deal with waiting for the company to reimburse your credit card — because you won't have been charged in the first place.
QuadPay
How it works: You sign up for an account through QuadPay's website or app, and link your debit or credit card to your account. Then you can use QuadPay's app to search for stores that the company has partnered with, and use it for both online and in-store purchases. If you are shopping in a brick-and-mortar store that accepts QuadPay, you can still make the purchase through the app. To make a purchase through the app, you select a retailer where QuadPay is accepted, enter the amount of the item plus taxes and shipping, and then the app will display estimated payment installment amounts and due dates. Once you agree to the installments and dates, QuadPay pulls up a virtual credit card that you can present to the cashier the way you would a standard credit card.
Where to use it: Any website that has a QuadPay logo on their checkout page (there are many, including Amazon and Walmart). You can also use QuadPay to pay at any retailer's website by using the company's credit card option, a QuadPayVisa.
Payment options: QuadPay offers a four-part installation payment plan, where your credit card will be charged for your purchase four times over six weeks. The first installment charge happens at the time of purchase, and there is no interest charge on the payments overall.
The fine print: If you are late for your payment, you may be charged a late fee of up to $10 (the amount depends on your state of residence) up to three times per QuadPay purchase.
TLDR: QuadPay would be good for the person who is making several mid- to large-ticket purchases at once — say a big Amazon order with supplies for a new apartment, or even an overhaul of your workout gear with a big Athleta order — and wants to have a little bit longer to pay for them, without worrying about interest.
The Strategist is designed to surface the most useful, expert recommendations for things to buy across the vast e-commerce landscape. Some of our latest conquests include the best acne treatments, rolling luggage, pillows for side sleepers, natural anxiety remedies, and bath towels. We update links when possible, but note that deals can expire and all prices are subject to change.