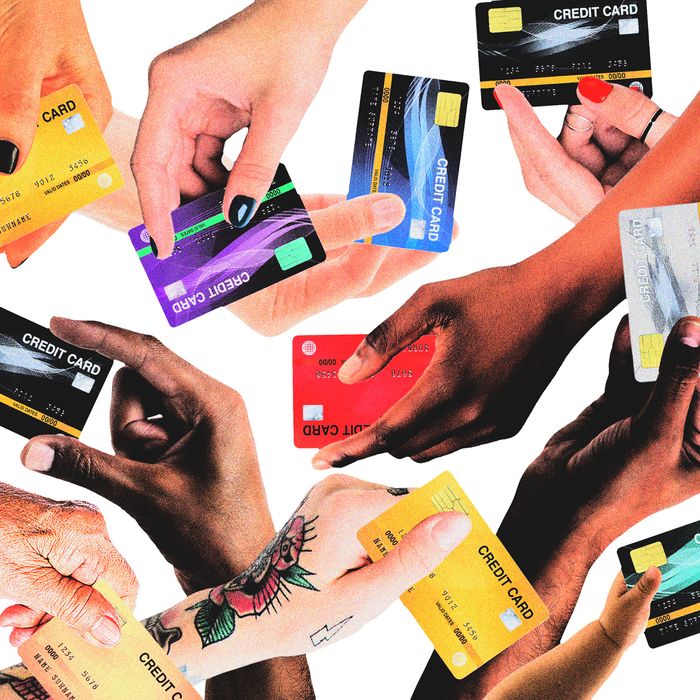 Photo-Illustration: By Stevie Remsberg; Photos Getty Images
Terms apply to American Express benefits and offers. Enrollment may be required for select American Express benefits and offers. Visit americanexpress.com to learn more.
It's confusing business, calculating all those annual fees and interest rates and rewards points in order to find the credit card that's best for you, whether your specific lifestyle involves a lot of travel or ride-share services or even just — if we're talking about the current moment — streaming Netflix. And while there's a lot of personal-finance-focused content out there these days to help you wade through your options, we at the Strategist have decided to come at the subject in our own way. That is, by talking to a lot of people about the credit cards they use and why they use them.
For the list that follows, we consulted plenty of professionals, including money managers and finance authors, but we also turned to less expected sources who happen to be obsessive (and exceptionally informed) about the world of credit cards. The more traditional of our dozen or so experts include credit-card journalists Eric Rosenberg, Jason Steele, and Holly Johnson; personal finance experts Trae Bodge and Tiffany Aliche; and financial planner Nick Holeman. Beyond this core group, we spoke to editors on the masthead at Condé Nast Traveler, analysts at places like Goldman Sachs and Barclays, and even a couple of 20-something buddies who have such passion for their respective favorite credit cards, they agreed to let us moderate them in a high-intensity debate about which is better. The recommendations that emerged include those for frequent flyers, Amazon shoppers, and restaurantgoers — or takeout-orderers, given the current moment. (But then again, in the time of a pandemic, a very straightforward cash-back card may well be your best bet.) Read on to decide for yourself; as always, we've broken the recommendations and advice into sections, so if you want to jump to something specific, you can by clicking any of the below links. Note: Prices shown reflect annual fees charged by each card; for cards that don't charge annual fees, no price is listed.
The best credit card for a pandemic | The second-best credit cards for a pandemic | What's the deal with APR, or interest rates? | The best credit card for travelers | The best credit card for casual travelers who want to get into rewards | Is there a best airline credit card? | Two more good credit cards for travelers, according to Condé Nast Traveler editors | Why are rewards-points systems so confusing (and are there ways to make them less so)? | The only retailer-affiliated credit card worth having | The best credit card for entrepreneurs | The best credit card for college students | And a debate about travel-points-focused credit cards vs. cash-back credit cards
The
best
credit
card
for
a
pandemic
It should not come as a shock that our present moment isn't the best time to sign up for a card that rewards you for getting on a plane or dining out. While some cards that employ a points system, like both Chase Sapphire® cards and the American Express® Gold Card, also allow you to turn those points into cash, you tend to get more value putting those cards' points toward things like flights and hotels. Because of that, the most useful credit card to sign up for right now is probably a very simple cash-back card, which, as Rosenberg puts it, "is like getting free money back on the money you spend" — pretty much wherever you spend it — because it allows you to pay off purchases on your statement or balance.
According to Steele, an ideal credit card to sign up for right now is the American Express Blue Cash Preferred card, which offers 6 percent cash back at U.S. supermarkets on up to $6,000 in purchases per year, as well as on certain U.S. streaming services, including Netflix. (You also get 3 percent cash back on transit and U.S. gas station purchases, and one percent cash back on everything else.) "It covers urbanites and suburbanites equally," Steele says, given that what counts as transit includes trains, taxicabs, ride-share services, and subways. You'll have to pay a $95 annual fee, "but if you do the math," Steele notes, "it's pretty hard to imagine you not earning hundreds of dollars in cash back on that card just with the supermarket benefit alone." (However, new applicants will have their first annual fee waived.) Tonya Rapley, the author and founder of MyFabFinance, also says the Blue Cash Preferred is the best pandemic card option, because it takes advantage of everyday spending while also allowing you to use points earned to reduce your monthly bill. "A lot of us aren't doing the things that traditional credit cards reward," she explains. "That will be really helpful because that way if you don't have the cash, you can still use the benefits that you reap with that card to pay down your balance." View card rates and fees here.
The
second-best
credit
cards
for
a
pandemic
One downside to the American Express Blue Cash Preferred card, according to Rapley, is that it can be harder to get approved for depending on your credit standing. But the experts recommend a couple of credit cards that are easier to get and have similar benefits. Rosenberg told us he also likes the Capital One Savor credit card for the same reasons he likes the Blue Cash Preferred card. "It also has an annual fee of $95," he notes, "but has really good bonuses for a bunch of categories," including groceries — with the Savor you'll get 2 percent cash back at grocery stores, and one percent back on most other purchases. (Its best bonuses, though, are on dining and entertainment — 4 percent cash back — which will be nice for whenever you start dining and entertaining out again.)
Rapley says another good alternative to the Blue Cash Preferred card could be the Freedom Unlimited card from Chase, which she says tends to be a little more lenient with issuing credit. The Freedom Unlimited earns 1.5 percent cash back on every purchase, and also offers a $200 cash-back bonus if you spend $500 within the first three months of opening an account. There's no annual fee, and no minimum required to redeem for cash back. Personal finance expert Trae Bodge also likes this card for a pandemic because it has a zero percent intro annual percentage rate — or APR — on purchases for 15 months (after that, a variable APR of 14.99–23.74 percent will apply). Bodge says this generous intro APR will (hopefully) allow you to bypass paying interest on your balance during what is, for most, a financially uncertain period. When it comes to cards that offer 0 percent intro APR, though, Rapley says to be mindful of what happens when you come out of that introductory period. "Some cards will charge you the back interest, so you end up paying the interest on the purchases from that 15-month period if you have not already paid off" the balance by the time the period ends, she warns.
What's
the
deal
with
APR,
or
interest
rates?
Most of the experts we spoke to say that interest rates — or the fees charged on a balance you can't fully pay off — should be a nonissue, because, according to them, you should really avoid carrying a credit-card balance at all. If you're worried you won't be able to pay off a monthly balance, some of the experts say that you'll be better off with a debit card instead. But Bodge admits this ideal-world scenario isn't always the reality: "That's easy enough for us financial experts to say, because we're going to be more financially responsible than the average person." Personal finance expert Tiffany Aliche agrees: She says that saying to never carry a credit-card balance is like "telling kids the best way not to get pregnant is abstinence. Of course it is the ideal situation, but there are going to be people with credit-card debt."
That's why Aliche and Bodge say you should always be mindful of any card's interest rate when you sign up for one. In terms of what cards have the so-called best interest rates, Aliche says she'd start by looking for a card with no annual fee, "but it's really going to be you with your credit score that's going to determine the interest rate for your card. If you have a score of 750 or above, that's considered a perfect credit score and you're going to be able to command a better APR." Bodge adds that, ideally, you want to look for a card with an APR under 15 percent when comparing available options based on your credit score. (Most of the cards on this list, except for one, come with variable APRs based on credit score, with the lowest amounts generally hovering around 15 or 16 percent.) Aliche, along with Talaat and Tai McNeely, the husband-wife duo behind His & Her Money, say that you can get your credit score for free on websites such as Credit Karma or Experian. Once you know it, they suggest visiting MagnifyMoney, a website that helps you find the credit card that will offer you the best interest rate based on the credit score you provide.
The
best
credit
card
for
travelers