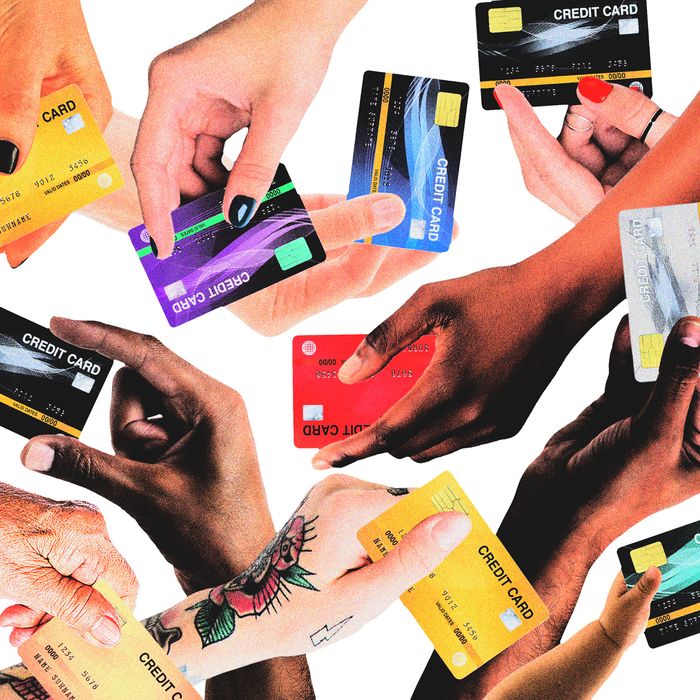 Photo-Illustration: By Stevie Remsberg; Photos Getty Images
It's confusing business, calculating all those annual fees and interest rates and rewards points in order to find the credit card that's best for you, whether your specific lifestyle involves a lot of travel or ride-share services or even just — if we're talking about the current moment — streaming Netflix. And while there's a lot of personal-finance-focused content out there these days to help you wade through your options, we at the Strategist have decided to come at the subject in our own way. That is, by talking to a lot of people about the credit cards they use and why they use them.
For the list that follows, we consulted plenty of professionals, including money managers and finance authors, but we also turned to less expected sources who happen to be obsessive (and exceptionally informed) about the world of credit cards. The more traditional of our dozen or so experts include credit-card journalists Eric Rosenberg, Jason Steele, and Holly Johnson; personal finance experts Trae Bodge and Tiffany Aliche; and financial planner Nick Holeman. Beyond this core group, we spoke to editors on the masthead at Condé Nast Traveler, analysts at places like Goldman Sachs and Barclays, and even a couple of 20-something buddies who have such passion for their respective favorite credit cards, they agreed to let us moderate them in a high-intensity debate about which is better. The recommendations that emerged include those for frequent flyers, Amazon shoppers, and restaurantgoers — or takeout-orderers, given the current moment. (But then again, in the time of a pandemic, a very straightforward cash-back card may well be your best bet.) Read on to decide for yourself; as always, we've broken the recommendations and advice into sections, so if you want to jump to something specific, you can by clicking any of the below links. Note: Prices shown reflect annual fees charged by each card; for cards that don't charge annual fees, no price is listed.
The best credit card for a pandemic | The second-best credit cards for a pandemic | What's the deal with APR, or interest rates? | The best credit card for travelers | The best credit card for casual travelers who want to get into rewards | Is there a best airline credit card? | Two more good credit cards for travelers, according to Condé Nast Traveler editors | Why are rewards-points systems so confusing (and are there ways to make them less so)? | The only retailer-affiliated credit card worth having | The best credit card for entrepreneurs | The best credit card for college students | And a debate about travel-points-focused credit cards vs. cash-back credit cards
The
best
credit
card
for
a
pandemic
It should not come as a shock that our present moment isn't the best time to sign up for a card that rewards you for getting on a plane or dining out. While some cards that employ a points system, like both Chase Sapphire cards and the American Express Gold Card, also allow you to turn those points into cash, you tend to get more value putting those cards' points toward things like flights and hotels. Because of that, the most useful credit card to sign up for right now is probably a very simple cash-back card, which, as Rosenberg puts it, "is like getting free money back on the money you spend" — pretty much wherever you spend it — because it allows you to pay off purchases on your statement or balance.
According to Steele, an ideal credit card to sign up for right now is the American Express Blue Cash Preferred card, which offers 6 percent cash back at U.S. supermarkets, as well as on certain U.S. streaming services, including Netflix. (You also get 3 percent cash back on transit and U.S. gas station purchases, and one percent cash back on everything else.) "It covers urbanites and suburbanites equally," Steele says, given that what counts as transit includes trains, taxicabs, ride-share services, and subways. You'll have to pay a $95 annual fee, "but if you do the math," Steele notes, "it's pretty hard to imagine you not earning hundreds of dollars in cash back on that card just with the supermarket benefit alone." (For a limited time, however, new applicants will have their first annual fee waived.) Tonya Rapley, the author and founder of MyFabFinance, also says the Blue Cash Preferred is the best pandemic card option, because it takes advantage of everyday spending while also allowing you to use points earned to reduce your monthly bill. "A lot of us aren't doing the things that traditional credit cards reward," she explains. "That will be really helpful because that way if you don't have the cash, you can still use the benefits that you reap with that card to pay down your balance."
The
second-best
credit
cards
for
a
pandemic
One downside to the American Express Blue Cash Preferred card, according to Rapley, is that it can be harder to get approved for depending on your credit standing. But the experts recommend a couple of credit cards that are easier to get and have similar benefits. Rosenberg told us he also likes the Capital One Savor credit card for the same reasons he likes the Blue Cash Preferred card. "It also has an annual fee of $95," he notes, "but has really good bonuses for a bunch of categories," including groceries — with the Savor you'll get 2 percent cash back at grocery stores, and one percent back on most other purchases. (Its best bonuses, though, are on dining and entertainment — 4 percent cash back — which will be nice for whenever you start dining and entertaining out again.)
Rapley says another good alternative to the Blue Cash Preferred card could be the Freedom Unlimited card from Chase, which she says tends to be a little more lenient with issuing credit. The Freedom Unlimited earns 1.5 percent cash back on every purchase, and also offers a $200 cash-back bonus if you spend $500 within the first three months of opening an account. There's no annual fee, and no minimum required to redeem for cash back. Personal finance expert Trae Bodge also likes this card for a pandemic because it has a zero percent intro annual percentage rate — or APR — on purchases for 15 months (after that, a variable APR of 14.99–23.74 percent will apply). Bodge says this generous intro APR will (hopefully) allow you to bypass paying interest on your balance during what is, for most, a financially uncertain period. When it comes to cards that offer 0 percent intro APR, though, Rapley says to be mindful of what happens when you come out of that introductory period. "Some cards will charge you the back interest, so you end up paying the interest on the purchases from that 15-month period if you have not already paid off" the balance by the time the period ends, she warns.
What's
the
deal
with
APR,
or
interest
rates?
Most of the experts we spoke to say that interest rates — or the fees charged on a balance you can't fully pay off — should be a nonissue, because, according to them, you should really avoid carrying a credit-card balance at all. If you're worried you won't be able to pay off a monthly balance, some of the experts say that you'll be better off with a debit card instead. But Bodge admits this ideal-world scenario isn't always the reality: "That's easy enough for us financial experts to say, because we're going to be more financially responsible than the average person." Personal finance expert Tiffany Aliche agrees: She says that saying to never carry a credit-card balance is like "telling kids the best way not to get pregnant is abstinence. Of course it is the ideal situation, but there are going to be people with credit-card debt."
That's why Aliche and Bodge say you should always be mindful of any card's interest rate when you sign up for one. In terms of what cards have the so-called best interest rates, Aliche says she'd start by looking for a card with no annual fee, "but it's really going to be you with your credit score that's going to determine the interest rate for your card. If you have a score of 750 or above, that's considered a perfect credit score and you're going to be able to command a better APR." Bodge adds that, ideally, you want to look for a card with an APR under 15 percent when comparing available options based on your credit score. (Most of the cards on this list, except for one, come with variable APRs based on credit score, with the lowest amounts generally hovering around 15 or 16 percent.) Aliche, along with Talaat and Tai McNeely, the husband-wife duo behind His & Her Money, say that you can get your credit score for free on websites such as Credit Karma or Experian. Once you know it, they suggest visiting MagnifyMoney, a website that helps you find the credit card that will offer you the best interest rate based on the credit score you provide.
The
best
credit
card
for
travelers
By and large, the Chase Sapphire Reserve was the credit card recommended most often by our experts — eight of them say they have it in their own wallets — especially for people who love to travel. The card comes with benefits like a $300 annual travel credit, access to more than 1,000 airport lounges through Priority Pass, and the ability to transfer airline miles to hotel points. The catch is the Reserve is far from free, with a steep annual fee of $550. But, as Rosenberg emphasizes, this is offset by that annual travel credit, which, if you spend that much a year on travel anyway (and that includes hotels and airport parking), effectively reduces the yearly fee to just $250. Plus there's the trip cancellation/interruption insurance: When you get stuck somewhere due to, say, a weather delay, Rosenberg notes that airlines aren't required to do anything other than to help you find the next flight, which could even be the next day — and in that case, you'll have to pay for your own hotel room. "But if you have a Sapphire card, that interruption insurance will kick in and you can get them to pay for your hotel room so you don't have to pay out of pocket."
With the Reserve, you get three points per dollar on travel and dining worldwide and one point per dollar for everything else, as well as money towards DoorDash (through March 2022), and a Lyft Pink membership (through December 2021). Meredith Carey, an associate editor at Condé Nast Traveler and a co-host of the Women Who Travel podcast, says she uses her Reserve for pretty much everything she buys, which means her points add up fast. With her day-to-day purchases alone, she can usually get three or four economy flights a year out of the card, she estimates. The Reserve offers an enticing sign-up bonus of 50,000 bonus points, provided you spend $4,000 on purchases in the first three months of getting the card. But as financial planning expert Nick Holeman warns, one of the biggest ways people lose money with credit cards is by spending more than they otherwise would in order to meet that minimum to get the bonus. That's why, says Holeman, you should time when you apply for a new credit card around a large purchase that you were already planning on making, which is what he and his wife did with their honeymoon. Bodge says it's worth noting that meeting the minimum required to reap the Reserve sign-up bonus is something that most people would have a hard time doing in their everyday course of spending. "If you can put your rent on the card, that makes a big difference. But not everywhere you live will let you pay your rent on a card. I can't pay my mortgage with my card," she adds.
The
best
credit
card
for
casual
travelers
who
want
to
get
into
rewards
If the Reserve's $550 annual fee seems like too big of an obligation, several experts say you might want to opt for Chase's starter Sapphire card, the Chase Sapphire Preferred. The experts call this card the best option for someone who wants to learn how travel rewards like points and miles work, because the Preferred has an annual fee of just $95 and still earns double the points on travel and restaurant expenses, plus one point per dollar on everything else. Rapley says it's a great option for someone who can't necessarily qualify for the Reserve but still wants access to the Chase portal, which she says is her favorite booking tool given how easy it makes the redemption process. The simplicity of the Chase portal, she says, makes it "literally like a central booking station to redeem your points instead of having to use them across the board." The Preferred's sign-up bonus is 60,000 points after spending $4,000 on purchases in the first three months. One investment banking associate we spoke to told us that both of his roommates started with the Preferred card out of college, before upgrading to the Reserve after two years.
Like the Reserve, the Preferred card also offers that travel cancellation/interruption insurance — which applies to car rentals, too. Ashlea Halpern, the editor-at-large for AFAR Media, says one of the most valuable things to know when you go to rent a car is to skip the rental agency's coverage and charge the entire rental transaction to your card, which then is your insurance, providing reimbursement up to the actual cash value of the car for collision and theft. (Multiple experts we spoke to, including Halpern, said that Chase has exceptional customer service when it comes to dealing with car rentals.) Rosenberg adds that a rental company's insurance usually costs about $10–20 a day, so if you use the card as your auto insurance on a ten-day trip, you just saved $100. "That right there in one trip paid for the whole annual fee," he says.
Is
there
a
best
airline
credit
card?
On the one hand, if there's an airline you really love and are loyal to — say, United — there are merits to signing up for their card (which, in United's case, would be the United Explorer Card, which has a $95 annual fee and "comes with a free checked-bag benefit," according to Rosenberg). But as Halpern points out, an airline could tweak their miles program at any time, and "if you put all of your eggs in one basket and the airline devalues it on a whim, you're screwed." Steele says airlines are notorious for lowering the value of their rewards miles and "moving the goal post in a very frustrating way for people who have been using the credit card and saving their miles."
If you are worried about airlines devaluing points, Steele says you can mitigate this risk by going with a card like the Chase Sapphire Reserve or Preferred because you can use their points across several airlines. "Just because someone says it's the best airline card doesn't mean it's the best for your lifestyle," says Rapley, noting that a card specific to an airline that doesn't fly where you're located or have a nearby hub is essentially useless. "Make sure it's an airline that you know you would be able to utilize frequently to take advantage of those perks."
Two
more
good
credit
cards
for
travelers,
according
to
Condé
Nast
Traveler
editors
When planning her wedding last year, Stephanie Wu, the articles director at Condé Nast Traveler, signed up for the American Express Platinum Card knowing that she would be spending enough to get the welcome bonus of 75,000 points for spending $5,000 in the first six months of opening the account. As for why Wu went with the Platinum in the first place, she says her main reason was the "unbeatable" five points per dollar on airline-ticket purchases (all other expenses earn one point per dollar). "Between my bachelorette trip, honeymoon, and other weddings I was attending, I knew I'd be on a lot of planes," says Wu. A few other perks came in handy during her trips, too, like the access to Delta Sky Clubs. "With the Platinum card, you can enter Delta Sky Clubs whenever you fly Delta, no matter what class you're flying. While AmEx's own Centurion Lounges are arguably nicer than most Sky Clubs, I found that they often weren't in the right cities or terminals for my travels — but a Delta Sky Club always was." These perks do come at a cost, though: The Platinum card charges an annual fee of $550, and is the only card mentioned that doesn't technically have a regular APR; instead, for anyone who does not pay their balance in full each month, American Express offers the ability to pay off select charges of $100 or more on this card over time, but any monthly balance carried will be subject to a variable APR of 15.99–22.99 percent.
While she now uses a Sapphire Reserve card, Carey also told us how much she loved the more general Bank of America Travel Rewards card that she used for years before making the switch. "The points game is not for everyone," she says, "since calculating the best way to earn and spend points can sometimes feel like a full time job." Instead of awarding points you can use to book future travel, this card's points can be used to pay off any travel-related purchases you've charged to it within 12 months (making it more like a cash-back card specifically for travel). As Carey puts it, the card "allows you to reap travel benefits" when you buy your usual groceries, dinners out, clothes — whatever — with it: "All the while, you're racking up points that you can then use to retroactively pay off travel costs and knock, say, a flight to London or your $33-weekly MTA pass off your previous statement." Additional perks include no annual fee, points that never expire, and no foreign transaction fees (we should note that none of the cards on this list that are specifically recommended for travel charge foreign transaction fees).
Why
are
rewards-points
systems
so
confusing
(and
are
there
ways
to
make
them
less
so)?
A main point of confusion with points, according to Holeman, is that they often are not as simple as one point equalling one dollar, as this exchange rate can depend on what you are using the points toward. "If you redeem your Chase points for cash back, you might get $0.01 of value per point; if you redeem your Chase points for travel, then you can get 50 percent more value for each point," he explains. Steele adds: "The more valuable systems tend to be more complicated." When it comes to getting the best bang for your points on travel, Halpern suggests utilizing a booking service that can help you find the best way to transfer your points to miles if you're using a credit card whose points aren't dedicated to a specific airline (one of Halpern's favorites is Juicy Miles).  
The
only
retailer-affiliated
credit
card
worth
having
While the general consensus among our experts is that you should probably skip most retailer-affiliated credit cards, the Amazon Rewards Visa Signature Card is an exception. Rosenberg says this is the only retailer-affiliated card he has himself, the reason being the five points per dollar that Amazon Prime members get on all Amazon and Whole Foods purchases. "If you shop at either of those regularly, getting a rate of 5 percent (or five points per dollar) is about the most you're going to get on any card wherever you spend," he says, adding that the card has no annual fee. You also earn two points per dollar on purchases at restaurants, gas stations, and drugstores, and one point per dollar on everything else — all of which can be used to pay down your balance. Bodge agrees, describing this as "a really stellar card" both in terms of the offered rewards as well as the simplicity of the benefits. "It's very clear what you're getting," she says. "For me, I need to find a card that's easy to use with good points on offer for the things that matter to me," noting that being an avid Amazon and Whole Foods shopper makes her confident that she'll reap the perks without having to think too much about it. "Any card with no annual fee that has this level of benefits is, I think, one to strongly consider."
Holeman says the one time to be wary about signing up for a retailer-affiliated credit card, though, is if it's your first one. For credit-score reasons, he says you want to hold onto the first cards that you get for life "because they help build your credit score over time." While you "might shop at, say, Old Navy right now," he continues, "ten years from now, are you still going to want that card? If not, you might be tempted — especially if it has a fee — to close it." Either way, you're stuck in a bad situation. "You're either paying a fee to keep a credit card open that you don't use and get value from, or you close it to save the fee and take a hit to your credit score." But Holeman feels differently about the Amazon card, calling a "pretty low-risk" card with a valuable rewards system. "I like it because Amazon is inherently pretty flexible. It's not like you can only buy one kind of thing — you can buy anything on Amazon," he says. "And Amazon is probably not going anywhere anytime soon."