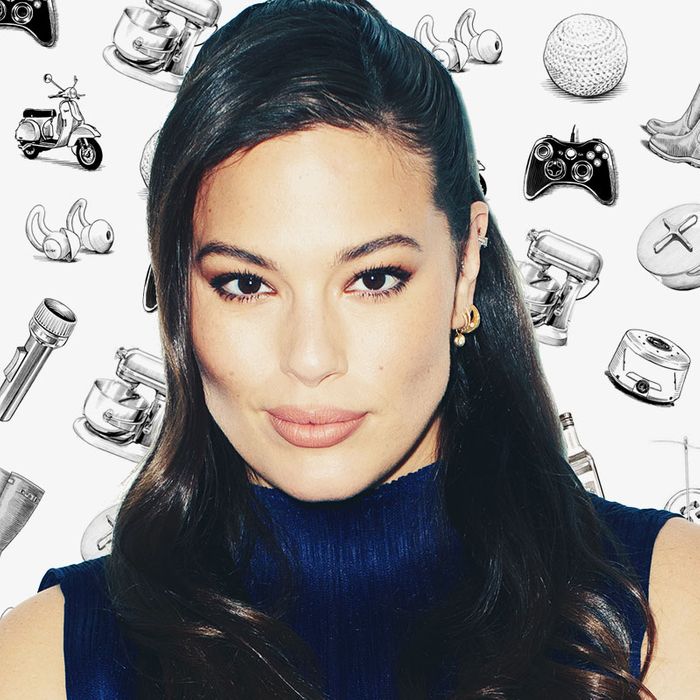 Photo-Illustration: Ben Ritter
If you're like us, you've probably wondered what famous people add to their carts. Not the JAR brooch and Louis XV chair but the hairspray and the electric toothbrush. We asked model and entrepreneur Ashley Graham — whose podcast, Pretty Big Deal, is currently airing season three — about the tea kettle, towels, and vitamin C serum she can't live without.
Photo: retailer
I posted myself pumping on social media one time, and someone commented that I really need a hands-free pumping bra. I was like, "Those things exist?" I had no idea. I started Googling away, and this one looked like it would fit, which was the biggest thing for me because the girls got big. I'm a multitasking mom, so this bra was exactly what I needed to get emails and phone calls done while I'm pumping. It doesn't matter what kind of bra I'm wearing — a nursing bra or not — I just pull my boobs out, wrap this thing around me, put the suction cup things on, then pump. As long as my nipples are aligned to the suction, I don't have to adjust anything. I try to pump at least once or twice a day. It is so exhausting to pump — you have the set up and the clean up, then the actual pumping. Every time I'm like well, there goes 40 minutes of my life. Anything that makes it slightly easier is life-changing.
Oh my gosh, I've been using Aquaphor for probably 15 years. A makeup artist used it on me once, and my lips stayed moisturized all day. I was like, "What is this stuff?" She told me you can literally pick it up at any drugstore — Walgreens, CVS, Duane Reade — so I was like, "Perfect, this is the stuff for me." I use it on my lips, my elbows, my feet, everywhere. I have been that girl to empty a whole tube of lip balm because I was headed to an event and forgot to apply lotion. I just put it all over my legs and the problem was solved. They were very sticky, but they looked good. I'm sad to say that I have actually done this multiple times before. It's a good hack.
Photo: retailer
Listen, I am all about keeping it regular, and the squatty potty is famous for that reason. It just gets the job done. I think the bamboo shade looks super chic in the bathroom, too, so it's a win-win. I've been using it for years. I get colonics sometimes because when I travel as a model, my system gets really irregular. I found that colonics are really helpful to get me back on track. If you've ever had one, you know you put your feet up on a squatty potty, and one time, I thought, "Oh, this is something I need at home, too." I got it and I love it. I have given the squatty potty as a gift to at least five people. I swear it has changed people's lives. I've gotten photos of it in use before.
A holistic doctor who said I need more magnesium in my system told me about this. I drink it in bed because I pass out literally right after I finish it. I make sure everything is in place in order to drink it because I know that once I take it, I'll be out. It is just so calming. I love the orange flavor because it actually tastes good. I've never been stressed enough in the middle of the day where I have to have a cup of this tea in order to calm down, thankfully, so it's really just a night routine thing for me.
Instagram ads are constantly popping up on my phone, and sometimes I'm a little skeptical. But I kept seeing this kettle pop up, so I looked into it and was like, "Okay, I need this." After I bought it, my assistant came in and said, "Leave it to you to find a really sexy kettle." And I'm like, "Yeah, it is, isn't it?" It really is a sexy piece to have out in your kitchen. It's not too big. It's not too small. It's matte. It's black. It's really gorgeous. It blends in well because my kitchen is a bit darker. I also like that it's quiet. I'm very noise-sensitive when the baby is sleeping. I use it every day. I start my day with apple cider vinegar, so I'll have a little cup of that with a cup of hot water. Then at night, I use it with my Natural Calm Vitality drink. There's a thermometer on top, which is great if I'm trying to get the perfect water temperature. If you're a tea snob, this is a great kettle for you.
My hair is fine and really wavy. It used to be super curly, but I think between blowouts and birth control, I lost a lot of my texture. And like a lot of women, I had postpartum hair loss, which I did not know was a thing until it happened to me. It was about four months postpartum when my hair literally just came out in clumps. I was like, "Why did no one tell me this is what would happen?" But it happened, it really happened. I tried a lot of different remedies — I even made stuff at home — but this scalp serum from Kerastase has been a true saving grace. I spray a little bit of castor oil and canola oil on my hair first, then apply the Kerastase. My new growth looks like bangs, and it's very weird, but at least I have my hair back.