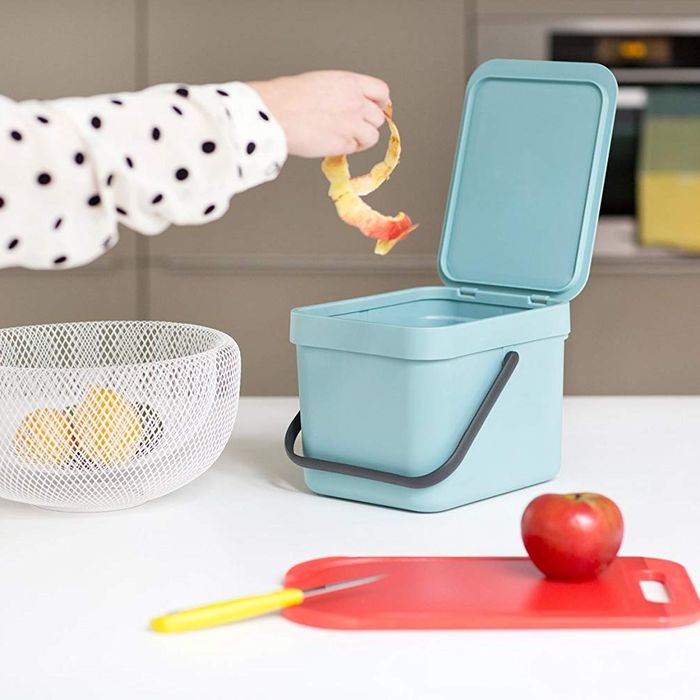 Here at the Strategist, we regularly answer our readers' most burning shopping questions, but sometimes, we're on the lookout for something ourselves. With Strat Hunt, a member of our team attempts to solve a real-life shopping issue and find exactly what they're looking for. Today, a deep dive into stylish, but still functional, kitchen compost bins for a small New York City apartment.
I like to cook, so I generate a lot of food scraps, and for a long time, I felt guilty that most of the trash I threw out could actually be composted. So I was a quick and enthusiastic adopter of New York's expanded organics-collection program, and for the better part of a year, I've been diligent about putting out my city-distributed brown compost bin for curbside pickup. But my compost situation is anything but pretty — in fact, my "compost bin" is just a metal mixing bowl from Target, fitted with a green biodegradable bag, kept in my freezer. It's not the most elegant and grosses out my boyfriend, who would like to use that freezer space to store actual food instead of frozen lemon rinds and cut-off ends of sweet potatoes.
I'm not alone in my desire to find an aesthetically pleasing compost bin. I spoke with Bea Johnson, who calls herself the founder of the zero-waste-lifestyle movement and wrote one of the more popular titles on the subject, Zero Waste Home, and she's found that collecting scraps for compost is made simpler when you have a compost bin that you actually like. "Many drop the idea of composting because they can't stand the idea of having a dirty container on their counters, as most receptacles are advertised," she wrote in an email. "We would never think of putting our soiled trash cans on our counters." So why would we put ugly compost bins there?
That's why a lot of kitchen compost bins are designed to be tucked away, and, in fact, Johnson advocated for an under-sink solution. But I don't have space in my tiny kitchen for another bin in my already-stuffed kitchen cabinets. Plus, I like the idea of having my compost bin out in the open, so I don't forget to put my scraps away as I create them — without getting grossed out by any odors or unsightly rot while I cook.
So I started wondering if it were possible to find a more stylish kitchen compost bin, something that wouldn't obviously look like a trash can if it sat out on my counter, but would still work well. For me, that would mean it's got a fully closing lid that would keep pests out and odors in. Since space is a concern, I wanted something compact, a bin that wouldn't take up too much floor or counter space, but, as per Johnson's advice, still had enough volume to hold a week's worth of compostable scraps. And with those criteria, Johnson's words of wisdom, and my experience in mind, I scoured the depths of the internet to find the most stylish, yet still functional, kitchen compost bins — and found 13 actually nice-looking contenders that seemed to hit most, if not all, of my marks.
The Finalists
This plastic compost bin from OXO was featured in an earlier roundup of compost bins, selected by environmental experts, by my colleague Karen Iorio Adelson. I actually used to have this one, before my current mixing-bowl jury-rigged setup, and though it was much more attractive than the pale-brown, city-administered food-scraps bin I had been using, I found that it was a little too small for the amount of waste I produced. That meant the lid didn't fully close, and I had some pest issues. But if you're an infrequent composter who's only got some coffee grounds and the occasional eggshell, it's a nice, low-profile option that's easy to clean (albeit one that kind of looks like a child's pail).
This Brabantia bin, also made of plastic, comes in unassuming gray and white, as well as a cheerful yellow or pale blue. It's about the same volume as the OXO compost bin, but the bag fits snugly underneath the lid, so it's a little easier to keep closed. It also comes with a mount for your wall, so you can hang it up if you have the space, rather than leave it on the counter or the floor.
If you're really concerned about odor, but you still want a system that looks nice, this food-waste bin from English housewares company Joseph Joseph has a ventilation system built into the lid to help mitigate the moisture, which can cause those funky compost smells.
If you're looking to wean yourself off of plastic, there are plenty of compost bins made of other materials, like this one, also featured in Karen's roundup, that's made of biodegradable bamboo fiber. It's a slightly more elegant-looking pail than the OXO bin, but the holes give it away as a compost bin and not a normal food-storage container.
This compost bin is made of ceramic and looks more like a cookie jar than a place to put food scraps, making it a relatively handsome addition to a countertop.
This stainless-steel kitchen compost bin does look like a miniature version of Oscar the Grouch's trash can on Sesame Street, but it's still attractive enough to leave on your countertop or on display next to your trash can.
Of course Goop sells the most beautiful wooden-and-steel compost bin that looks like a bread box or old-fashioned ashtray but still holds about six quarts of food scraps.
If you're really just hoping to hide your compost bin entirely from view, you can get a mountable compost bin. This one is, objectively, kind of unattractive, but since you can hang it on the inside of a cabinet, no one else has to see it except for you.
You can also hide your compost bin in your freezer, with this silicone scrap collector from Scrap Happy. It's got a hook, so you can keep it secured on the inside of your freezer door, and because it's silicone, it's super easy to clean out. All you have to do is push the silicone inside out and rinse.
For those really tight on space, it might make sense to overhaul your entire waste setup and replace your existing kitchen trash can with this all-in-one tower from Joseph Joseph. It's got a recycling bin at the bottom, as well as a built-in one-gallon compost bin that hides away in the main compartment, next to the trash.
The Joseph Joseph all-in-one trash can also comes in a stainless-steel finish.
If you're interested in actually composting your food scraps at home, and not just dropping them off or getting them picked up, this worm composter is a solid option (though, as Karen points out in her roundup, you do need to be okay with keeping a couple hundred worms in your house). But as far as compost bins go, it's definitely stylish — and looks more like a mid-century side table than a home for worms.
For a less-wormy, at-home composting option that will also fit in a cabinet underneath your sink, this boxy, electric food recycler has built-in agitators that keep your scraps moving as they compost, meaning you don't have to go in there yourself. (Johnson, my zero-waste guide, actually recommended this one.) Plus, it only take three hours to go from scraps to beautiful, garden-ready compost.
The One I Went With
Though I was tickled by the luxury of the wooden-and-metal compost bin from Goop, charmed by the bright-yellow compost bin with fully sealable lid from Brabantia, and in awe of the efficiency of Joseph Joseph's all-in-one trash-slash-recycling-slash-compost tower, I ultimately ordered the Scrap Happy Scrap Collector & Freezer Compost Bin. At only $15, it was the cheapest of all the stylish options I found, and is basically an upgrade of my current composting situation, which is the system that works best for me. However, any of these stylish kitchen compost bins are solid options; it just depends on your budget and how you deal with food scraps in your kitchen. But I, for one, am looking forward to reclaiming my freezer space and making more room for ice cream, not just food scraps.
The Strategist is designed to surface the most useful, expert recommendations for things to buy across the vast e-commerce landscape. Some of our latest conquests include the best acne treatments, rolling luggage, pillows for side sleepers, natural anxiety remedies, and bath towels. We update links when possible, but note that deals can expire and all prices are subject to change.
Every editorial product is independently selected. If you buy something through our links, New York may earn an affiliate commission.