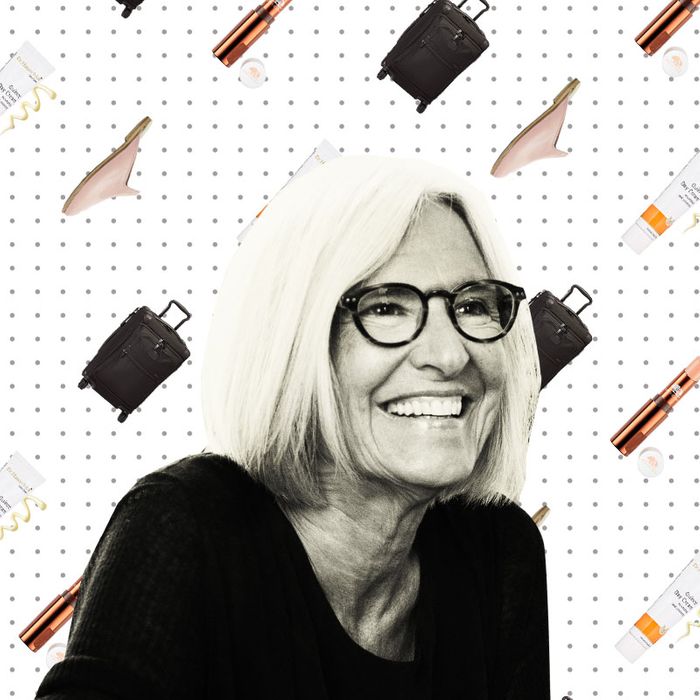 Photo: Courtesy of Eileen Fisher
If you're like us, you've probably wondered what famous people add to their carts. Not the JAR brooch and Louis XV chair, but the hand sanitizer and the electric toothbrush. We asked designer Eileen Fisher about the coconut yogurt, Tibetan chimes, and yoga mat that she can't live without.
I can't eat dairy, so I haven't been able to have yogurt forever. I discovered this coconut yogurt that is so great — I eat it with granola and with fruit, and it feels like I'm eating ice cream, which is another thing I can't eat, so it's a little delight. It's not a regular yogurt that's coconut-flavored. It's just made of coconut. It's also the right blend of creamy — the perfect consistency — and kind of sweet without being too sweet, like so many coconut yogurts are.
Editor's Note: While Anita's Creamline Coconut Yogurt is currently unavailable to buy online, you can find it in person.
This is a very good pen. It's not good on airplanes, though. Did you know that? Isn't it the one that burst on an airplane? [Editor's note: We looked into this, and Pilot now states on its packaging that these pens are airplane- and altitude-safe.] It's smooth and elegant, and it makes a nice line that's fine but not too fine. It's the pen I keep in my purse, the one I have in the office, and the one I have at home.
This is pretty much the only thing I use on my face. I use a variety of body lotions, but for my face, I'm pretty consistent about this one. It's the simplest thing. A friend introduced it to me, and I just fell in love with it because it moisturizes my skin (it can get dry) without feeling heavy all day. And maybe my nose doesn't work because it doesn't have much of a quince smell, but supposedly it's quince.
I read years ago that salt really isn't that bad for you. It was in this book whose title I forget, but it said that salt is actually good for you — it's processed salt that's had all the minerals stripped from it that's bad for you. Apparently, salt has all 80 minerals that we need to live, and I especially like the Himalayan pink salt that has lots of other benefits, too. So now I keep my pink salt in my own tiny salt shaker and bring it around.
I'm pretty bad about makeup. I've always been sort of natural and never really wore anything on my face, so I never really figured it out. Now when I dress up, I'll put on a bit of lip gloss, so I'll feel like I've done something. I tried eye makeup, but it didn't make much of a difference. Why do I like the Origins? It's very plain. I like plain.
I do a fair amount of yoga. I go regularly on yoga retreats — maybe two or three a year — and I need my own yoga mat. I have the black one, and it has just the right amount of thickness to it and isn't slippery. I've been doing yoga for 40-some years, and I've been practicing daily for maybe 16 or 17 years, about ten minutes every morning and maybe some poses in the evening. I think of yoga as a two-for-one for the mind and body. You get the exercise benefit, but you also get the meditative benefit.