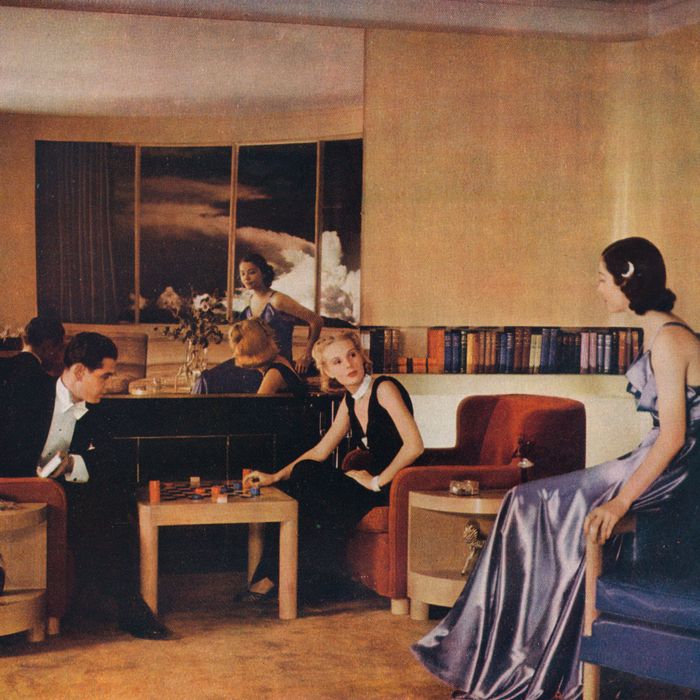 Photo: Courtesy of Getty Images
At first glance, staying entertained indoors doesn't seem like a huge challenge: Most of us could curl up with a good book or binge reality TV for hours, or even days, on end. But just like working from home or grocery shopping, at-home entertainment has taken on a whole new meaning thanks to the coronavirus pandemic, with its seemingly never-ending imperative to stay inside. A go-to card game or even Netflix will eventually get dull when you're trying to keep yourself — and maybe your roommates — entertained at home for the foreseeable future. That's why we've rounded up some of our most stimulating and creative at-home activities for adults, including some aesthetically pleasing puzzles, fast-paced board games, and expert-approved supplies for getting into a new craft like knitting, quilting, or origami.
Last year we wrote about how a new class of beautifully curated puzzles are an antidote to our digital age, among which Piecework Puzzle's jigsaws are the exemplar — including their "hyperdesign-y" Life of the Party puzzle. We've "pieced together" an assortment of other non-fusty puzzles to help you pass the time' alone or with friends, including a cheese-puff-shaped jigsaw, gradient puzzles, and some that pay homage to artists. Read more here.
Stylist Sissy Saint-Marie Chacon always has a jigsaw going on the dining room table — whether it's this "surreal" 1,000-piece puzzle of Hieronymus Bosch's Garden of Earthly Delights, a 500-piece op-art-inspired jigsaw, or a wooden puzzle. She explains that puzzling frees her "from compulsively looking at my phone, gives me quiet time to listen to audio books, and helps me defrag after a stressful project." Read more here.
Writer Alex Beggs is another devoted puzzler, who by her own estimate has spent "hundreds of hours in silent, diligent puzzle prayer," completing classic, but "non-corny" ("this is a Thomas Kinkade–free zone") 1,000-piece jigsaws — like this vintage Vanity Fair cover–themed pick from New York Puzzle Company. She also recommends a few map-emblazoned puzzles, and a nature-inspired jigsaw. Read more here.
When we asked seven gaming experts about their favorite two-player board game, over half of them named Patchwork, a quilt-building game that is "straightforward" with a "subtle strategy" to keep things interesting. The experts also recommended 16 other games in varying levels of difficulty, from a Cold War–themed strategy-heavy option, to a mushroom foraging game that can be played with kids. Read more here.
If you're trying to pass the time indoors with a group of people, the gaming experts who we spoke with agree that Settlers of Catan is one of the most classic and "endlessly adaptive" games to play. The experts also recommend 24 other four-person games that are family-friendly, fast-paced, and even app-compatible. Read more here.
Party board games are designed to be "quick, punchy, and highly interactive," so even if your "party" right now is a group of roommates or your family members these expert-approved picks will (help) minimize stir-craziness. There are family-friendly games, trivia games, and this word-association game called Just One, which more than half of the experts we spoke with recommended, and one describes as "simple to play, a breeze to teach, and utterly addictive." Read more here.
British board game designer Will Sorrell calls Ticket to Ride "an adventure travel game loaded with intrigue and opportunities for espionage and subterfuge," which you can play from the comfort (or at this point confines) of your home. He also recommends six other nonobvious board games from across the pond that are full of entertaining word play, sketching, and tower building. Read more here.
For an "ultrafast-paced" card game that will engage your reflexes, Sorrell recommends Jungle Speed, which can be played in groups of two to eight. Whether you're playing with a parent who loves crosswords, detail-oriented roommates, or family members with shorter attention spans (kids and grandparents alike), Sorrell has a list of ten games that will "bring out the best in people." Read more here.
Backgammon is an all-in-one game that has provided thousands of years of entertainment, and we found seven expert-approved sets at a range of prices for playing at the beach, on the go, or while (pretending to be) in a New York City park. Several experts recommended this corkboard set from Crisloid, which adds a bit of bounce to the dice and makes for a quieter game. Read more here.