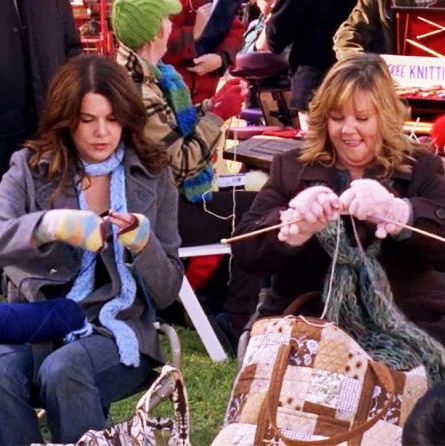 Photo: Courtesy Warner Bros. Television
When it's too cold to go outside, being able to knit yourself a scarf or hat makes the weather (and staying indoors) just a bit bearable. But if stepping into a craft store with hundreds of different types of yarn and tools you don't even recognize seems overwhelming, don't panic.
"It's a huge world that you can really dive into," says Carolyn Heitmann, co-owner of Brooklyn Craft Company. "As you're learning more about knitting and taking on more advanced projects, there's a ton of stuff you can buy and it becomes a hobby where you have a huge collection of supplies. But for beginners you can really keep it pretty bare bones." To learn what new knitters actually need to get started, we asked a handful of expert store owners, knitwear designers, instructors, and knitting authors what's really essential.
As for actually learning how to knit, it's easy enough these days to watch tutorials on YouTube, but all the pros we spoke with agreed that nothing beats an in-person lesson. "Knitting is a little bit like learning how to drive," says Pearl Chin, owner of Knitty City on the Upper West Side. "It's good to have someone more experienced who can teach you, help you correct your mistakes, and also encourage you to continue knitting." Fortunately, most yarn stores (including all the ones linked to in this story) offer one-on-one or group lessons to jump-start newbies' knitting careers. Another resource that experts love is the knitting social networking site Ravelry, where you can download or buy patterns, join groups for advice and support, and share your project progress.
Best yarn for beginning knitters
There was a consensus among our experts that beginners should start with a thicker-knit yarn, anything from a medium size (known as worsted-weight) to a heavy, chunky yarn. "It's just a lot easier for beginners to see what they're doing when they're using thicker yarn," says Heitmann. "It's easier to catch mistakes, and anything you make with chunky yarn is going to knit up a lot faster, so for a beginner who's just starting out and is eager to create their first project, they're going to have a lot more instant gratification." Heitmann likes Wool and the Gang's yarn for beginners. "They have a lot of chunky yarns in really fun colors," she says.
Knitwear designer and author Norah Gaughan agrees that beginners should start with supersoft wool, even if it's pricier than synthetic yarn. "Learning to knit is starting a love of the actions and the feeling in your hands, and about making a beautiful product," she says. "Cheap yarns are hard to work with, don't feel good, and make an unsatisfactory product. If you start with bad yarn you are unlikely to love either the process or the product and are much less likely to continue with your new craft."
Made from 100 percent Peruvian wool, Cascade Yarns was mentioned by multiple experts as an easy-to-use yarn for beginners that also feels good to the touch. Heitmann likes both the medium 220 weight and the extra-chunky Magnum yarn. "With these yarns, you can complete a project with one skein [the oblong coil shape in which most yarn is sold], whether it's hand warmers or a small neck warmer, so it's really easy to grab a ball of yarn and some needles and get to work," she says.
When she's recommending yarn for beginners, Berta Karapetyan, author of Runway Knits and owner of New York City's oldest yarn store, School Products Yarn, tends to choose single-ply yarn that won't get split while knitting in a light color that makes it easier to see each stitch. Purl Soho's merino wool yarn is a popular choice among beginners since it meets all of these requirements and also feels plush and cozy. "It's a nice, chunky weight so you can accomplish your first project [quickly] and not get bogged down in hundreds or thousands of stitches," says Whitney Van Nes, vice president of communications and editor-in-chief at Purl. "We feel like you should always be inspired by the materials you're using. Happy yarn makes you feel great."
While she's also a fan of pure wool, Chin says that wool yarn blended with acrylic is a good option for new knitters since it holds stitches in place better. "If you drop the stitch it's easier to pick it up," she says. "Sometimes wool kind of slides." And as long as the yarn's not 100 percent acrylic, it will still have a soft feel. She likes Berroco and Plymouth Encore yarns because they're easy to work with and also affordable. "You don't want to have spent $30 on a skein of yarn to find out that you're not really so thrilled with learning how to knit," she says.
Best knitting needles for beginners
Advanced knitters might gravitate toward metal needles that make it easier to knit at a faster pace as the yarn slides on and off them with less effort. But our experts explained that this slickness is often a stumbling point for beginners. "I find that metal needles can be a bit challenging for beginners because they're so slippery that stitches can fall off," says Heitmann. She and others suggest bamboo or wooden needles, instead, for new knitters who are focusing on technique, not speed. Heitmann and Chin are both fans of Clover needles, made from Japanese bamboo. Heitmann says, "I love all Clover products. They're high-quality and they're nice to look at."
The yarn you're knitting with will dictate needle size, with thicker yarn requiring wider needles, so it's not like you'll buy one pair of needles and be set forever. "That's an important piece that a lot of beginners don't realize and it gets overlooked," says Heitmann. While beginners working off medium-weight yarn generally won't require anything smaller than a U.S. size 10 (around 6 millimeters), as they move on to new projects and use finer — or thicker — yarn, they'll need a new pair of needles. "For every new project, you need to buy new needles," says Van Nes. "It slowly dawns on [beginners] that they need to buy so many needles to become a knitter." Therefore, she recommends this set with 16 needles (U.S. sizes 0 through 15) that will work for a range of projects.
Best knitting accessories for beginners
If you're inheriting a set of needles from a crafty friend or family member and the size numbers have long worn off, you can use a plastic card, called a needle gauge, to check each one's size. You might as well get one shaped like a fuzzy sheep.
"Little scissors are always necessary for cutting your yarn and when you want to change colors," says Van Nes, and it's important to have a pair just for your knitting kit. As Heitmann points out, "a lot of the time, general all-purpose scissors that people have in the kitchen are not particularly sharp. With a really nice pair of sharp scissors for cutting your yarn, you can cut more closely to the project and make a nice cut that's not going to be unraveling. " She likes the small, sharp embroidery scissors from Gingher, like this elegant gold, stork-shaped pair.
When you're finally finishing up your scarf or neck warmer, you'll probably notice tails of yarn hanging off various points that need to be woven in. Experts recommend adding a handful of tapestry needles to your kit, which you'll use for these finishing touches.
If you're starting to wonder where you're going to store all this stuff, especially if you want to take your knitting on the go, you'll be happy to learn about "project bags," designed specifically for toting around your knitting supplies. Van Nes and Heitmann like the canvas bags from Fringe Supply Co., with their thoughtfully designed features that perfectly fit knitters' needs. "They look nice, like a bag you'd carry around and not necessarily a knitting bag," says Heitmann. "They have a couple of pockets, a flat base, a drawstring, and an easy-to-carry handle [that] make them pretty handy. A flat base is always good because if you're at a table you can set it down and it's not falling all over the place."
For everything you need to get started, Purl Soho's kits include yarn, needles, a tapestry needle, and patterns for three beginner's-level scarves.
Best books for beginning knitters
After starting a local knitting group of the same name in New York's East Village, Debbie Stoller, also a co-founder of Bust magazine, wrote a modern guide to knitting, covering everything from casting on and binding off to quick fixes for dropped and extra stitches. Gaughan says the book "has launched and encouraged a whole generation of knitters," and Chin says it's one of the most popular titles at Knitty City. Stoller also hosts how-to videos on the Creative Bug YouTube channel, one that Gaghan calls a "fantastic resource for new knitters."
For an on-the-go resource, Karen Bailey, a knitting instructor at Rows of Purl in Chester, New Jersey, calls this note card-sized manual "a fantastic little book." Small enough to stash in your project bag, it includes illustrated instructions for different stitches, a reference chart to check your needle size, and much more.
First published in 1989 by the editors of Vogue Knitting magazine, this 350-plus-page tome got a serious update this year. Van Nes says it's a "beautiful book" that's great for "the entire life of a knitter," with answers to newbie questions and advice on technique for more advanced knitters.
The Strategist is designed to surface the most useful, expert recommendations for things to buy across the vast e-commerce landscape. Some of our latest conquests include the best acne treatments, rolling luggage, pillows for side sleepers, natural anxiety remedies, and bath towels. We update links when possible, but note that deals can expire and all prices are subject to change.
Every editorial product is independently selected. If you buy something through our links, New York may earn an affiliate commission.