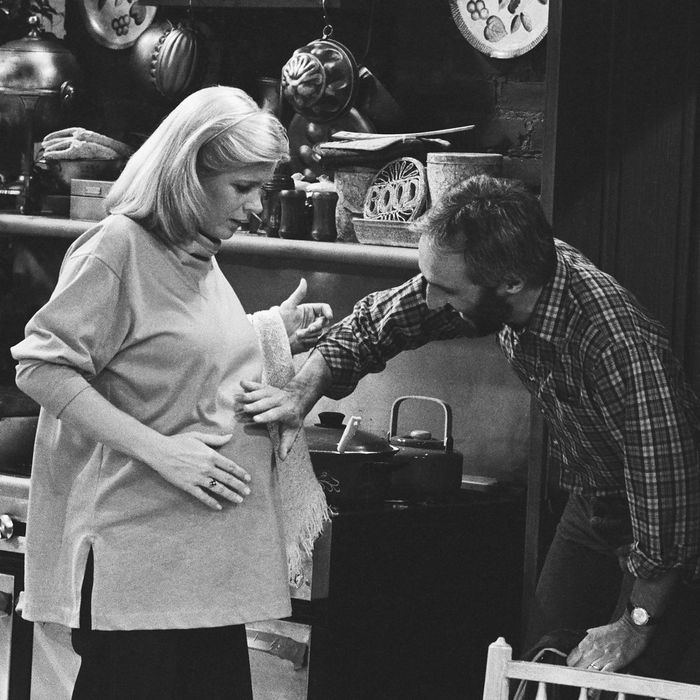 Photo-Illustration: NBC/Getty/NBCUniversal via Getty Images
If you're pregnant during this pandemic, one of your main concerns is probably all of those regular, up-close-and-personal checkups: They are routinely done as often as once a week in the final month of your third trimester and about once a month in your first and second. But considering the risk of exposure right now, there's naturally been a movement toward revising this tight schedule and "minimizing unnecessary in-person visits," according to Dr. Lucky Sekhon, a reproductive endocrinologist, infertility specialist, and obstetrician and gynecologist at RMA of New York (she also happens to be expecting a child herself). Which brings us to the question of how to have a safe pregnancy despite being more socially distanced from your doctor.
Of course, the possibilities for spacing out appointments or conducting them over video calls like Google Hangouts vary depending on the stage and risk level associated with your pregnancy; you'll need to talk this all out with your doctor on a case-by-case basis. And there are certain in-the-flesh visits that experts like Dr Noël Strong, an OB/GYN and maternal and fetal medicine specialist at Mount Sinai Hospital, say can absolutely not be avoided: In the first trimester that includes the initial set of blood work to screen for infectious diseases and blood type, as well as an ultrasound to establish gestational age and the location of the embryo in the uterus; in the second trimester, there's a 20-week anatomy scan, a 28-week measurement of fetal growth, and, in between, a round of blood work, vaccinations, and a glucose test to screen for gestational diabetes (more on that below); and your third trimester involves a group B strep test at 36 weeks, a rescreening for common complications like hypertensive orders, and other routine labs.
But all that said, the bottom line is, yes, there is still room for certain checkups to either be further apart or made virtual. And with that in mind, we spoke to half a dozen OB/GYNs, pediatricians, moms, and expecting moms to find out what self-monitoring tools you should consider having on hand you while you're at home. Whether it's a blood-pressure monitor or a glucose-testing kit, these affordable, easy-to-use supplies can make virtual appointments more productive and efficient, and can minimize your anxiety during the spans of time where you're not being seen. And since new parents of the COVID-19 era have similar concerns about postpartum checkups, we also got recommendations for tape measures, baby scales, and rectal thermometers you can use on your newborn to make for smoother tele-trips to the pediatrician. In some cases, these products may keep you out of the doctor's office or hospital by catching complications before they start.
Tools
for
virtual
prenatal
and
postpartum
appointments
It's a good idea to periodically check your blood pressure to make sure it's within normal range, "and not going above 120 over 80," says Sekhon. Three of the other experts we spoke to — Strong, Dr. Kameelah Phillips, a New York City–based OB/GYN; and Tovah Haim, founder of Bodily, a resource for postpartum and breastfeeding women — also recommend keeping a reliable blood-pressure cuff at home, like this one from Paramed. A particular concern is the condition of preeclampsia, an emergency complication that can occur in the second and third trimester and is characterized by high blood pressure and protein in your urine. (Sekhon, who is currently in her second trimester, is following her own advice and screening for it by checking her blood pressure every week.)
A blood-pressure cuff can also be a vital tool even once you've had your baby, as preeclampsia can also occur postpartum. According to Haim, who had her second child last month and experienced preeclampsia during the pregnancy, "Postpartum preeclampsia is one of the leading causes of preventable maternal deaths in the United States." If you don't own a blood-pressure cuff, "it's really hard to just know that your blood pressure is high. It's not something that most people can just feel," she says. "You usually don't experience any change in your symptoms until it's progressed to a place where it's dangerous."
Photo: Retailer
Because protein in the urine is another sign of preeclampsia, you can take further precaution by checking your urine from time to time. Sekhon bought these urine dipsticks to screen for excessive amounts of protein, as well as for white blood cells and nitrites, which can indicate a urinary tract infection. The strips are easy to use: Collect urine in a small cup, then immerse the stick, waiting for the indicators to change color; compare your reading against the color chart provided, and if something looks off, call your doctor.
Instead of taking the aforementioned in-office glucose tolerance test at 28 weeks — which requires consuming a sugary drink and waiting around in the doctor's office for an hour before your blood is drawn — you may opt to monitor your blood sugar levels at home (depending on your medical history and the word of your doctor, of course). Sekhon recommends the Care Touch testing kit: You prick your finger with a lancet, then press a drop of blood onto a test strip that's already been inserted into the monitor. A few seconds later, your reading appears on the screen. (Simple once you get the hang of it, but you may want to initially consult a virtual nurse to walk you through the process, or ask your OB to send you a tutorial.) Your doctor will usually ask you to keep track of your numbers several times a day for as long as two weeks, and report back. Strong calls this "a completely acceptable alternative" to the standard glucose test and says that some of her patients have chosen this option "as a way of limiting time spent in the office/clinic setting." (Still, both Strong and Phillips emphasize that other important blood work is done at the 28-week appointment in addition to the glucose test, so you may still need to go into the office then.)
Photo: Retailer
Paying attention to fetal kicks and making sure your baby is moving is an important part of your pregnancy, but for extra peace of mind you may consider investing in a Doppler device that allows you to listen to the baby's heartbeat. While Sekhon says it isn't necessary for everyone — and no, this is not quite at the level of the sonogram machine Tom Cruise purchased when Katie Holmes was pregnant with Suri — she did opt to buy this model for herself. She describes it as straightforward and convenient: "It's a very small, handheld device that's attached to this little monitor, and it'll tell you the baby's heart rate," she says. Strong agrees that fetal Dopplers are useful, but adds that "it's best to learn how to use this with your doctor at one of the in-person visits."
And now a tool for after you give birth: These pads are made specifically for postpartum bleeding, which is a normal occurrence for the first couple of weeks following delivery. Some women — including Haim — tend to find them more comfortable than your typical menstrual pads during this time because they're soft and nonirritating. (Haim recommends the maternity pads that are included in Bodily's postpartum kits that she calls "giant Maxi pads" that feel "like you're sitting on a cloud," but the Curity brand is another well-reviewed option.) Whatever type you use, Sekhon suggests keeping a diary to track how often you're changing pads — and therefore sticking to the same brand and size throughout, for a more accurate gauge. Just don't make the mistake of going with a panty liner, says Haim: "You're gonna bleed through those once an hour."
Tools
for
pediatric
virtual
appointments
Your baby will need to see its own doctor, too. Dr. Brittany DiBardino, a pediatrician at Tribeca Pediatrics who also heads the practice's virtual visits, says that one way the practice is minimizing exposure is by eliminating newborn visits that don't require vaccinations, "such as the two-week weight check-in for patients who are feeding well and are gaining weight based on home measuring." To do so, you can invest in a scale that measures to the ounce, like this one that Haim recommends, which is suitable all the way up to toddler age. Haim uses this model herself, but stresses that you shouldn't be making any assessments about the weight measurements on your own; this tool is for reporting those numbers to your doctor during a virtual visit.
You can also track height and head circumference at home "if you want to be belts-and-suspenders extra sure that everything is 100 percent fine with your child," says Haim, who recommends this soft tape measure for doing so. "It's just nice to know that those things [the pediatrician] would typically monitor are on track," she says.
According to Strong and Sekhon, a soft tape measure can also be a helpful monitoring tool while you're still pregnant. "If you measure from your pubic bone all the way to the top of where your bump ends, that number in centimeters should be equivalent to the number of weeks you are," says Seckon, who is using it herself to track fetus growth. If the numbers seem off — in other words, if you're measuring higher or lower than the number of weeks you are — you may be too low or high on amniotic fluid, and can bring this to the attention of your doctor.
Even in non-COVID times, a reliable infant thermometer is a crucial addition to the medicine cabinet. "If a baby has a fever over 100.4 degrees, it's a very serious situation," says Haim. "So if you feel like your baby's a little warm, you should check." But of course, we're all being extra cautious about temperature readings these days. DiBardino says that a rectal thermometer (like this one from Vicks that has a flexible tip) is the most accurate way to measure temperature in babies. (Using a thermometer under the tongue or the armpit is considered the next best option, but a forehead scanner is also fine.)
As for other common concerns that come up during the first few months of life, including feeding issues, rashes, spitting up, and sleep, keep in mind that those can be evaluated virtually, according to DiBardino. "We generally can answer most newborn health concerns via telemedicine," she says.
The Strategist is designed to surface the most useful, expert recommendations for things to buy across the vast e-commerce landscape. Some of our latest conquests include the best acne treatments, rolling luggage, pillows for side sleepers, natural anxiety remedies, and bath towels. We update links when possible, but note that deals can expire and all prices are subject to change.