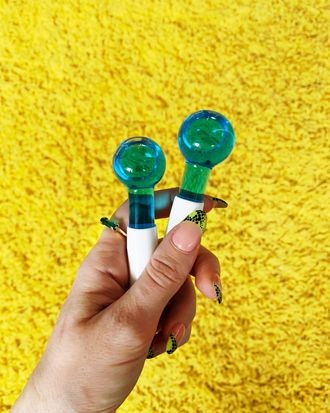 I've dealt with consistent hormonal acne since I was about 13. Because of this, I've tried just about every spot treatment on the market, most of which didn't do much, and in some cases (Clean & Clear's Benzoyl Peroxide cream and Renee Rouleau's Anti Cyst treatment) irritated my skin. Cosrx's Pimple Patches are, in my opinion, far and away the most effective spot treatment out there. The hydrocolloid stickers suck out all the excess oil and pus from your spot, effectively flattening it out. But here's the problem: the pimple patches don't do very much if there isn't a whitehead (basically if there's nothing to suck out, there's nothing for them to do).
I started complaining about this issue to my esthetician, Sofie Pavitt, a while back, and she cut me off. "If it's under the skin," she said, "the best thing you can do is ice it." After spending so much money and time on creams that promised to make my pimples disappear, I was slightly floored at the idea that the best pimple treatment had been in my freezer all along. The next time one of my regular under-the-skin mountains appeared, I did as she said and held an ice cube on the area for about five minutes (one minute on, one minute off). The pimple went down fast — 15 minutes after I started the ice-cube treatment, it was noticeably flatter.
But when you use ice cubes as a regular part of your skin-care routine, you quickly realize there are some problems with, well, using ice cubes as a part of your skin-care routine. For one, they're hard to handle. What's more: If you hold them on the skin too long, they can actually burn you, but if you wrap them in a cloth, they're not quite cold enough. Not to mention they melt fast, which can be messy. Which is why, while searching for cryoballs for muscle aches a couple of months ago, my eyes lit up when I stumbled upon these tiny "magic globes." The tools look like teeny-tiny wands with spheres at one end, and those spheres, according to the product description, were designed to be used safely on skin (as in, they will not burn you, no matter how long you keep them pressed to your pimple). I clicked buy.
When they arrived, I used one on a big, cystic pimple and found the tool was the perfect size to give my zit an isolated, intensive treatment. Even better, the globe stayed cold for nearly an hour — I kept it on my pimple while I watched TV that night, and by the time I went to bed, it looked flatter, less inflamed, and the surrounding irritation was markedly decreased. Now I use these things quite literally all the time. When I have a pimple, I wash my face (with my Dr. Loretta Hydrating Gentle Cleanser), use the wand on the zit for a half hour or so, then continue on with my skin-care routine.
Since I started using them, I've found the tools work for more than just pimple-management. I'm a notorious skin picker, and when I have the urge to pick, I grab a globe and roll it on my face instead — it scratches the picking itch, while de-puffing my face at the same time. The globes also feel wonderful on my temples when I have headaches, and help depuff my eyes on mornings after one too many glasses of wine. The one thing is that they are kind of expensive for what are essentially frozen pieces of glass. But when compared to Renee Rouleau's Anti Bump Treatment, which costs $46 and worked half as well at flattening one of my cystic pimples, I think these are well worth it — especially considering they're a treatment I can never run out of.
Some less expensive "magic globes"
If $32 is too steep, these larger cryoballs — which I also own — are a great option for about half the price. The main difference is they're bigger, so you're not getting as isolated of a treatment. And you can't keep them in the freezer (they'll explode), but they get really cold in the refrigerator, and work just as well.
The Strategist is designed to surface the most useful, expert recommendations for things to buy across the vast e-commerce landscape. Some of our latest conquests include the best acne treatments, rolling luggage, pillows for side sleepers, natural anxiety remedies, and bath towels. We update links when possible, but note that deals can expire and all prices are subject to change.