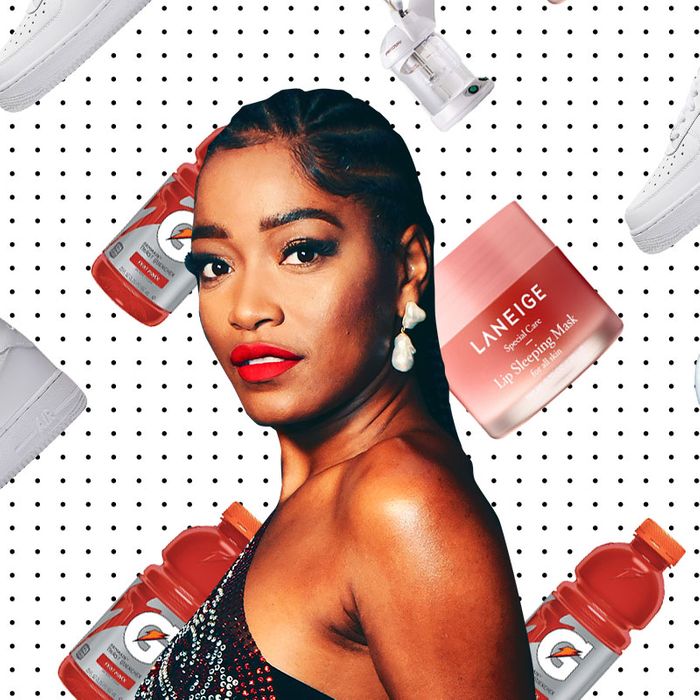 Photo: Courtesy of the subject
If you're like us, you've probably wondered what famous people add to their carts. Not the JAR brooch and Louis XV chair, but the hand sanitizer and the electric toothbrush. We asked Hustlers star Keke Palmer, who has a partnership with Olay, about the lip mask, sports bra, and earbuds she can't live without.
Sometimes after you use shampoo and conditioner, your hair feels really dry and almost too clean. With this, it actually feels moisturized. I use it every three days. Cantu makes a deep conditioning one and a light conditioning one — I use both of them and alternate throughout the week. I think my hair needs a lot of attention because I'm always doing something to it for work. I have a routine for my hair now — more than I've ever had — and I think my hair has really responded to that.
My hair is so pushed and pulled all the time, and I want to make sure I'm encouraging its natural state. So when I'm not working, I try to let it run free and not do too much to it. This steamer helps maintains my curl pattern, and it also works for my skin. I try to use twice a week. I sit under there with the conditioner in — sometimes even with a little mask — and when I come out, my hair is so conditioned and moisturized. I think that's so important, especially for curly hair. And I try to make sure I'm putting oils in. I didn't realize, until like a year ago, that when you use oils in your hair, it has to be mixed with something in order for it to really penetrate. I always mix castor oil with my conditioner. And you can get castor oil anywhere! Any beauty supply store or even online or at the grocery store.
When I'm working out, I usually stick to the basics, like Nike. I love their sneakers and their leggings and definitely their sports bras. One of the most annoying things to me, especially when I'd doing cardio, is my boobs moving everywhere. So I feel really protected in the Nike sports bra.
I love Gatorade to this day. On set, I need Gatorade — and water — to keep me hydrated. I'm not really a coffee drinker, so