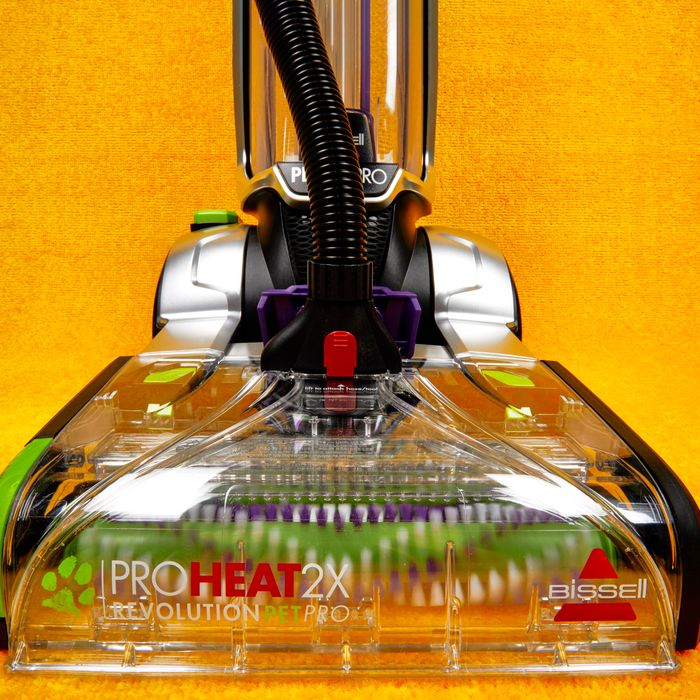 While a good vacuum cleaner can get rid of a lot of the dust and dirt that gets trapped in carpet fibers, there are messes — spilled food, pet accidents, muddy footprints, plus the embedded grit that collects over time — that require a deeper clean. That's where carpet cleaners and steam cleaners come in. Although these appliances often get grouped together, they lift stains using different methods: carpet cleaners use water and a specialized cleaning liquid to effectively shampoo textiles, often assisted by heat; steam cleaners use only water heated past boiling point and can be used on other materials in addition to textiles, such as tile or metal. (More on the distinction below.)
According to Paul Iskyan, president of ABC Rug & Carpet Cleaning Service, you should be deep-cleaning your carpets and rugs every couple of years, especially if they're in a high-traffic area. Deep cleaning will keep a rug in good shape for longer, and there are other benefits, like removing allergens and odors. It's also important to avoid the temptation to overclean: hold off until there's staining or embedded grit, and use a vacuum in the interim. "It's like overcleaning your hair or skin," says Sabrina Fierman, president of cleaning service New York's Little Elves. Overcleaning may dry out or weaken carpet fibers, which makes them more permeable to dirt and staining.
This list includes both carpet cleaners, which use a motor and suction to circulate a cleaning solution through textile fibers, and steam cleaners, which use only water. One way to think about it is the difference between throwing a piece of clothing in the washing machine and using a garment steamer — washing will do more to remove dirt, and steaming will lift some stains, kill germs and allergens, and remove odors. Kadi Dulude, owner of Wizard of Homes, says a carpet cleaner will produce "way more clear and visible" results on "a very dirty or smelly rug." The rug will need time to dry after cleaning (she recommends opening windows or running fans), and "in most cases, the carpets look and feel brand new."
Steam cleaning takes less time to dry, is chemical free, and doesn't leave a scent. It's helpful if someone in your household has environmental allergies: "It removers odors and freshens up without chemicals but also kills dust mites and allergens," Dulude says. Steam cleaners also have more applications than a carpet cleaner; they can be used on surfaces other than textiles, to deep-clean bathroom tile, grout, ovens, and more.
The power of most carpet cleaners is listed in amperes, or amps, a measure of electrical current. (If you want a high-school physics refresher, amperage is calculated by dividing watts by volts.) Although steam cleaners have a lot in common with vacuums, this metric is different: vacuum power is usually listed in air watts (AW) or Pascals (Pa), measures of suction. For a quick comparison, the very powerful Dyson Ball Animal, one of our best-in-class vacuums, uses about 12 amps of power; most full-sized cleaners on this list fall between 7 and 12 amps.
The capacity you need will depend on the size of your home. A carpeted home will require a larger-capacity cleaner, but if you have only a couple of area rugs or plan to use your machine mostly for spot-cleaning, you may be able to get away with a smaller model. We have listed each cleaner's total volume in gallons. One thing to note: steam cleaners use less water than carpet cleaners, so they tend to have a lower tank capacity, which doesn't indicate less efficacy.
Carpet cleaners and steam cleaners skew heavy — they have large water tanks and and powerful motors. Most of the options on this list are below 20 pounds, and some spot cleaners are as lightweight as nine pounds. We'd recommend the heaviest option on this list, the Bissell Big Green, mostly for larger homes with lots of rugs or carpeting.
Best overall carpet cleaner
Cleaning method: Carpet cleaner with heat | Power: 6.8 amps | Tank capacity: One gallon | Weight: 18 pounds
Among the experts we spoke to, the American vacuum company Bissell came up most frequently as the maker of solid, reliable carpet cleaners. The ProHeat Pet Pro model is a great, fits-everyone option — powerful enough to clean entire carpets, but not so heavy duty that it can't be stored in a city closet. Strategist contributor Stacey Dee Woods says that "buying the Bissell Proheat 2x Lift Off was one of the best decisions I've ever made" and that she she "marveled as stream after black stream of dirty liquid bloomed in the canister like so much squid ink."
It's an especially good model for pet owners — Woods reports the Bissell Pro Heat permanently banished a dog-vomit stain that would "rise like a phoenix again and again" — and it's also one of the best-rated models on Amazon, with over 19,000 five-star reviews. (It's the best-selling carpet cleaner on the Strategist overall.)
Best (less expensive) carpet cleaner
Cleaning method: Carpet cleaner with heat | Power: 7 amps | Capacity: 0.5 gallon | Weight: 12 pounds
This carpet cleaner — one of the most affordable on this list — which has more five-star ratings on Amazon (over 47,000) than any others we found. We were impressed with both its capacity and the fact that it's lighter than the Bissell. At a similar weight to a Shark vacuum, it's not as bulky as some other carpet steam cleaners, but one customer says the smaller size doesn't affect its power. "The amount of cat hair this thing sucks up is insane," she says. "I freaking love this thing. It's small but extremely powerful."
Best portable carpet cleaner
Cleaning method: Carpet cleaner | Power: 3 amps | Capacity: 0.375 gallons | Weight: 15 pounds
If you have a smaller space, consider a portable cleaner, which are designed to tackle smaller areas or spot-clean stains. Within the category, the Bissell Little Green is a classic. It comes highly recommended by cleaning experts, pet owners, and vintage-furniture flippers — with second-hand furniture, the Little Green "really helps lift all the stains and dirt left behind on the upholstery," according to Rising Geminis, an Atlanta-based Instagram furniture reseller. Justin Renard, a marketing consultant and a dad to one long-hair cat, is another fan. "It pushes the water through the fabric and then sucks it back up again, taking all the particles the fabric might have absorbed, like cat hair balls," he says.
Best (even smaller) portable carpet cleaner
Cleaning method: Carpet cleaner | Power: 3.5 amps | Capacity: 0.4 gallons | Weight: 9 pounds
For an even smaller, lighter-weight spot cleaner, businesswoman and former Real Housewives of New York cast member Bethenny Frankel loves Hoover's Spotless model. "I literally want to cry thinking about it," she says. She uses it to clean up after pet messes, and says it's more reliable than other models she's tried. "A lot of steamers do not work and they're so unwieldy. This is a really good one. I can't say enough about it."
Best automatic carpet steam cleaner
Cleaning method: Carpet cleaner with heat | Power: 10 amps | Capacity: One gallon | Weight: 18 pounds
This steamer by Hoover uses motion-sensing technology, dispensing cleaning solution when it moves forward and sucking it up when it moves backward. Automatic cleaners can be more expensive for this reason, but we were impressed with this model's affordability, especially as it has the same capacity and weight as the Bissell ProHeat. One Amazon reviewer says using this cleaner is as good as paying for a professional carpet-cleaning service. "I've never seen such an incredible carpet washer in my life," they explain. "I can get rid of all debris and dirt and leave a perfectly clean machine for next time." The cleaner comes with a two-in-one pet tool, which features thick rubber spikes to help rake up pet hair as well as a narrow nozzle for crevices and tight corners.
Best heavy-duty carpet cleaner
Cleaning method: Carpet cleaner | Power: 12 amps | Capacity: 1.75 gallons | Weight: 41 lbs
Dulude prefers the big sibling of the Bissell Little Green, the Big Green — a heavy-duty carpet cleaner that she uses in her own home. "I have zero issues with it," she says. (We've also heard good things about the vacuum version of the Big Green from other cleaning professionals.) She prefers it to portable cleaners like the Little Green. "I like to shampoo all the carpets at once and not just small spots," and a higher-capacity model is more efficient for covering large areas.
Best steam cleaner
Cleaning method: Steam cleaner | Power: 12.5 amps | Capacity: 0.4 gallons | Weight: 9 lbs
For an affordable home steam cleaner, Dulude recommends this model by Pure Enrichment, which is both powerful and as lightweight as a spot carpet cleaner. "When cleaning your carpets or couches for the first time you'll likely smell awful odors coming up with the steam. Don't worry: These are not coming from your steamer but from the surface you're steaming," says Dulude. "Open the window and turn on fans to make it more bearable. Keep steaming and repeat the process several times (steam, let dry, steam again) until there are no more odors coming up."
I took the Pure Enrichment cleaner for a test run on two surfaces: bathroom-tile and kitchen vinyl flooring, using the triangular steam mop. (The machine comes with nearly a dozen accessories, including a squeegee and a jet nozzle for detail work.) I was amazed at how quickly the steam got my floors looking pristine; they looked better in less time than I could get them with a standard microfiber mop and elbow grease, and they stayed cleaner for longer. There are some design quirks with the machine that make it less appealing to pull out of the closet — the brand recommends emptying the tank after each use, and it's unwieldy to maneuver into a tub or shower, for example — but for a deep clean, it does a great job.
Best professional steam cleaner
Cleaning method: Steam cleaner | Power: 13 amps | Capacity: 0.5 gallons | Weight: 14.5 lbs
If you plan to do a lot of steam cleaning, Dulude loves this professional model, which generates an extra-hot steam that is "more efficient, and it dries very fast." (Our best-in-class splurge clothing steamer is our favorite for the same reason.) "When I started looking into steam cleaners years ago, I tried cheaper models first and noticed they run out of water too fast, they were flimsy and broke easily, and the handles did not feel ergonomic for long-time use," Dulude says. She hasn't had any of those issues with professional models, which last longer and are easier to use. "If budget is not the issue, then pro models are the best choice," she says.
Some more cleaning products we've written about
• Kadi Dulude, owner of Wizard of Homes
• Sabrina Fierman, president of New York's Little Elves
• Bethenny Frankel, businessperson and former Real Housewives of New York cast member
• Paul Iskyan, president of ABC Rug & Carpet Cleaning Service
• Karen Larkin, founder of Belle Home Housecleaning
• Justin Renard, marketing consultant
• Rising Geminis, vintage-furniture sellers
• Stacey Dee Woods, Strategist contributor ​​
• Kelsi Trinidad, manager of newsletter strategy at GQ
The Strategist is designed to surface the most useful, expert recommendations for things to buy across the vast e-commerce landscape. Some of our latest conquests include the best acne treatments, rolling luggage, pillows for side sleepers, natural anxiety remedies, and bath towels. We update links when possible, but note that deals can expire and all prices are subject to change.