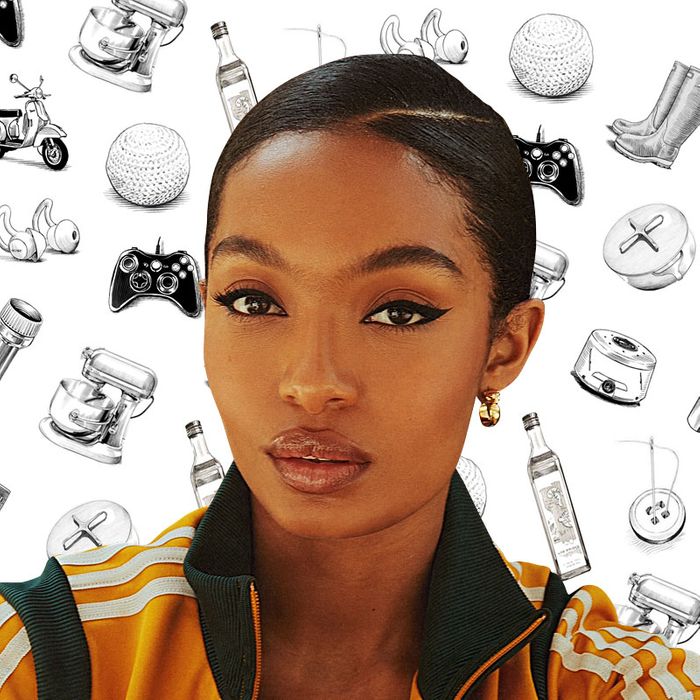 Photo-Illustration: The Strategist. Photo: Courtesy of Yara Shahidi
If you're like us, you've probably wondered what famous people add to their carts. Not the JAR brooch and Louis XV chair but the hair spray and the electric toothbrush. We asked actor (Black-ish, Grown-ish) and activist Yara Shahidi, who just graduated from Harvard and is a Dell Ambassador, about the crystallized lime packets, cozy travel blanket, and special Persian tea she can't live without.
This is a classic Persian black tea that I've grown up drinking. It's the reason I haven't had to start drinking coffee or energy drinks until this year because it has enough caffeine to last you. For me, part of it is just the tradition of drinking tea; that's a way I've always felt really connected to my heritage. I used to only use the tea bags, but recently I've started using the loose-leaf tea and introduced it to some of my friends. That has been such a nice change in ritual. I have certain pots that I really like where you can steep loose-leaf tea easily. The smell is pretty magical. It smells so good that I am now advocating for a cardamom perfume to be on the market. Like, Sadaf needs to make it because it is just the most beautiful, slightly floral scent. It's hard to explain but it has such a specific flavor that I really love. I even travel with it and make tea popsicles in the summertime. It's my year-round drink. There's no time when I couldn't drink it.
I spend most of my days listening to either a podcast or a song at all times — even on set. My makeup artist calls me Jukebox because it's pretty common to hear some sort of voice droning from my phone or back pocket. I love having a speaker on me, especially for my trailer. This speaker makes whatever space I'm in feel like home. I've tried pretty much every speaker out there, and I own many speakers. But in terms of being forgetful, this one is the best because it turns off when it's not in use to save batteries. If you download the app, you have some special capabilities, but it's pretty easy to connect and just do Bluetooth. It's my favorite. I have two sizes. I keep the big one in my room or my trailer or my office. And I keep a little one in my backpack because you never know if you're going to need a sound system.
I like having aesthetically nice things in my kitchen. I was so used to having family teapots or a kettle at home that had been in the family for years, so when I needed my own for the first time, I wanted it to hit that sweet spot while still feeling special. This kettle is a part of my tea ritual now, and it fits my busy schedule because it only takes a minute or so to heat up. Just click the button and it's heated. I drink tea enough throughout the day that it's nice to be able to reheat anything really quickly. It's a great college staple, too, because, among my friends, we all come from very different cultural backgrounds in which tea is a unifying thing. But I also use it to heat up water for other things too. I'm really big into udon noodles, and I'm very fortunate to have an extremely accessible H-Mart nearby, which is dangerous because they have every snack you could possibly need. I like the frozen noodles so that they're not always expiring, and I just boil water in the kettle to heat them.
I always order sparkling water and lime on planes. But this one time I was on a JetBlue flight and they didn't have any lime. So the flight attendant handed me these packets I had never seen before. Imagine having a full lime in your hand but it's a really small packet so it's super portable. It's literally just crystallized lime, there are no additives. It's a super-strong flavor, so you don't need much. I'd like to think I had some decorum, but I know the person across from me was so confused because I poured the whole thing into my hand and ate it. It was like Pop Rocks. Now I have a ton on me at all times. It's been my secret for when I am making mocktails. I add some to a little pomegranate juice and sparkling water. It's delicious.
This was given to me by a dear family friend of ours, and it quickly became a staple — my family, my mom and I, in particular, were germaphobes even pre-pandemic. So we wipe down our seats and all of that. When I'm traveling for work, which is often coast-to-coast travel one way or another, I wipe down the whole seat with a Lysol wipe, spray everything down, and then usually I'll take whatever blanket they offer and I'll put that and cover my entire seat with it. Sometimes they're out of a blanket, which is when I use my personal blanket to lay on top of it. It being easy to wash is a really big deal for me because there are certain things where if I feel like they are dirty, I just have a really visceral reaction. So to have that on a plane makes me so much more comfortable, and it's also really soft and comfortable.
James Baldwin's book The Fire Next Time was the first novel I read of his. That's what made me just obsessed with Baldwin. The thing with The Fire Next Time that I love so much is not only does it capture this really specific moment in our history and shared past, but it introduced me to so many other incredible figures. So Baldwin has kind of been the gateway for me to learn about other activists, other organizers, other moments in history that I wouldn't have otherwise known or understood because he was so tapped into his community. It's the reason why my first tattoo is '63 for 1963, which is when the book came out. I think it marked this kind of great effort in our history, especially in civil rights — you have people globally working together to bring about a future, whether or not it's guaranteed for them. I carry that as a reminder, but I think it was really that book coming out that made me investigate more about the year in general.
I'm big about utility, like the fact that I can wash this backpack because I travel with it everywhere. Other bags that I've had in the past, you can just kind of see the wear and tear. My backpack is something that I have on the ground a lot of times, and it's on me personally, so having something that I can wash and reuse is so great, and it's cute. My navy-blue one is kind of my everyday bag that I use for everything. I really like the lime-green one for travel because at the airport I don't want to have the same bag as everybody else. When I had schoolwork to do, I would have PAs on set helping me find time (and hide from production) so I could knock out an assignment in time. There's really no accommodation for having this kind of outside life and career. So it means that we're always having to keep track of my backpack. The lime-green one made it easier for everybody else when we moved sets or locations. They'd be on the walkie to each other like, "Who has eyes on Yara's backpack?" So I think that's why I trained myself to start needing those really loud colors because it makes it that much easier to find.
This is a really special item for me because I was first introduced to Smythson when I was on the Forces for Change cover for British Vogue, that incredible issue that was guest-edited by Megan Markle. I need to look up her proper title now. But she's always the Duchess in my mind. It was a surprise to all of us that she was a guest editor. We didn't know until after we had shot the images. It was such a special day that was shot by Peter Lindbergh pretty soon before his passing. It was my first time being able to shoot with him, and he was such an incredible presence. As a thank-you, once the cover was released, we received these notebooks, these Smythson notebooks. When I opened it, it had a note from the Duchess thanking us for coming together to make this issue possible. So that is not a shabby introduction to Smythson. But I can never write in it. It's a special relic for me because it's so important. So it prompted me to get one that I could use as an actual journal.
It's important to me that when I'm out here talking about a product, especially as an ambassador, that I genuinely like it. I have used this for school, for production work, really for every facet of my life. It stays on my person at all times. It was really easy to use right out of the box, and now I've gotten so used to certain specific Dell features, like the touchscreen, that I've become the obnoxious person touching other people's screens, like, Oops, yours doesn't do that? When I make a mood board, I can actually physically move the pictures around with my hands. Normally I'm a notebook person, but I'm trying to be ecoconscious because I realized at the end of the semester I'd have all these half-filled notebooks. This laptop has a great free system where I take my notes and doodle. I also love that the 13-inch version is so lightweight and easy to carry. My backpack already weighs like 28 pounds, so there's very little space to add anything heavy.
The Strategist is designed to surface the most useful, expert recommendations for things to buy across the vast e-commerce landscape. Some of our latest conquests include the best acne treatments, rolling luggage, pillows for side sleepers, natural anxiety remedies, and bath towels. We update links when possible, but note that deals can expire and all prices are subject to change.