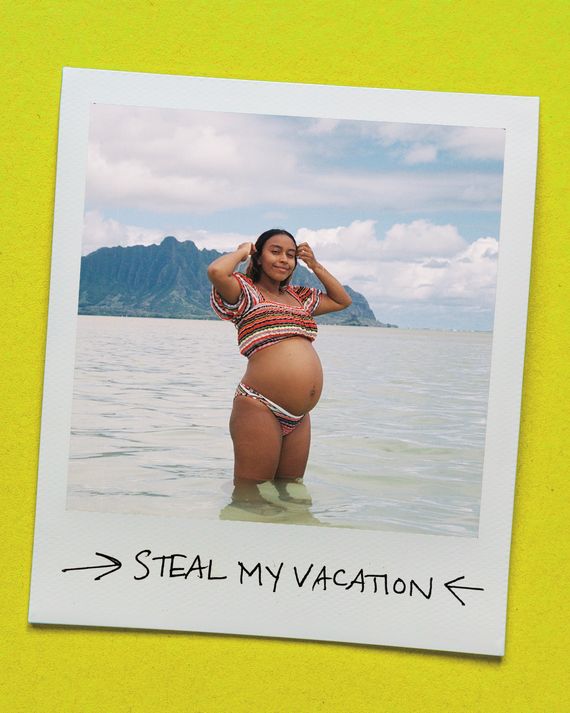 Photo-Illustration: The Strategist; Photo: Evelynn Escobar
Everyone knows that person who spends weeks sniffing around travel blogs, going deep down into TripAdvisor rabbit holes, collecting Google docs from friends of friends, and creating A Beautiful Mind–style spreadsheets to come up with the best vacations and itineraries possible. In this recurring series, we find those people who've done all the work for you, and have them walk us through a particularly wonderful, especially well-thought-out vacation they took, that you can actually steal.
Evelynn Escobar, founder of Hike Clerb, an L.A.-based intersectional hiking club, has been to Oahu seven times. It's where she got engaged, where she got married, and this past spring, where she babymooned. "It holds a lot of memories for us," says Escobar. Unlike previous visits — which were filled with activities like hiking and zip-lining — this trip was all about waking up early to catch the sunrise and long, lazy days on the beach. "We wanted to keep it a secret because with social media, it takes you out of being present," says Escobar. "And we wanted to soak up the experience as much as possible." Here, she shares the locals-only beach that feels reminiscent of Thailand, the best places to get shaved ice, and the shrimp truck where she had her wedding reception.
11 a.m.: Pick up your Jeep and head straight to lunch 
The flight is only about five hours from L.A., and we flew Alaskan Airlines into Honolulu. We've flown Alaskan many times to Hawaii. This trip we decided to also go to another island because a babymoon is sort of your last hurrah as a couple before it's never just you two again. We decided to go to Kauai, which is more of an adventurous island. We love the outdoors, so it was very on-brand.
We went in April, you had to test negative for COVID-19 at an approved testing center and then, because we went to different islands, had to get tested again. There were so many restrictions, which made me feel very secure about traveling there. Naturally, we rented a Jeep. We did it through Budget before we got there. I really think a Jeep is the best way to go in Hawaii. We got off the plane and went straight to one of my favorite places to eat on the island, Ono Steaks and Shrimp Shack (41-037 Wailea Street, Waimānalo). They have an amazing ahi tuna and shrimp plate. I was dreaming of it during pregnancy.
3 p.m.: Check into your beach-front VRBO 
Then we checked into our VRBO (from $285 a night) at one of our favorite beaches, Kailua, which is on the southeastern part of the island. It's a really popular area, particularly for tourists. It gives me retirement vibes. There's a trail nearby called Lanikai Pillbox and two little islands you can look out to. A lot of people will kayak between Lanikai and Kailua beaches. It's an ideal place to stay. Our VRBO was what you'd expect from a Hawaiian rental — retro — but you can walk out directly from the rental to the beach. It has a huge lawn that you can chill out on, and it's right in the prime area of Kailua. Once we settled in, we caught the sunset on the beach and grabbed dinner from a little bakery called Kalapawai Market (306 S Kalaheo Avenue). I got pizza. After that, we went to sleep. I was 36 weeks at that point, so I was tired.
6 p.m.: Wander around Waikiki
We caught the sunrise around 6 a.m., then we hit the beach. We hung out there all day. That night, we went down to Waikiki, which is about 30 minutes away, and walked around. It's super touristy and more of a city. There are tall buildings and malls galore. That's where all the shops are — like, the Cheesecake Factory is down there. I was trying to find an Apple store. Even though it's really touristy, there's lots of traditional stuff like the Royal Hawaiian hotel. There's also really good shaved ice and a really good view of Diamond Head. You can get a lot of those postcard-looking beach photos. After that, we went home and went to sleep. The category was rest and relaxation. Normally we'd be going zip-lining or doing something crazy, but this time, we pretty much sat around and swam.
8 a.m.: Order banana pancakes, then hit the beach
We woke up and got breakfast from this little café called Morning Brew (600 Kailua Road). I got banana pancakes and my husband, Franco, got a bagel. I also got a smoothie from Lanakai Juice. It's an amazing smoothie place that I'll definitely return to. Then we chilled at the beach for a little bit. Later we drove to Halona Beach Cove. It's about 30 minutes away. It was kind of crowded, so we kept driving around the island and headed north. We ended up stopping at a beach we saw while driving called Ka'a'awa beach (51-329 Kamehameha Highway). Great view.
1 p.m.: Get the garlic-shrimp plate at Giovanni's
Eventually we got hungry, so we headed to Giovanni's Shrimp Truck (Kamehameha Highway, Kahuka), another place that we love. We got married on Oahu in 2018, and we had our rehearsal dinner there. It's a parked truck, but there's a little pavilion that we rented out, and we paid the truck to sell this popular garlic-shrimp plate. There are three locations, but we went to the one in Kahuku.
3 p.m.: Watch the surfers at Sunset Beach
After we ate, we ended up stopping at Sunset Beach, a popular surfing beach on the north shore of Oahu. We ended up watching the surfers for a bit, and then we went to get shaved ice at Malia's Hawaiian Shave Ice (66-57 Kamehameha Highway). We caught the sunset at one of my favorite beaches, Nānākuli Beach Park.
9 a.m.: Take a boat out to Kaneohe Sandbar
We woke up and I got a smoothie called Pacific Passion from Lanakai Juice — it had mango, papaya, and passion fruit. Then we did a private boat tour that took us out to the Kaneohe sandbar. It's an amazing sandbar in the middle of the ocean that you can kayak or boat to. We've kayaked before, but because I was in my third trimester, I wasn't about to do that. We chartered a boat with Captain Bruce. It was just us, but you can bring up to five people. The boat took us to the sandbar, and on the way there a sea turtle swam up to the boat. There's snorkel gear and a paddle boat on board, so once we got to the sandbar, we did both. It's not too far off the coast, so you get to see these lush green mountains from a different perspective. It's incredible. On the way back, we went to look for some manta rays because they supposedly chill out in that area. We went around to this marine laboratory refuge and you can see the scientists walking around the island. We didn't see any manta rays, but the sea turtles were abundant.
2 p.m.: Refuel with malasadas and burgers
Afterward, we stopped at a Leonard's Bakery truck (933 Kapahulu Avenue). It's very popular there. They make these little fried dough balls called malasadas, and they have cinnamon sugar on top. Then, we went to Teddy's Bigger Burgers (46-021 Kamehameha Highway), and it was great. It's a Hawaiian chain. I got the Kaneohe, which has garlic, avocado, bacon, and cheddar. After we ate, we went back to the beach.
6 p.m.: End the night with teppanyaki and shaved ice
Later on, we were really craving hibachi. We headed to Waikiki and got teppanyaki from Tanaka of Tokyo Central (2250 Kalakaua Avenue, third fl., Honolulu). It was really good and reasonably priced. One thing people always say about Hawaii is that it costs so much, but it was priced like it would be priced in L.A. After that, we stopped and got shaved ice from Island Vintage (2201 Kalakaua Avenue, Honolulu). It was my favorite shaved ice we got there because the syrups are made of fresh fruit versus artificial flavoring. I got strawberry, coconut, and mango.
11 a.m.: Fly to Kauai
We woke up early to see the sunrise then took some maternity pictures down at the beach. We headed to the airport and flew to Kauai. We flew Southwest, and it was under $150 round trip. At the time, we had to get a COVID test before going to Kauai. We went to a place in Kailua. We didn't have to show our credentials because they have an app called Safe Travels, where you upload your negative COVID test. Then you get a barcode that gets scanned. We rented another Jeep. This time it was a white one.
3 p.m.: Check into your new AirBNB
When we got off the flight, we were hungry, so we grabbed shrimp at Savage Shrimp (2829 Kukulu'ula Village K, #158). It's located in the Shops at Kukui'ula, which is a strip mall. We went there because it's close to where we're staying. We also got shaved ice from Uncle's Shave Ice (2829 Ala Kalanikaumaka St, Koloa), which was amazing. I loved the AirBNB where we stayed, which is part of Parrish Kauai Vacation Rentals (from $231 a night.) The vibe is tropical, luxury fantasy. The décor is very modern and it has cool archways. It has a random spiral staircase that goes up to a den area. It was pretty big, it could definitely fit a little family.
6 p.m.: Pick up fresh-cut pineapple and catch the sunset
Then we went back to the strip mall because they were having a farmer's market. We bought a little pineapple from Kauai Sugarloaf (HI-56, Kilauea). They chop it up for you right there and put it in a bag. They also do farm tours, which I'll definitely do when we go back. After, we drove over to Poipu Beach. It's very popular. Beautiful warm water, lots of people snorkeling. Great views for a sunset. We swam and chilled to watch the sunset. Then we got pizza from Brick Oven Pizza (2-2555 Kaumualii Highway.). After that, we went home and went to sleep.
7 a.m.: Start the day with green juice and French toast
We woke up to catch the sunrise again then went to Kauai Juice Co. in the Poipu Shopping Village (2360 Kiahuna Plantation Dr., Koloa) to get some green juice. We also went to Anuenue Café — they have amazing French toast. We got the Hawaiian sweet bread French toast topped with berry and lemon curd.
11 a.m: Explore the Nāpali Coast 
From there, we drove around the island until we found this beach called Anini — it's located on the north shore. It's super shallow, clear, and warm. There weren't very many people, so it was great for social distancing. It ended up being our favorite beach on the island. After that, we went to a Kilauea Point Wildlife Refuge, which has a cool lighthouse. We went to the lookout. One of the big attractions in Kauai is the Nāpali coast, which are these big, green luscious mountains that run alongside the ocean.
We, being the explorers that we are, drove to the beach over there, Polihale State Park. In order to get there, you have to drive off road a bit. We saw people driving in regular cars, but I would recommend a car you can take off road. Once you get there, you can walk out to the beach and get great views of the coast.
That same day we also went to Waimea Canyon State Park, which was epic. There's a huge canyon and you can drive up to a little viewpoint called Waimea Canyon lookout. You drive up to the lookout and you can see the huge gaping canyon. When we got up there, there was a rainbow, and I was like "Damn, this is a Hawaiian postcard." You can also see the Waipo'o Falls. Then we drove around to get better views of the waterfall. We got takeout at Keoki's Paradise back at the Poipu Shopping Village, it was very good.
10 a.m.: Spend the day at Tunnels Beach
We slept in and got breakfast at Java Kai (4-1384 Kuhio Highway, Kapaʻa). I got their avocado toast with egg whites. It was really good, your typical healthy café vibe. It's attached to a little shop and I got some baby stuff and earrings. Then we went back to Anini Beach because we loved it so much. The first time we went to Anini, we wanted to keep going to the northernmost side of the island, but they would only allow traffic for a few hours each day. We had to time it, and if you don't make it, you have to try again. We made it through and ended up going to Tunnels Beach. It almost feels like you're in Thailand because the mountains meet the sand. It's a very locals-only vibe. It can be hard to find parking, but there are a few turnoffs where you can park your car and then walk. Then I got shaved ice from Jojo's Shave Ice (5-5190 Kuhio Hwy, Hanalei). For our last night, we went to an actually nice dinner at Beach House Restaurant (5022 Lawai Road, Koloa). You need reservations. We shared the pork potstickers. My husband got the seafood linguini and I got filet mignon.
8 a.m.: Start the trek home
We got on our sad little flight back to Oahu. It was a long travel day.
Evelynn's
Hawaiian
Packing
List
Swimsuit coverups
I had two coverups. The first is by Vitamin A Swim. It's a big linen button-up shirt, and it was essential. I also brought this coverup from Free People. I'm about to buy it in white, that's how essential it was.
Yellow-tinted sunglasses
I'm wearing these sunglasses in all of my pictures. They're from Bonnie Clyde. They make everything look so much more intense. The colors pop so much more with them. I'm really glad that I had them.
Sun hat
It's perfectly durable and sustainably made. It went with everything and kept me protected in the sun.
Tevas
I brought three pairs of shoes on the trip and ended up wearing the Tevas almost every day. You don't gotta get ready if you stay ready, ya feel me! From walking around developed areas to rockier, beachier terrain — they are a tropical vacay essential!
The Strategist is designed to surface the most useful, expert recommendations for things to buy across the vast e-commerce landscape. Some of our latest conquests include the best acne treatments, rolling luggage, pillows for side sleepers, natural anxiety remedies, and bath towels. We update links when possible, but note that deals can expire and all prices are subject to change.
The COVID situation there: Fully vaccinated Americans are able to travel to Hawaii on a domestic flight without pretravel testing or quarantining as long as it's been at least 15 days since your last dose. If you are not vaccinated (or entering from somewhere other than the U.S.), you have to provide a negative test result from an approved testing partner. Once you show a negative test result or a full course of vaccinations, you're able to travel freely between the various islands.
Book a chartered speed boat for three hours for $900 with Captain Bruce.
Walgreens offers drive-through COVID testing; appointments are required.