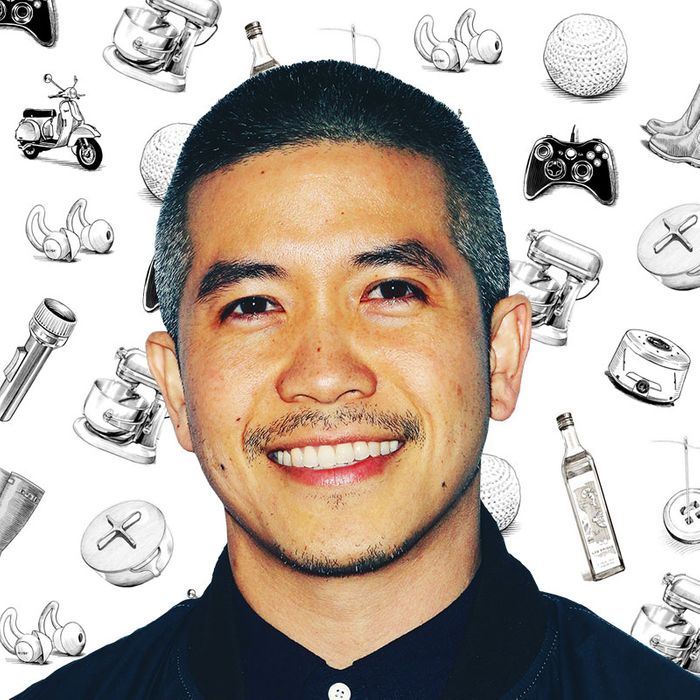 Illustration: Joe McKendry; Photo: Jim Spellman/WireImage/Getty Images
If you're like us, you've probably wondered what famous people add to their carts. Not the JAR brooch and Louis XV chair but the hairspray and electric toothbrush. We asked fashion designer Thakoon Panichgul — who recently relaunched his Thakoon brand as a direct-to-consumer line and started the magazine Hommegirls — about the Thai seasoning sauce, socks, and CBD serum he can't live without.
It's addictive. I don't know what else to say. I'll settle for the Whole Foods 365 version, but that's just not as good as the real thing. The balance between the wheat and the sweet, and then, when at a certain point, the milk softens the wheat — it's all kind of perfect. I eat it for breakfast and also for dessert after dinner. I started eating it in college, you know, when you go through that period of just eating cereal.
Other stuff usually dries my lips, so I always have to reapply. But with this, I just have to apply it once and then it sort of lasts me for the day. I've been using it for more than ten years — I found it while looking for a lip balm that I didn't actually have to put to my lip to apply it. There's always one stick in every pocket of my four winter coats, and then I have one in my bag. I literally have them all over the place.
I've always liked the flavor of soy, but when you put soy milk into coffee, it separates and doesn't really give you that creamy taste. Silk's soy creamer, in the original flavor, is the only thing that seems to get that creaminess. I have it with my coffee every single morning.
I discovered these in Tokyo. They're thin enough that you can wear them with any pair of shoes, and they're good for summer and winter. They literally don't rip; I've worn some pairs for a couple of years and they're still holding on. They're a regular height, not ankle height, so they rise a bit higher on the leg. I like them in heather gray and heather blue — the gray seems to work with everything, from white sneakers to black dress shoes.
My mom is an Asian mom who is obsessed with telling me that I need to be putting SPF on my face. She has been telling me this for years: "You should be putting it on your face, because when you get older, you're going to get brown spots!" I did a little research — I wanted something that isn't oily and wouldn't hurt my eyes — and went with CeraVe, which turned out to be really good. It's light, which I like. And it's a drugstore brand, so it's not expensive.
Somebody once sent me another CBD facial oil that I was really into, but the oil would get into my eye and kind of fuck up my vision. This Superflower CBD serum is more like a lotion, so it feels better on my face. I think it's helping to even out my skin color. I use it in the morning; I apply a layer of this and then I put on the CeraVe. The brand is Superflower, but it doesn't smell super flowery. It has an organic, sort-of-herbal scent that's really nice.
Thai soy sauce has a different flavor than other soy sauces. You have to taste it. People know Maggi, which comes in that yellow-and-black bottle, but I don't think people know a lot about this. I mean, I love Maggi, but it's not as good to cook with as the Golden Mountain sauce is. I use it a lot for marinades — it's really good for marinating chicken and beef jerky. I also like to put it on rice and over-easy eggs in the morning, too. It's basically good with everything, and I always have a bottle.