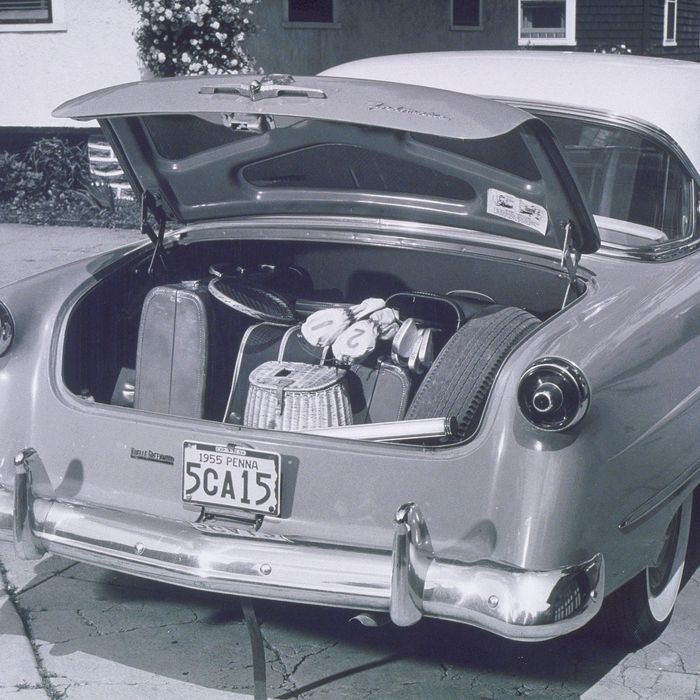 Here at the Strategist, we like to think of ourselves as crazy (in the good way) about the stuff we buy, but as much as we'd like to, we can't try everything. Which is why we have People's Choice, in which we find the best-reviewed products and single out the most convincing ones. (You can learn more about our rating system and how we pick each item here.)
And while we've written about lots of things for your car — including the best car seats for fur babies, best car seats for real babies, and the best dashcams — here, we've rounded up the best trunk organizers, as praised by the most enthusiastic reviewers on Amazon.
Best-rated trunk organizer
With over 2,700 five-star reviews, this trunk organizer is consistently lauded for its durability and versatility. But one feature that's mentioned in dozens of reviews is the Velcro at the bottom. As one reviewer explains, "I like the fact that this came with a touch of Velcro-type material on the bottom so it wouldn't slide in the trunk." Another calls the Velcro a pleasant surprise: "Great little feature that I missed reviewing the item before I bought it is, it has Velcro on the bottom so it sticks to the trunk and doesn't move around when I'm taking corners." The compartments are another beloved feature, mentioned by hundreds of reviewers. "I got tired of all the work stuff flopping around in the trunk. This organizer definitely takes care of that issue," one reviewer explains. "There's enough space, compartments, and pockets to hold all my field tools, cabling, adapters, etc. in one nice spot." Another attests to the size of the organizer: "One half of the unit is easily big enough to store jumper cables, a folding tire iron, a wine bag (e.g., if carrying a wine bag in one's trunk), and lots more stuff." And one reviewer loves that they "can grab the whole thing and bring everything in the house in one trip!"
Best-rated (less expensive) trunk organizer
"I was very hesitant paying I guess you would say a small amount of money for these organizers, thinking they would be flimsy and low-quality," one reviewer writes, "but that was not the case at all … These organizers are very sturdy and actually roomy." One who says this organizer can hold all of one's "trunk junk" adds that it "keeps all my worst-case scenario goods in one place," which includes "the usual jumper cables and windshield wiper fluid but also an air compressor, first aid kit, bungee cords, gas can, paper towels, etc." Others love that this organizer is compact and leaves room in the trunk for more items. "This fits great in the trunk of my Volkswagen Jetta," one writes. "I still have tons of room left over, even with this in the trunk. Another explains, "There is room for groceries, luggage, bags of donations and so forth." Dozens call out its folding feature as a highlight, with one saying, "I like the firm upright sides and the fact that if empty it would fold flat."
And now for some micro-picks for every type of trunk organizer you might be looking for. 
Best trunk organizer with Velcro bottom
This trunk organizer has its own kind of staying power, according to the hundreds of reviews that mention the Velcro bottom. "I was concerned that the organizer would move around while driving, but the Velcro strips on the bottom hold it very securely to the trunk's rug," one reviewer writes. "It does not slip or move once positioned where you want it." Another notes that it has clips to keep it secure as well: "It is very strong, and I admire that it has clips on all four sides to adjust the length of it to fit in a variety of places." One reviewer says this has "more pockets, pouches and handles than I know what to do with," which was perfect for another user whose trunk got the nickname "bad car sloppy slop" before the purchase of this organizer. "This was just the item," the person explains, "roomy enough for all the great car products that I purchased with absolutely the best of intentions (but which really should start paying me rent, because they just live back there and don't get out much) and there's plenty of room left over for my groceries either in the other section of this organizer, or outside in the wilds of the now-empty SUV cargo space."
Best trunk organizer with straps
Asking the tough questions, one reviewer writes, "Seriously, why don't more organizers have straps?" The reviewer explains, "If your car has anything to hook on, this organizer is your best bet to keep your things from sliding around. Rubber feet don't really work well and velcro tear up your carpet." Others agree, praising this organizer for keeping their items in one place even while driving. One reviewer who uses this to hold an "ammo case and a 3-day survival bag just in case the S.H.T.F." says the stuff used to "slide around banging into the sides of the trunk," but not anymore. "I attached the straps to the available hooks and tightened them nice and snug!" the reviewer adds. "I have about 50 pounds worth of stuff in one of them right now and the sides are still straight up and it's holding up well." Many reviewers note that the straps are adjustable, which for one means it can be placed "in different spots in the back of my Subaru" ultimately securing the driver's purchase of kitty litter. "No more coming home from the pet store and finding that the kitty litter's lid opened up through all the sliding and the kitty litter is everywhere."
Best trunk organizer with bungee cord
The bungee cord is mentioned by dozens of satisfied reviewers, like one who writes that these cords "can be used as handles to help me carry the organizer from my car to my home when necessary." Another calls the bungees "a nice extra" and says this organizer "holds my large canvas grocery bags and keeps them from tipping over." One even says that the bungee cords help to increase storage space, explaining, "After securing it in my trunk with the included bungee cords, I was able to cram more tools and car cleaning products inside than it would appear to hold, judging by the picture and description." And though reviewers praise this organizer for working in a variety of cars, one reviewer says it is particularly good for vehicles with third-row seating. "When you put the third row up in many vehicles it cuts the remaining storage space to a very minimal section that wants to dump out when you open the gate," the reviewer writes. "This helps organize that little area, helps keeps small items together instead of loose."
Best trunk organizer with lid
"If your trunk looks like a trash fire waiting to happen," writes one reviwer, "you need this." Words like "sturdy" and "durable" are often used by reviewers to describe this organizer. However, plenty of reviewers specifically call out this organizer's cover as a must-have feature. One explains, "Great to throw groceries into without having them slide around and come home to a mess." One home-health nurse calls this trunk organizer "absolutely perfect for organizing all the wound, blood draw, and urinary management supplies that I carry around. It holds a ton, and with the dividers, I can find everything." The reviewer continues, calling the lid "just right. It opens quickly and easily and accommodates a slightly uneven load at times when needed. Even the outer pockets are good quality and very functional."
Best adjustable trunk organizer
"This organizer is the BOMB.COM," one reviewer writes. "I was very surprised that the compartments could be sized just as you want them." Nearly 80 percent of reviewers give this five stars, with many noting that adjustability of compartments as a selling feature. "The storage slot sizes can be changed to fit your needs," one writes, while another says, "If I buy something larger, like a watermelon, I just push the organizer back a little and put it in front of the organizer." One reviewer notes the dividers are "reasonably well made with thick, stitched Velcro fasteners." This organizer has also been a hit among reviewers with small cars. One says, "This is a perfect size trunk organizer for a compact hatchback car, although all the photos are of big SUV." Another mentions having "had one of these in the back of my Mini for 10 years and it held up great." One common complaint is that the organizer has a smell out of the box, but according to one reviewer, "if you open it up and let it air out, it quickly goes away."