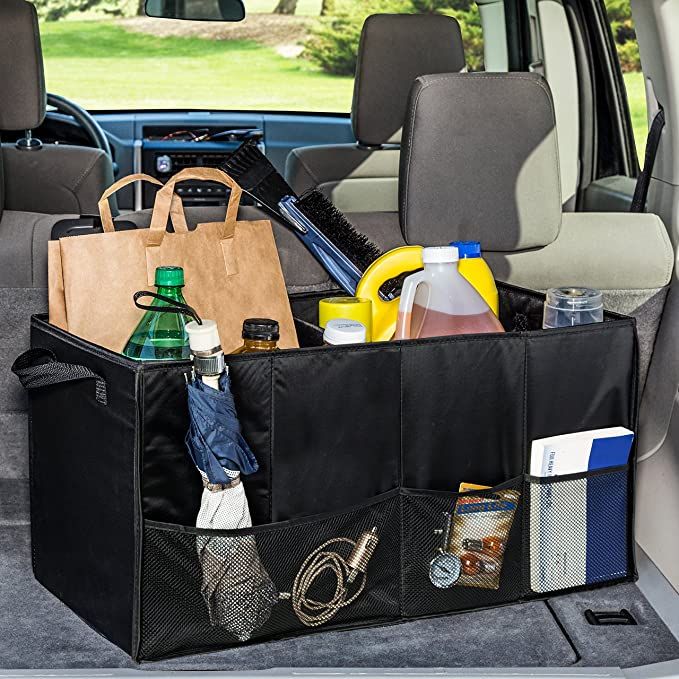 Whether you're going on a weeks-long road trip or making a grocery run, a trunk organizer will keep all of your necessities — from first aid kits to shopping bags to jumper cables and lots of snacks — in one tidy place. So while we've written about lots of things for your car, including the best car seats for fur babies, car seats for real babies, and dash cams, here, we've rounded up the best trunk organizers, as praised by the most enthusiastic reviewers on Amazon.
Related Articles: Best Items for Car Picnics, Drive-in Movies, and Trunk Camping | Everything You Need to Make an Old Car New
Best-rated trunk organizer
Over 36,300 reviewers give this organizer a five-star rating, and hundreds call out its straps — an addition that lots of organizers on this list lack — as their favorite feature. Asking the tough questions, one reviewer writes, "Seriously, why don't more organizers have straps?" They explain, "If your car has anything to hook on, this organizer is your best bet to keep your things from sliding around. Rubber feet don't really work well and Velcro tears up your carpet." And this organizer really can hold anything. One reviewer uses this to hold an "ammo case and a three-day survival bag just in case the S.H.T.F." and says it's much better than letting the stuff "slide around banging into the sides of the trunk." The straps are sturdy, too, they add: "I have about 50 pounds' worth of stuff in one of them right now and the sides are still straight up and it's holding up well." And because they're adjustable, they can be placed "in different spots in the back of my Subaru," according to another reviewer. "No more coming home from the pet store and finding that the kitty litter's lid opened up through all the sliding and the kitty litter is everywhere."
Best-rated (less expensive) trunk organizer
"I was very hesitant paying I guess you would say a small amount of money for these organizers, thinking they would be flimsy and low-quality," one reviewer writes, "but that was not the case at all … These organizers are very sturdy and actually roomy." One who says this more-affordable organizer can hold all of one's "trunk junk" adds that it "keeps all my worst-case scenario goods in one place," which includes "the usual jumper cables and windshield wiper fluid but also an air compressor, first aid kit, bungee cords, gas can, paper towels, etc." Others love that this organizer is compact and leaves room in the trunk for more items. "This fits great in the trunk of my Volkswagen Jetta," one writes. "I still have tons of room left over, even with this in the trunk. Another explains, "There is room for groceries, luggage, bags of donations and so forth." Dozens call out its folding feature as a highlight, with one saying, "I like the firm upright sides and the fact that if empty it would fold flat."
Best trunk organizer with Velcro bottom
This trunk organizer has over 13,800 five-star reviews, but the one feature that's mentioned in dozens of reviews is the Velcro at the bottom. As one reviewer explains, "I like the fact that this came with a touch of Velcro-type material on the bottom so it wouldn't slide in the trunk." Another calls the Velcro a pleasant surprise: "Great little feature that I missed reviewing the item before I bought it is, it has Velcro on the bottom so it sticks to the trunk and doesn't move around when I'm taking corners." The compartments are another beloved feature, mentioned by hundreds of reviewers. "I got tired of all the work stuff flopping around in the trunk. This organizer definitely takes care of that issue," one reviewer explains. "There's enough space, compartments, and pockets to hold all my field tools, cabling, adapters, etc. in one nice spot." Another attests to the size of the organizer: "One half of the unit is easily big enough to store jumper cables, a folding tire iron, a wine bag (e.g., if carrying a wine bag in one's trunk), and lots more stuff." And one reviewer loves that they "can grab the whole thing and bring everything in the house in one trip!"
Best (less expensive) trunk organizer with Velcro bottom
"I was concerned that the organizer would move around while driving, but the Velcro strips on the bottom hold it very securely to the trunk's rug," one reviewer writes of this organizer, which is two inches wider and one inch shorter than the more expensive pick above. If you want some extra protection from slipping and sliding, this trunk organizer also has clips that one reviewer describes as "very strong, and I admire that it has clips on all four sides to adjust the length of it to fit in a variety of places." Plus, this has "more pockets, pouches, and handles than I know what to do with," writes a reviewer whose trunk got the nickname "bad car sloppy slop" before the purchase of this organizer. "This was just the item, roomy enough for all the great car products that I purchased with absolutely the best of intentions (but which really should start paying me rent, because they just live back there and don't get out much) and there's plenty of room left over for my groceries either in the other section of this organizer, or outside in the wilds of the now-empty SUV cargo space."
Best trunk organizer with built-in cooler bag
This trunk organizer features a built-in cooler bag, which dozens of reviewers find helpful when toting frozen groceries. One reviewer purchased it for their four-door Jeep and proclaims that they "absolutely love" it for keeping their groceries cool. "We went for a ride to a local dairy — about 45 minutes away — and I wanted to bring ice cream home to my hubby," so they purchased two half-gallon tubs of ice cream and secured them in the cooler bag. After the 45-minute drive back, "They were still perfectly frozen when we got home." And another reviewer shares that "even [their] husband" was impressed: "No more groceries rolling around the back of our SUV. No more crushed bread or broken eggs. Throw an ice pack in the thermal zippered side and no more melted ice cream. This thing rocks."
Best trunk organizer with removable cooler bag
Over 2,000 reviewers give this Orionstar trunk organizer five stars, with dozens calling out its removable cooler. "I have no idea why it took so long for me to hear about a product as awesome as this one," starts one reviewer. "This has a cooler case that I can put my gallon of milk in, and plenty of other big square slots that I can load all of my grocery bags in and nothing falls out." Another reviewer who also uses this "wonderful organizer" for grocery trips was impressed by just how effective the cooler is. "I live far from the store, and putting frozen items in the cooler keeps them frozen until I get home. It's GREAT! I use it all the time!" they write. Others call out that it's also waterproof and leakproof, so you "can put ice cubes in it and not worry if water will be leaking out," in the words of one reviewer who adds that the "exterior material feels very thick and sturdy," too.
Best trunk organizer with adjustable dividers
This Oscenlife trunk organizer comes with removable dividers, making it "versatile in every situation," according to one reviewer who goes on to say that it "organized my car care products and made it easy to transport them when needed." Another reviewer says it's "perfect for shopping at warehouse stores or just to keep your grocery bags from moving around," because it's "compact when folded yet offers structure with its movable bottom liners and a section separator." And a third reviewer — who also calls out the organizer's versatility — likes that it comes with "Velcro on the bottom outside to prevent the organizer from shifting around," and that it's "well-made, attractive, and affordable."
Best trunk organizer with lid
"If your trunk looks like a trash fire waiting to happen," writes one reviewer, "you need this." Words like "sturdy" and "durable" are often used by reviewers to describe this organizer. However, plenty of reviewers specifically call out this organizer's cover as a must-have feature. One explains, "Great to throw groceries into without having them slide around and come home to a mess." A home-health nurse calls this trunk organizer "absolutely perfect for organizing all the wound, blood draw, and urinary management supplies that I carry around. It holds a ton, and with the dividers, I can find everything." The reviewer continues, calling the lid "just right. It opens quickly and easily and accommodates a slightly uneven load at times when needed. Even the outer pockets are good quality and very functional."
Best hanging trunk organizer
Reviewers love this hanging trunk organizer because it's easy to install, sturdy, has plenty of pockets, and frees up floor space in their trunk for even more storage. One reviewer who uses theirs as "basically a junk drawer for my car" writes that it "couldn't be easier to install. The pockets are properly sized to fit almost anything I could think of to put in them. I have tools, wet wipes, paper towels, dog bowls, spare leashes, and jumper cables in mine." Another reviewer who works for Instacart says it's "VERY GOOD at keeping stuff like eggs from breaking (I use the bottom right and left pockets for eggs and such)," and appreciates how they have even more storage in their car since it clears up floor space. And a third reviewer who uses this as a "diaper bag" similarly says it's made of a "thick, good quality" material, and is a "total game changer. I love how much room this frees up in my trunk."
The Strategist is designed to surface the most useful, expert recommendations for things to buy across the vast e-commerce landscape. Some of our latest conquests include the best women's jeans, rolling luggage, pillows for side sleepers, ultra-flattering pants, and bath towels. We update links when possible, but note that deals can expire and all prices are subject to change.
Every editorial product is independently selected. If you buy something through our links, New York may earn an affiliate commission.