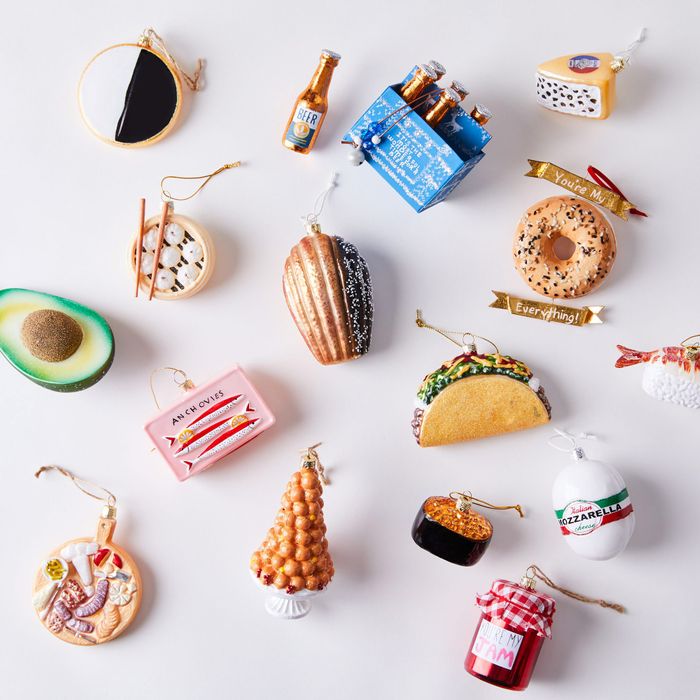 If you haven't already, with December 25 fast-approaching, you're probably making plans to fetch a balsam fir from the Christmas-tree lot on the corner (or that artificial one from the attic). For those with trees whose branches might need a bit more flair, or anyone looking for a delightful little something for someone else to unwrap on the big day, we rounded up a selection of the best ornaments at every price point from various retailers. From classics like pickle ornaments to ones with portraits of Dolly Parton to (of course) ornamental masks, read on for all our favorites, many of which can be found on the trees of Strategist writers and editors.
Best under-$25 Christmas ornaments


Strategist senior writer Karen Iorio Adelson is particularly fond of Cody Foster's miniature food ornaments. "I kind of want to buy them to just display around my apartment because they're so precious," she says.
Perhaps the most 2020 ornament of all, these tiny, hand-embroidered face masks made from vintage and upcycled fabrics come recommended by our senior editor Peter Martin.
Strategist junior writer Leah Muncy says that Urban Outfitters has a surprisingly good ornament selection this year, including this festive cowboy corgi and equally cheerful bichon frise. "I can't think of anything better than a felted dog in a little woolen hat perched atop a tree branch," she says.
If you prefer felines, here's a just-as-sweet cat ornament.
The tonal blue-on-blue and fringed ends set Jungalow's rainbow ornament apart from every other ROYGBIV variety.
Wearing an ugly Christmas sweater is a little played out by now. But this upcycled sweater ornament made from deadstock knit fabrics is just as sustainable — and will always look cute hanging from a tree.
In a recent Strategist Haul, our beauty writer Rio Viera-Newton revealed that "my sister gets incredibly festive this time of year, so it was no surprise when she told me that her brand HVN was planning on launching sparkly, vibrant Christmas-tree ornaments." While she is admittedly biased, Rio's favorites include this glittery dolphin and tinsel jellyfish. "I can't help but smile whenever I look at them," she says.
Perhaps, like our junior writer Arielle Avila, you "grew up surrounded by capiz lanterns, coasters, and trinkets" this time of year. If so, you too might find that hanging this capiz-star ornament makes you feel closer to home. "Feeling more homesick than usual this year, I ordered myself one as a sweet little reminder of my family," she says.
These elegant glass orbs and cones come hung on handsome brass chains and are just the type of simple-but-interesting-enough ornaments to complement your prized pieces.
While these don't look like much, our senior editor Anthony Rotunno bought a similar set of glass icicle ornaments for his tree this year. "We hung them after placing all our other ornaments — when observed from afar, they give the tree a delicate touch, almost as if actual tiny icicles have frozen in place on it," he explains.