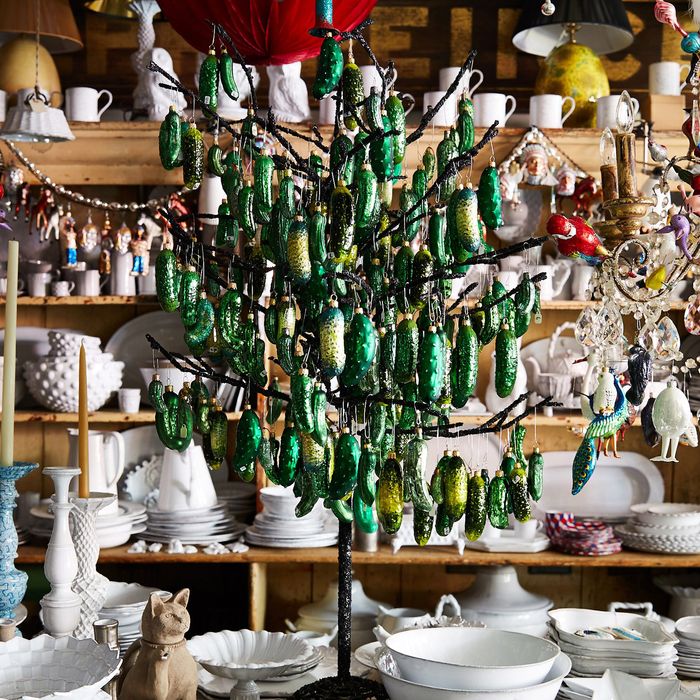 With Thanksgiving just a few days away, you're probably making plans to fetch a balsam fir from the Christmas-tree lot on the corner (or that artificial one from the attic). You're going to want to decorate that tree, but if you're feeling less than inspired — or simply don't know where to start — we spoke to a few professional decorators for their advice on how to craft the perfect Christmas tree. First things first, according to Brandon Stephens of Christmas Decor, a nationwide holiday-decorating network based in Irving, Texas: "You have to decide what the personality of your Christmas tree is going to be. Do you want something that's over the top, understated, or middle of the road? Do you want to cover every green branch or have a sparsely lit tree?" A color scheme is a good place to start, according to Robert Syska of NY Horticulture Group, a landscaping company that provides commercial and residential holiday-decorating services. Syska says you can't really go wrong with red, gold, and green ornaments, and a mix of matte and shiny finishes can go a long way. Kade Laws-Andrews — an interior designer in Baldwin County, Alabama, who has done everything from whimsical to traditional designs — agrees. For her home, "I've recently gone back to old school and just do red balls, some plaid ribbon, white lights, and that's it," she says. "It is surprisingly, stunningly gorgeous on a natural tree."
If you're looking to stock up on some flair for your tree or want a delightful little something for someone else to unwrap on the big day, we rounded up a selection of the best ornaments in an assortment of styles from various retailers. From classics like glass balls and clear icicles to more kitsch-inspired options like pickle ornaments and realistic-looking sticks of butter, read on for all our favorites — with recommendations from our experts and Strategist writers and editors alike. Whether you're going full Hallmark Christmas movie or keeping it minimal, there's something for everyone.
Best classic Christmas ornaments
While the experts we spoke to mostly rely on trade-only vendors for their projects, they told us about a few brands that are available to the public including Northlight, which Laws-Andrews recommends. This writer, Ro, has been using this set of shatterproof gold ornaments as filler flair for several Christmases now, and they've held up great over the years. The set includes matte, shiny, and glitter finishes, and from afar, they even look like glass. (If gold is not your thing, Northlight offers an array of different colors and finishes.) As far as placement goes, Syska has a tip: "Shiny balls go inside of the tree because they reflect light, and matte balls go on the outside."
Northlight also makes glass ornaments, and we particularly like this festive set of jewel-toned polka-dotted ones.
According to Laws-Andrews, Kurt Adler is another favorite that's available widely. Here's a set of egg-shaped glass ornaments with glitter and gems that'll pair nicely with more traditional bulbs.