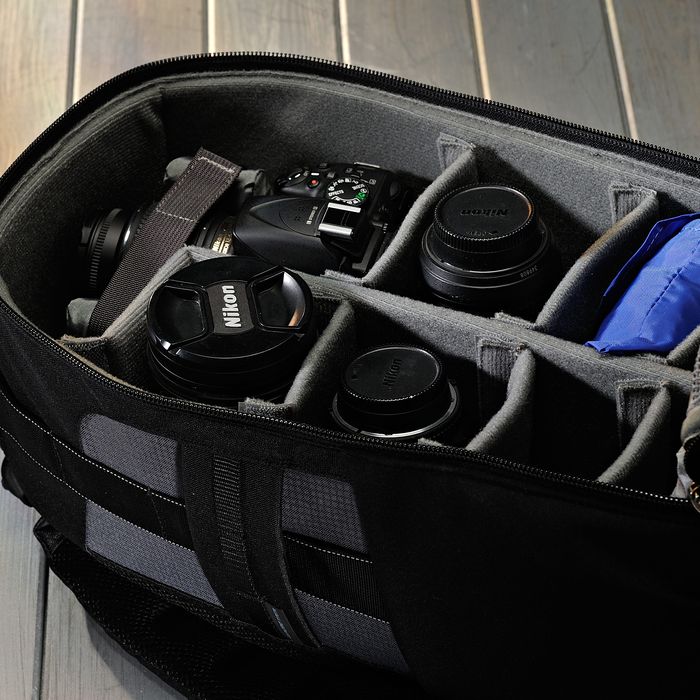 Photo: David Caudery/Digital Camera Magazine/Getty Images
Here at the Strategist, we like to think of ourselves as crazy (in the good way) about the stuff we buy, but as much as we'd like to, we can't try everything. Which is why we have People's Choice, in which we find the best-reviewed products and single out the most convincing ones. (You can learn more about our rating system and how we pick each item here.)
And while we've written about lots of cameras and camera accessories before — including one editor's favorite tripod, the best digital cameras to buy, and the best instant cameras — here, we've rounded up the best camera bags for DSLRs, as praised by the most enthusiastic reviewers on Amazon.
Best-rated camera bag
"The problem with my cross-body bag is that it started to get heavy and strained my shoulder," one portrait photographer writes. She describes this backpack as a "much needed upgrade," explaining, "It has plenty of space for exactly what I need in a compact backpack. The main compartment has adjustable dividers so that all your gear fits perfectly. I can fit all the gear I need for a shoot, plus my laptop if I do happen to need, along with my keys, phone, wallet, and some snacks." Another wanted a backpack to "haul my camera equipment around and keep my hands free on an overseas trip," and says that this one fit the bill: , "The interior padding is versatile and allows good creation of specialized spaces and ease of weight distribution, and the body straps are very comfortable and easy to adjust." And a third reviewer celebrates that this backpack is "exactly" what they wanted, and loves how much they can fit inside: They go on to say this backpack fits a Canon T6i, lenses a cell phone, camera software, a laptop and an iPad "comfortably."
Best-rated (less expensive) camera bag
This bag surprised reviewers. Not only is it inexpensive, but it's also large enough to store a heavy duty DSLR and it's padded for extra protection, which comes especially useful when on the road. "I can't leave my 'good camera' behind when I travel. Phone photos just aren't the same. I have a Nikon D3200 with a 18-55mm lens and a 'must' 55-200 zoom," explains one reviewer, adding that his main reason behind buying this bag is how easy it is to travel with. "We are trying to live a week with a carry-on. My cameras are less protected than in my Tamarac bag, but much more portable." Another reviewer describes this as a "great little on-the-go bag that I plan to use for hiking and backpacking." And though they're pleased with the padding to protect their Nikon D80, they add, "Not sure of its durability or ruggedness yet, but for what I paid, I won't complain if it lasts even just 5 or 6 months." And dozens of reviewers agree that this camera bag is a good value for the price, even though it's not the most
And now for some micro-picks for every type of camera bag for DSLRs you might be looking for.
Best camera bag for DSLRs and laptops
This extra large camera bag holds lots of camera gear, plus a laptop. One reviewer says that this bag is "definitely designed for a working photographer" because it's big enough for all necessary equipment but at a fraction of the price as some other brands, explaining, "There are so many little pockets and zippers for my accessories. I think I can finally stop searching for the ultimate storage bag." The bright yellow interior is another selling point for about a fifth of reviewers, because, as one explains, it "Makes the camera equipment easier to locate at a glance." One word of warning from that same reviewer: The Velcro dividers are so strong, "You may need to hire Arnold Swarzenegger to reposition the whole bag. At least my wife got a laugh out of seeing me struggle."
Best shoulder camera bag
With nearly 3,000 five star reviews, this large camera bag got high marks for its ample storage. One reviewer keeps a camera, two extra lenses, two lens covers, a UV filter, microfiber cloths, a camcorder and a flash in the case, pleased that, "Everything fits in there very comfortably and securely." Another reviewer appreciates that "there's a plethora of other pockets available throughout this bag" aside from the main compartment, which allows each accessory to have a designated spot. One "retired professional wildlife and nature photographer" writes, "Over the past 40 years I've probably used 25 different camera bags, many of them the backpack style necessary to carry big, heavy SLRs and their lenses on treks and overseas trips." But now that he's just a hobbyist, he wanted a smaller bag that can still fit all his equipment but isn't quite so bulky: "This medium bag is amazingly well designed and constructed and a joy to use. The styling is understated as it should be. The padding is perfect: closed-cell foam in the right thickness to protect without adding unnecessary bulk."
Best compact camera bag
"Compact" is a word that comes up in lots of reviews of this holster-style camera bag, and that low profile has a lot of advantages, according to reviewers. One writes that it's "not something I'd have to worry about side-swapping someone with as I walk past. It's also easier to tuck to my side for security purposes." Another says it's so much easier to maneuver on highly specific shoots, yet still holds everything he needs: "It's compact enough to allow me to carry my Canon 80D with 17-55 2.8 IS attached, spare battery, 2 spare SD cards, and attached OPTECH wrist strap, but still fit through the narrow and cumbersome stairwells of an ancient castle." And many more agree that for travel or more rugged shoots, this camera bag is all that's needed. "It was able to withstand the Mt. Saint Helen and its back wilderness. It was able to keep my camera safe during extreme mountain climbing and river rafting. It also kept my camera at a safe temperature going deep underground caves," one intrepid photographer writes.
Best messenger camera bag
The attractive design on this camera bag appealed to customers looking for something a bit more chic than the traditional black, rugged camera bags most photographers have. "I tried a backpack camera bag and it just wasn't for me. This, on the other hand, is super cute," writes one customer, adding, "Looks just like a messenger bag; you'd never know there was a camera in there." Another reviewer appreciates that this low-key camera bag, "doesn't advertise, 'steal me, I'm an expensive camera. It just looks like a nondescript messenger bag, no clue to the fact it is padded." Aside from the looks of it, lots of reviewers say it's just as high end as other more expensive, traditional camera bags. One says it, "Looks stylish while mostly importantly having adequate enough space for all my lenses and camera. The insert fits perfectly in the bag without making the bag uncomfortable and bulgy."
Best camera bag with rain cover
The rain cover on this camera bag offered customers peace of mind when taking their DSLRs into unpredictable territories. One reviewer was looking for a bag that "provided light protection, a rain cover and was streamlined to carry only the necessities." He thinks this is "perfect for hiking and camping," explaining, "The rain cover is attached in its own pocket on the outside, easy to access when needed without being bulky or in the way." Another reviewer "got stuck walking through a theme park in the rain," but because of the rain cover, they had "no issues. Also went on a few water rides and the rain cover works great for that too." They also add that the size of this bag makes it convenient for travel, noting, "Small enough to carry all day without issue. Big enough to fit the camera with lens attached, plus cellphone, wallet and car keys."