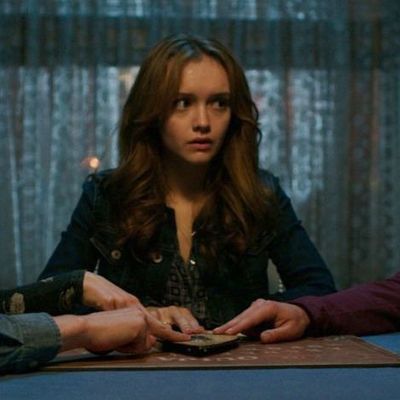 Photo: Courtesy of the studio
When it comes to hosting parties, it's always a good idea to keep a board game on deck just in case the festivities take a turn for the boring. But this can get trickier if it's a Halloween party (or another themed bash). When the costume contest and apple-bobbing wraps, you want to be sure whatever game you pull out next stays on theme so as not to disrupt the freaky fun. To find the best board games for Halloween parties, we spoke to five experts, including board-game reviewers and the inventory lead at a board-game shop, about what they like to play during creepiest time of the year. Read on for their picks, which include eerie games that are still family friendly, games for horror-movie fans, ones designed to test your murder-mystery-solving skills, and more.
Best overall game for Halloween parties
Four of our experts named Mysterium as being one of the best board games for Halloween parties, due to its ghostly premise and excellent artwork. Ronny Alexander, who runs the board-game review site Co-op Board Games, calls it "one of the best-looking board games in existence." Dr. Michael James Heron of Meeple Like Us agrees: "It's full of some of the most beautiful, creepy, and sinister art you've ever seen." The premise revolves around a haunted mansion, whose new owner invites a group of mediums to rid the house of its undead residents. One person plays as a ghost who has to pass clues to the other players, who all play as psychics attempting to solve the mystery of the ghost's murder and help him pass on to the other side. According to Alexander, Mysterium combines elements of deduction games like Clue, as well as cooperative games like Pandemic, and can accommodate two to seven players.
Best fast-paced game for Halloween parties
"Halloween is a great time to play Werewolf," says Kelsey Demers, who runs the board-game blog The Tabletop Family. There are a few different versions of Werewolf, but Demers specifically recommends One Night Ultimate Werewolf for parties looking for a fast-paced game, since rounds only take about ten minutes to play. Heron is also a fan and explains the premise thusly: "There are werewolves amongst you, and nobody knows who they are … except the werewolves themselves." The ultimate goal of the game is to deduce who the werewolves are before time is up. And since you'll probably want to play it a couple of times over, the game — which can be played by up to ten people — comes with a free iOS/Android app.
Best game for horror-movie buffs
For party-goers who love classic scary movies, look no further than Horrified, a newly released cooperative game where up to five players work together to defend their village from famous film monsters like Dracula and Frankenstein. "It is an easy game to learn," says Dale Yu, editor of the Opinionated Gamers. That makes it a good bet for parties, where people typically don't want to spend time learning complex rules.
Best game for kids' Halloween parties
"Shadows in the Forest is a thrilling, immersive play experience that brings a distinctive twist to game night — you play it in the dark!" says Yu. Once you flip off the lights, one player moves an LED lantern around the board searching for Shadowlings — mysterious creatures who avoid the light — and the lamp illuminates the forest and trees, casting real shadows onto the board, Yu explains. The rest of the players (up to seven can play at once) strategically move their Shadowlings around the board to stay out of the light. "I really like this one as it is quite tricky to hide your players in the shadows to keep them safe. And the unique use of light is something that always keeps the kids happy."
Best app-compatible game for Halloween parties
Mansions of Madness is a story-style cooperative game. According to Taryn Gregory, the inventory lead at Guardian Games, what sets this game apart is that you play "with an app that has incredible music and voice-overs to run the game for the player." The technology adds a delightfully creepy air to the proceedings as up to five players navigate through the halls of a cursed mansion.
Best Halloween-party game for ghost-story lovers
"Mythos Tales is a game of Lovecraftian occult mysteries and the reckless, foolhardy investigators that pry into things best left unexplored," says Heron, who loves it for its tight storytelling and clever puzzle design. "It's like reading ghost stories around a campfire, but better." The game is designed for one to eight players, and since it takes around an hour or two to play, it's ideal for more dedicated gamers.
Best Halloween-party game for large groups
Demers says that this is "not only one of the best party games out there; it's also perfect to play during this time of the year." Players act as a team of detectives attempting to solve a murder mystery. The catch: One of the investigators is also the culprit. Each player is assigned a role from forensic scientist to accomplice, and work against each other to solve the crime or get away with murder. And since it is great for both experienced and new gamers alike, it's a good game to break out during a party where everyone might have different skill levels. "This is one of my favorites for larger groups," she adds, because as many as 12 players can play at once.
Best card game for Halloween parties


Gregory is also a big fan of Campy Creatures for it's "beautiful art" and "fun gameplay full of bluffing and guessing." The premise (and rules) are simple: Players are cast as mad scientists equipped with a cadre of classic monsters they can send out into the world to collect mortals for scientific experimentation, she explains. As many as five players begin the game with the same hand of cards, and must outmaneuver their opponents by pitting their monsters against each other. Participants have three nights (each "night" is six turns) to round up as many mortals as they can, and after the time is up, the player with the most points wins. 
Best family-friendly Halloween party game
If you're looking for a game that is sure to entertain both adults and kids, Yu recommends Ghost Fightin' Treasure Hunters, which won the prestigious Kinderspiel des Jahres, or Children's Game of the Year, award in 2014. In this hair-raising game, up to four players become treasure hunters on a quest for hidden jewels in a haunted house, but the phantoms inside do not give up their bounty easily. "As their ghoulish numbers grow, the treasure hunters must work together to acquire all eight jewels and escape the house before it becomes fully haunted or else face their own gruesome demise," says Yu. Players race against the ghosts to escape with all eight jewels before six of the rooms become haunted. The constant time crunch and surprise event cards keep this spooky game lively and endlessly replayable.
Best dice game for Halloween parties


"In this dice game, you play as wrongfully convicted prisoners who are trying to escape a creepy castle," says Alexander. And although Escape the Dark Castle has a "simple set of rules," the up-to-four-player game poses a complex mental challenge as everyone works together to make it out of the choose-your-own-adventure-style competition alive. Plus, the game's graphic black-and-white design is visually stunning (and adds to the Halloween theme).
Best Halloween party game for small groups
If your Halloween gathering is a more intimate affair, The Bloody Inn is a good bet since it is designed for one to four players. This bloody card game revolves around a family of greedy farmers living in rural France who open an inn so they can rob traveling guests. "Whether or not their plan will work out, one thing is certain: Not every guest will leave this inn alive," warns Yu. The game takes about thirty to sixty minutes to play and is designed for players 14 and up. "The thematic artwork here is fantastic and really brings a spooky and creepy feel to your game table."
Best word-association game for Halloween parties


Medium has up to eight players pair up and attempt to guess the word on their card at the same time. It's super simple to play and fun for large groups. "If you're hosting a party, this is really easy to teach to your guests and get everyone acquainted in a fun way as everyone tries to create a psychic connection with each other," says Demers.
Best tile game for Halloween parties


This spooky co-op game — wich Gregory calls "extremely replayable" — has up to six gamers build their own haunted house. However, as the name suggests, halfway through one player betrays the rest of their party. At this point, everyone must work together to uncover and defeat the traitor.
The Strategist is designed to surface the most useful, expert recommendations for things to buy across the vast e-commerce landscape. Some of our latest conquests include the best acne treatments, rolling luggage, pillows for side sleepers, natural anxiety remedies, and bath towels. We update links when possible, but note that deals can expire and all prices are subject to change.