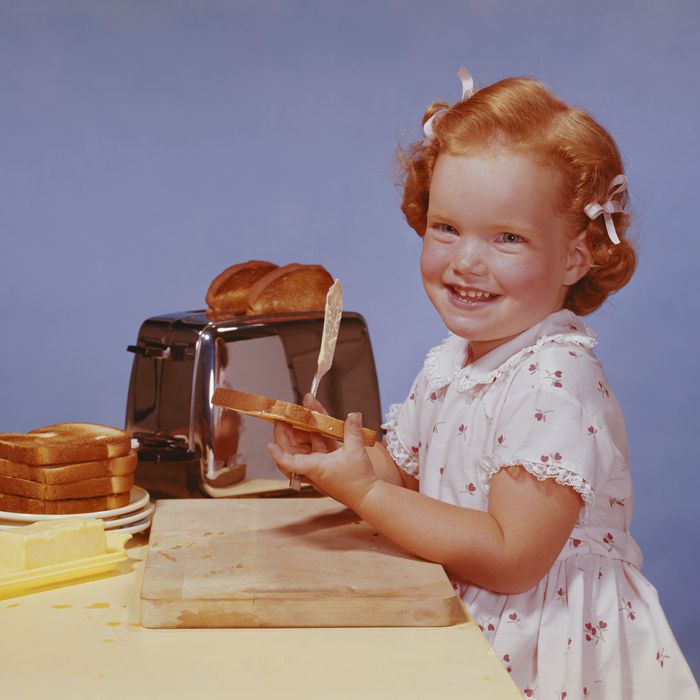 Photo: Tom Kelley Archive/Getty Images
Here at the Strategist, we like to think of ourselves as crazy (in the good way) about the stuff we buy, but as much as we'd like to, we can't try everything. Which is why we have People's Choice, in which we find the best-reviewed products and single out the most convincing ones. (You can learn more about our rating system and how we pick each item here.)
And while we've written about lots of little kitchen appliances — including the best toaster ovens, the best stand mixers, and the best crêpe-makers — here, we've rounded up the best toasters, as praised by the most enthusiastic reviewers on Amazon.
Best-rated toaster
"Now this is a toaster," one reviewer writes. "It is built as solid as a 1957 Buick and looks as sharp. Toasts the hell out of my toast on the highest setting." While dozens of reviewers are impressed by the overall quality of this toaster, there are a few standout features, chief among them the high-lift lever. According to one reviewer, the high-lift "allows you to pull up on the levers to raise the bread high enough to get hold of it." Reviewers are also pleased with this toaster's ability to tackle bagels, both because it has a specific bagel setting as well as wide slots. One reviewer writes, "The slots are wide enough for Texas toast and bagels I like having two separate controllers for the desired crispness of the toast." Reviewers think cleanup is also simple, because "The individual crumb trays for each end are great."
Best-rated (less expensive) toaster
A handful of reviewers call this toaster "basic" but they, like many others, love it for its simple design. "There's really no need to get a complicated, costly toaster if all you want is to toast a piece of bread or a bagel and have it done correctly," one writes. And many reviewers reference how evenly this toaster toasts. "This toaster browns the bread perfectly on BOTH sides at once," one writes, while another says, "Gives a good browning evenly on a variety of breads and bagels." Reviewers also love this for being compact. "Its just perfect for a small area," one writes. Another who bought it for their RV says they "love it" for toasting on the road.
And now for some micro-picks for every toaster you might be looking for.
Best toaster with multiple settings
For one user, this toaster means they can stop playing the "'what's my toast going to be like today' game," and they appreciate that "the bread goes all the way in and gets toasted evenly." Dozens of reviewers are also impressed by this toaster's many settings. "The warm button really does only warm your toast," one writes, while another says, "I use the defrost feature, and that seems to make a difference." One even says that defrost feature means, "I don't have to wait for things to thaw out, it cooks frozen bread to perfection." While this is a four-slice toaster, reviewers also appreciate that the controls are separate for both sides, which saved at least one marriage. "My favorite part is that you can toast at different levels per side," one reviewer writes. "Now I don't have to pay attention to burning my toast because my husband cranked the dial all the way up. He has his side, and I have mine."
Best high-burning toaster
Seventy-five percent of reviewers give this toaster five stars, and many note how intense it is. "Love it, but be careful with setting," one writes, adding, "It burns high, if you know what I mean. For the perfect toast, use low 1.5 setting." Another even says, "It works a little too well, so if you like lightly toasted bread, keep the level below 2." About a fifth of reviewers also mention this toaster's retro design. "It works great and I love the retro look," one writes, while another says "it has the nostalgia look with modern controls." As one concludes, "Works great, toasts perfectly…Why get a boring stainless steel or black toaster when you can look at this guy every time you make toast?!"
Best auto-lift toaster
"This is a very cool toaster with lots of bells and whistles," one reviewer writes, and about 10 percent of reviewers comment on the fact that it uses digital controls, rather than a knob or buttons. "I bought this for the digital controls — absolute precision and consistency! — and the digital timer — super practical and efficient," one writes. Another says, "We love the motorized lifting of the slices to where we can grab them." One reviewer jokes that the auto-lift feature "brings a little bit of anticipation and contemplation to my morning toasting ritual." Reviewers also call out the long slots as they accommodate artisan or homemade breads. "Every time the toast pops up you say to yourself: Tadaaaaah," one customer says.
Best small toaster