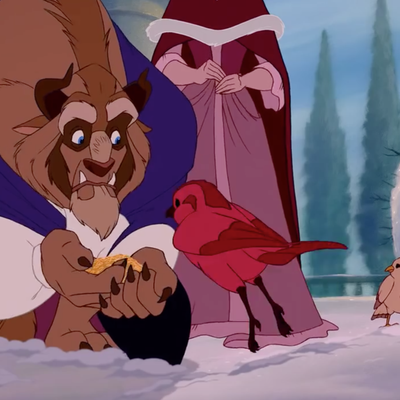 Here at the Strategist, we like to think of ourselves as crazy (in the good way) about the stuff we buy, but as much as we'd like to, we can't try everything. Which is why we have People's Choice, in which we find the best-reviewed products and single out the most convincing ones. (You can learn more about our rating system and how we pick each item here.)
And while we've written about all the items to help you enjoy birds from afar — including the best gifts for bird watchers — here we've rounded up all of the best bird seed, as praised by the most enthusiastic reviewers on Amazon. 
Best-rated bird seed
Reviewers love that birds love this bird seed, and, as the name suggests, it seems to attract the greatest variety of bird species to feeders. One reviewer explains, "I switched from another 'economy' brand, and I started getting more cardinals, blue jays, and other species. With the other brand, I got mostly sparrows, so the variety of seeds in this blend really does make a difference." One reviewer commented that the birds seemed to like the seed so much, they were "fluttering, swooping, pushing each other out of the way and waiting on our steps and fence posts to get to the feeder." Another reviewer even warns that this bird seed might offer too much of a good thing: "It's actually getting a little out of hand, as you may be able to tell from the picture! The house finches have been numbering about 20 at a time, I get 6-7 doves, 4-5 red cardinals, 2 blue jays, 2 red-winged blackbirds, a couple of brown thrushes, and about 8-10 blackbirds." Another reviewer describes the scene: "It's like Game of Thrones, only with birds, each battling for the plexiglass feeder."
Best-rated (less expensive) bird seed
This classic option from Wagner's is priced right for most reviewers, who like that it still attracts a wide variety of backyard birds. As one reviewer, who describes themselves as a "naturalist and horticulturist" puts it, "The bag is large and well-priced. Don't get fixed on brand names and the highly marketed, overpriced bird-food brands out there. Birds don't care about the brand, it's the seeds in the mix that are to be noted." Another reviewer attests, "This is great wild bird seed. I am a sucker for feeding the neighborhood birds and love to watch the birds feed outside my window. My budget doesn't really allow for more expensive, higher grade seed products for my wild friends, but this seed is always nice."
And now for some micro-picks for every type of bird seed you might be looking for.
Best black-oil sunflower bird seed
"After filling the bird feeder outside my living room window sill, I'm currently enjoying the daytime bird soap opera with the assortment of birds these seeds bring in," writes one reviewer. "Red and gold finches, red-winged blackbirds, morning doves, quail, and sparrows love this seed, and it doesn't have garbage in it." That debris-free formula is one reason why so many commenters use the word "quality" to describe this black-oil sunflower seed. As one seasoned bird feeder explains, this bird seed is "relatively free of chaff or other debris, compared to some of the cheaper brands of seed I've used before." Another reviewers says, "I just love this seed! It has become my go-to seed that I make sure to put in several of my feeders. If I run out, my neighborhood birdies come a-knockin at my door demanding more. CHIRP CHIRP! Loved by cardinals, chickadees, finches, mourning doves, sparrows (of course), and so many others."
Best bird seed for attracting finches
This particular type of seed gets high marks from reviewers who wish to attract finches. As one explains, "This is the best bird seed I've found for the goldfinches I feed here in Washington State. I live in the Pacific Northwest on an island and choose to feed only the goldfinch." Another experienced birder writes that this seed creates flocks of finches: "I am on my ninth bag of Wagner's finch nyjer. I have 12 feeders that have 20 perches each. I have had all perches filled and the air filled with fluttering finches, fighting to get a perch. At the same time, I counted 75 finches eating the seed on the ground below the feeders. I am estimating easily another 60 in the air and on the tree limbs surrounding the feeders." Another reviewer keeps it simple, saying, "I personally don't care for the taste, but the birds seem to like it."
Best mealworms for birds
Dozens of reviewers rave that bluebirds love these mealworms. As one reviewer writes, "I've had bird feeders for over ten years and occasionally added mealworms to the platform feeder. This year I began adding the mealworms daily, and I have a sweet little family of Eastern bluebirds visit several times a day. They love the mealworms!" Another reviewer agrees, explaining, "I keep these mealworms out every day for my family of bluebirds, and they won't leave my property. If you want to enjoy the beauty and pleasure of bluebirds, this is the product that will keep them home year after year." But reviewers with chickens and even lizards also appreciated this large bag of mealworms. One reviewer writes that their bearded dragon "totally loves these worms." They ask, "The package says they are for wild birds, but really what could be the difference between one dried worm and another?"
Best shelled peanuts for birds
"I've been getting the Lyric Peanut Pieces Wild Bird Food for some time now and have found three things," one reviwer attests. "Birds love them, there is nothing but peanuts in the bag, and the price-per-pound has yet to be beat." And many other reviewers appreciate that there are just peanuts in this bag. Plus, as one reviewer explains, "Watching the woodpeckers eat the peanuts is so relaxing. Not only do the woodpeckers eat the peanuts but other birds loved it too. Whatever peanut remnants dropped on the ground the deer, chipmunks, squirrels, and groundhogs ate." Most other reviewers agree that Lyric peanuts attract more Downy woodpeckers than other types of seed, along with a greater variety of birds, like one who writes, "I always try to feed in-shell peanuts, which the blue-jays and red-bellied woodpeckers love. However, the smaller songbirds cannot manage the in-shell peanuts, so in walks Lyric Peanut Pieces and now I've got titmice, snow-capped chickadees, cardinals, wrens and sparrows hanging out at my peanut box feeder."
Best food for pet birds


Most types of domesticated birds, including the most choosey parrots and Macaws, seem to approve of this food, and most reviewers appreciate that these pellets are more nutritious than an all-seed diet. One reviewer writes, "I had recently switched my Senegal Parrot's diet (after 16 years) to a pelleted diet (of his choosing). We went to the pet store, and I let him see all the different sizes and colors (I figured if he showed an interest in it visually, there was a better chance of him actually trying to eat it), and he chose the ZuPreem FruitBlend for Medium/Large Birds." Another reviewer agrees that the color and shape of the pellets are pleasing to pet birds, saying, "My bird, who is a pretty picky eater, had no problem switching from seeds to this pellet blend. The mix contains a variety of different flavors which are distinguished by unique shapes and colors. There's an oblong banana-flavored pellet and a purple pellet that resembles a cluster of grapes. I tried a few of them (don't ask) and yes, they do taste different." As for one Macaw, the jury is still out, as one reviewer writes, "She seems to prefer fruit flavors over vegetables. But she hasn't shared her thoughts with me directly."
The Strategist is designed to surface the most useful, expert recommendations for things to buy across the vast e-commerce landscape. Some of our latest conquests include the best acne treatments, rolling luggage, pillows for side sleepers, natural anxiety remedies, and bath towels. We update links when possible, but note that deals can expire and all prices are subject to change.