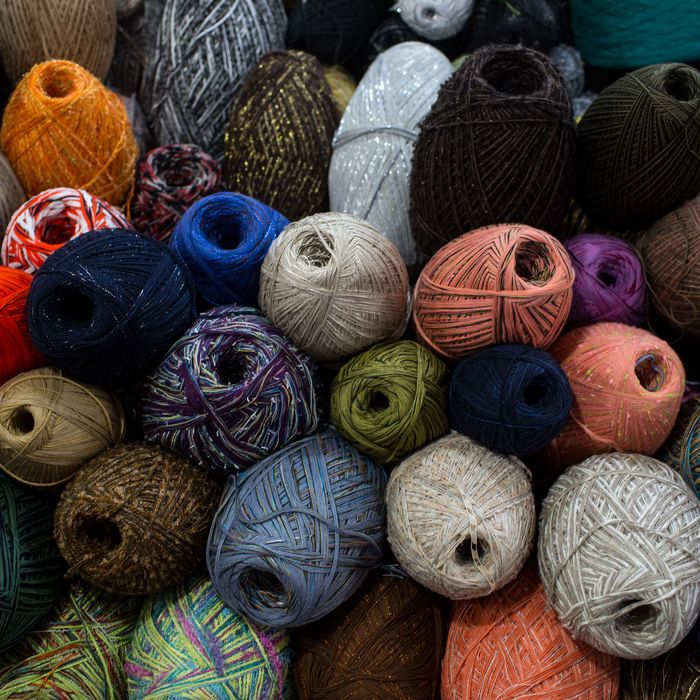 Yarn, yarn, and more yarn.
Photo: Chris McGrath/Getty Images
If you've ever knitted, weaved, crocheted, or done needlepoint, you know not all yarns are created equal. And few things are more frustrating than starting an exciting new crafting project only to find that the cheap yarn you bought is, well, cheap. It also doesn't help that there are so many yarns to choose from, whether the hundreds on display at your local hobby retailer or the endless small-batch makers on Etsy and in other artsy corners of the internet. So we asked nine crafting experts about their absolute favorite yarns for all kinds of projects, across many weights from light to super-bulky to roving yarns, and for all kinds of budgets.
Lightweight Yarns
Yes, yarn made from baby yak down. Designer and patternmaker Denise Bayron of Bayron Handmade says it's her preferred lace-weight yarn, ideal for lightweight shawls, scarves, and sweaters. "If you've never knit with yak down, you must try this unique fiber from Tibet," says Bayron. "It is warmer than wool and as soft as cashmere. It is ethically sourced, kind to the animals and to our planet. Absolute pure luxury."
If you're in need of a great fingering-weight yarn — the preferred yarn for socks and shawls — Bayron is a fan of West Wool yarn from the Dutch company Stephen & Penelope. "The blend of 32+ micron Texel [a breed of sheep] with merino makes this yarn lofty and warm," she says. "The merino content makes it soft on the skin, while the more robust Texel contributes to your finished garments' wearing well over time."
Both our own in-house knitting expert, Mia Leimkuhler, and Marcy Handler, an advanced knitter and mother to Strategist writer Chloe Anello, told us a nice light yarn is great for knitting socks and other delicate clothing items. Leimkuhler swears by this strong, machine-washable merino-wool yarn from the Black-owned Neighborhood Fiber Co.
Leimkuhler also likes mohair yarn, because it's "so fun and fluffy, and you can combine it with another, smoother yarn to give your knitted item that really great shaggy-dog-sweater look," she says. This alpaca-silk blend "functions like mohair, but it is crazy soft," she adds. For a more classic mohair, she recommends Purl Soho's Tussock. "Their colors are really beautiful and vivid, and it's also very soft," she says. "Some mohairs can be itchy but definitely not this one."
If you're the kind of crafter who struggles to settle on the colors you want to use, a gradient set is ideal — such as the light, fingering-weight gradient sets from Leading Men Fiber Arts. Lisa K. Ross of Paper Daisy Creations says, "You get a variety of colorful yarns that can make any project sing."
Medium-Weight Yarns
As we learned in our expert-recommended guide to weaving, Lily Sugar 'n Cream cotton yarn is a favorite for being not only incredibly affordable but easy to use. "I include this yarn in all of my kits, give it to all my workshop attendees, and recommend it in my books and classes," says Hello Hydrangea founder and Welcome to Weaving author Lindsey Campbell, who adds that it's a "great choice for chunky warp yarn."
If you want an especially soft yarn, wool is always the answer, which is why Cascade's line of 100 Peruvian wool yarns is so popular among the crafting set. "With these yarns, you can complete a project with one skein, whether it's hand warmers or a small neck warmer. It's really easy to grab a ball of yarn and some needles and get to work," says Carolyn Heitmann, co-owner of Brooklyn Craft Company.
Spruce & Linen founder Jenell Flynn swears by the Canadian brand Sugar Bush Yarns. "The Bold line is my favorite worsted-weight yarn," she says, noting that it comes in more than 50 colors. It's available on Amazon but can also be found at "a ton of small yarn shops and on Etsy," Flynn adds.
Bulky-Weight Yarns
Both Campbell and Flynn list Lion Brand's aptly named Thick & Quick yarn as one of their preferred brands for weaving projects. "When I need something fast, I head to Michaels and grab some of this yarn," says Campbell. "It works amazingly for an economic option."
At $4 for 90 yards, Cozy Wool from Loops & Threads, made from a mix of wool and acrylic fibers, also comes recommended by Flynn. "It's one of my go-to yarns for weaving woven wall hangings, especially for fringe," she says.
In addition to the brand's 220 line, Cascade's Magnum yarns have an excellent reputation among expert crafters. Like the 220, it's made of 100 percent Peruvian wool, and multiple experts call it an easy-to-use yarn for beginners. Best of all, it comes in a handful of attractive earth tones, like Elderberry, Moss, and Blue Heron.
Campbell loves the wool art yarn from Niroma Studio because "it comes in so many colors" — 53, in fact — "and is perfect for weaving," she says. And if you struggle to figure out complementary color combinations, Campbell notes that, in addition to being available individually, "it's also sold in curated packs with color palettes already picked out. Choosing colors can be the hardest part!"