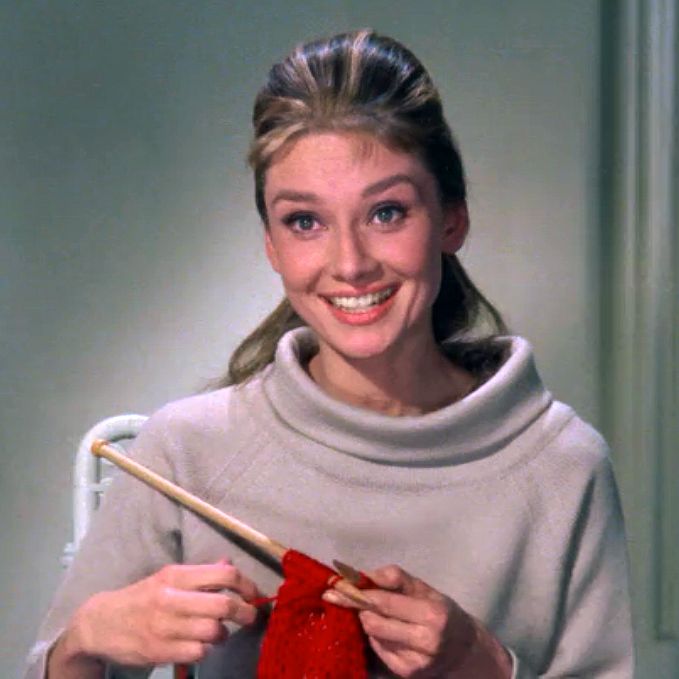 Photo: Paramount Pictures
If you don't knit, you might think the best gift for knitters is some yarn or some needles. And though those are perfectly fine to give — we have a few for each in this gift guide — it's not really as simple as picking up the first ball of yarn and a pair of sticks that you find. So to help you find something that the knitter in your life will appreciate and use, we spoke to a bunch of knitters on what would actually be useful to receive as a gift (and what wouldn't be), from the smallest gadgets to premade patterns and, yes, some yarn and knitting needles.
Best under-$25 gifts
Marcy Handler, an advanced knitter and also my mother, recommends a row counter for a small gift. "You just want to get into the rhythm of knitting and don't want to worry about counting rows and tallying them up on paper," she says. "You don't have to think with a row counter." Every time you finish a row, you press the top down, and it counts the row for you. It only goes up to 99, but Handler says that's more than enough, unless you're making a blanket — which usually doesn't require much row counting anyway, unlike a sweater.
"Stitch markers are essential for every knitter," says Laurel Taylor, owner and knitter behind Alabaster Purl. And Atiya Jones, an advanced knitter, agrees: "Whether you're gifting a novice or seasoned knitter, they'll need stitch markers." Exactly as the name implies, these little rings mark the number of stitches you have within the row so you don't have to count them, and Handler also finds them particularly useful when knitting cables. Taylor likes these markers she found on Etsy because they're "unique and snag free."
But Handler and Jones prefer something a bit more colorful, like these ones from Cocoknits, because they're easier to keep track of and they look nice. "This set from Cocoknits features five styles for varying needle sizes and projects," says Jones. And because they're "easy to lose," according to Jones, these come with little cases for you to plop them in when you're done using them.
Best under-$50 gifts
Chances are the knitter in your life already has a ruler for their projects, but advanced knitter Kris Ray says this wrist ruler is one of their favorite tools, and it's a bit more special than buying someone a tape ruler. "Not only is it supercute, but it is truly a useful tool to measure the length of a project when knitting on the go," Ray says.
For the knitter who is already set on tools and supplies, tickets to a virtual knitting event might be right up their alley. "Knitters love knitting together and learning from each other," says Mara Licole, knitwear designer for Mara Licole Knits. "So many virtual events and classes have started to pop up, so I think this would make a great gift to get through anticipated additional stay-at-home time throughout this upcoming winter season," she adds. Vogue Knitting moved its live knitting series online during the pandemic, so you can access virtual classes and lectures from home for the duration of the four-day event. It has different packages (prices are on its website) where you can get anything from its smallest package of just a single one-hour lecture to its largest package of nine two-hour classes and two lectures. Vogue Knitting hasn't announced dates further than March — but tickets do sell out, so you have to act quickly.
Although yarn seems like an obvious gift to give a knitter, it's a tough gift to buy without a specific project in mind, and if you don't know much about knitting, you might end up with something that's difficult to work with. But Handler says if you really want to buy a knitter yarn, stick to sock yarn because most patterns only require one skein (or about 400 yards), so you won't have to worry about buying too much (or not enough). Neighborhood Fiber Co. is a Black-owned business, recommended by Strategist newsletter editor (and knitter) Mia Leimkuhler, and it has a wonderful array of colors to choose from. (Also: I bought this yarn for my mother for her birthday, and she loved it.)
Handler also likes this skein from Simply Socks Yarn because the yarn itself is dyed to make a pattern — mostly just stripes — when knit up, so it's a "fun surprise" when you see the final design. And it makes the socks look like they took more work than they actually did.
"Mini-skein kits are better than a box of chocolates for knitters," says Ross. "You get a variety of colorful yarns that can make any project sing." Ross enjoys yarn from Leading Men Fiber Arts because they're "full of rainbow goodness." And you can easily "find the colors that best suit your loved one."
If your knitter often makes sweaters (or anything that needs to be sewed together), a blocking mat, which can stretch designs out and make sure that all pieces are the right size, would be helpful. (My sister and I got one for my mom for Hanukkah a few years ago, so I can personally attest to it being a much appreciated gift.)