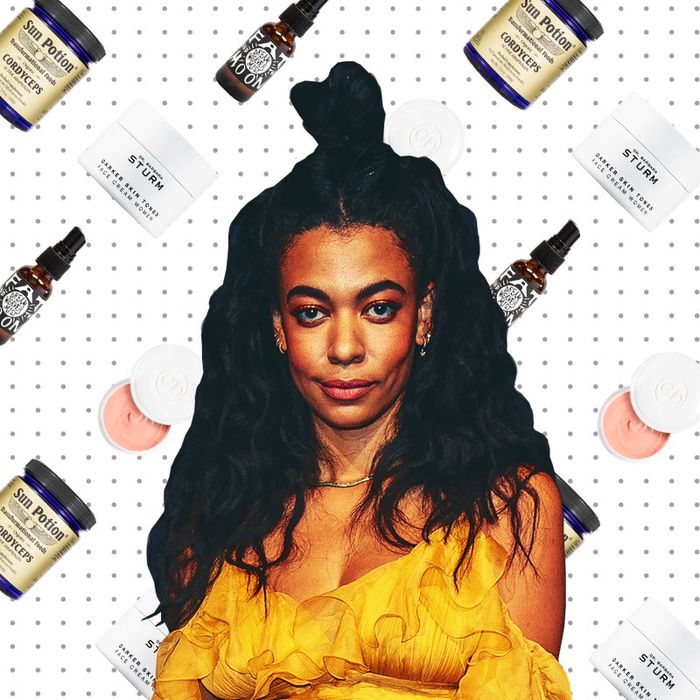 Photo: Marc Piasecki/Getty Images
If you're like us, you've probably wondered what famous people add to their carts. Not the JAR brooch and Louis XV chair, but the hand sanitizer and the electric toothbrush. We asked Brother Vellies designer Aurora James — who is currently partnering with Bombay Sapphire Gin for her workshop at The Other Art Fair — about the cookbook, dream mist, and herbal supplement made with mushrooms that grow from dead caterpillars' heads that she can't live without.
I don't get my nails done that much — I think that's also why I'm so big on nail cream. Nail polish is very high maintenance, and I can't really get onboard with the whole gel thing. Plus, I'm doing things like natural dying all the time for work, and I don't know how that would work out with polish. So I like to keep it minimal, but obviously want my nails and hands to be healthy. I used other hand creams and cuticle creams before this and they were fine — I never really loved them. This one is like one and done; it's for nails, but sometimes I'll just use it for my whole hands. It has a mild smell, not intense. I'm really big on making sure that my cuticles and everything are really moisturized.
To be honest, my favorite thing about this cookbook is the pictures. Seriously. What's special about it is that it's like a style guide for cooking. I don't actually remember any of the recipes that I've cooked, but I always look at it. And when I say always, I mean at least once a month. I do cook all the time, though — I ebb and flow throughout the year, but in the winter I'll usually cook at least five nights a week. I love to make lasagna. That's random, but I love it. I'm also very into making quiche. I bought the Sophia Loren cookbook at Kensington Market in Toronto, when I was about 17, and still use the same copy. That was back when I first got into cooking, when I became vegan. There weren't many vegan restaurants back then — it wasn't like today — so I really had to learn to cook all of my own food. I'm not vegan anymore, but I still love to eat healthy and cook my own food.
I take a lot of herbal supplements: In the winter, I take oil of oregano every day, and I also take echinacea. Cordyceps are a specific type of mushroom that grows on the head of dead caterpillars, and a lot of people who use the stuff miss that part. (How they grow is really horrifying if you go onto Google and search it.) Two of my friends turned me onto Sun Potion's cordyceps — they were like, "Oh my gosh, you have to try them, blah blah blah." And before that, a whole bunch of people talked to me about cordyceps in general at different points because my memory is bad — like so bad. I try to do everything that I can to remember things, and cordyceps are super-helpful for me, especially as a coffee substitute. I make tea with the powder and drink it in the morning. I noticed a difference as soon as I started taking it, right then and there. It's like coffee, but not. Go get some.
I don't know if I've slept better with this, but I've definitely slept more vividly. I can't use it every night — it would be almost like hysteria if I did (I haven't seen Euphoria, but in my mind it would be like that). But on nights when I know I can wake up naturally, or when I want to do design stuff the next day, I spray the mist before bed and it gives me very, very vivid dreams. The last time I used it I woke up in the middle of the night because I was having a crazy dream, but I don't really remember what it was. I've always been very into dreaming. Sometimes mine blend into reality, which can be problematic — especially because my memory isn't great. I'll be like, was that real or a dream?