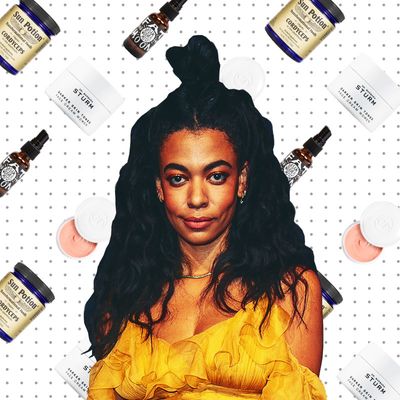 Photo: Marc Piasecki/Getty Images
If you're like us, you've probably wondered what famous people add to their carts. Not the JAR brooch and Louis XV chair, but the hand sanitizer and the electric toothbrush. We asked Brother Vellies designer Aurora James — who is currently partnering with Bombay Sapphire Gin for her workshop at The Other Art Fair — about the cookbook, dream mist, and herbal supplement made with mushrooms that grow from dead caterpillars' heads that she can't live without.
I don't get my nails done that much — I think that's also why I'm so big on nail cream. Nail polish is very high maintenance, and I can't really get onboard with the whole gel thing. Plus, I'm doing things like natural dying all the time for work, and I don't know how that would work out with polish. So I like to keep it minimal, but obviously want my nails and hands to be healthy. I used other hand creams and cuticle creams before this and they were fine — I never really loved them. This one is like one and done; it's for nails, but sometimes I'll just use it for my whole hands. It has a mild smell, not intense. I'm really big on making sure that my cuticles and everything are really moisturized.
To be honest, my favorite thing about this cookbook is the pictures. Seriously. What's special about it is that it's like a style guide for cooking. I don't actually remember any of the recipes that I've cooked, but I always look at it. And when I say always, I mean at least once a month. I do cook all the time, though — I ebb and flow throughout the year, but in the winter I'll usually cook at least five nights a week. I love to make lasagna. That's random, but I love it. I'm also very into making quiche. I bought the Sophia Loren cookbook at Kensington Market in Toronto, when I was about 17, and still use the same copy. That was back when I first got into cooking, when I became vegan. There weren't many vegan restaurants back then — it wasn't like today — so I really had to learn to cook all of my own food. I'm not vegan anymore, but I still love to eat healthy and cook my own food.
I take a lot of herbal supplements: In the winter, I take oil of oregano every day, and I also take echinacea. Cordyceps are a specific type of mushroom that grows on the head of dead caterpillars, and a lot of people who use the stuff miss that part. (How they grow is really horrifying if you go onto Google and search it.) Two of my friends turned me onto Sun Potion's cordyceps — they were like, "Oh my gosh, you have to try them, blah blah blah." And before that, a whole bunch of people talked to me about cordyceps in general at different points because my memory is bad — like so bad. I try to do everything that I can to remember things, and cordyceps are super-helpful for me, especially as a coffee substitute. I make tea with the powder and drink it in the morning. I noticed a difference as soon as I started taking it, right then and there. It's like coffee, but not. Go get some.
I don't know if I've slept better with this, but I've definitely slept more vividly. I can't use it every night — it would be almost like hysteria if I did (I haven't seen Euphoria, but in my mind it would be like that). But on nights when I know I can wake up naturally, or when I want to do design stuff the next day, I spray the mist before bed and it gives me very, very vivid dreams. The last time I used it I woke up in the middle of the night because I was having a crazy dream, but I don't really remember what it was. I've always been very into dreaming. Sometimes mine blend into reality, which can be problematic — especially because my memory isn't great. I'll be like, was that real or a dream?
I started getting into skin care in my late 20s. I remember texting a friend who works for La Mer and being like, "Hey, I think I need some skin cream because I'm starting to get older." She was like, "You don't see that?" And I was like, "No, because I literally only ever washed my face with soap and water, until I was maybe 29." I've been using this serum for probably two years, and I've noticed the biggest difference in my skin since I started using it. It really helps brighten, I don't have as much irritation, and it doesn't make me break out. I also love that it's natural. I've gotten kind of addicted to the smell, too. I make my guy friends use it and they're all addicted as well — I feel really proud every time I get a new one to use it. Because I travel so much, I can't be that person who has 80 different products with her. This one is a really good go-to.
My friend Marie von Behrens told me about Dr. Sturm — she has really innovated in this specific space of darker skin tones. I talk to my friends about this a lot, and even my mom, who has the fairest skin tone of anyone I know. Even though she and I are genetically similar, I notice that her skin and my skin are very different in how they age and break out. We need totally different products. I'm really lucky because I'm not someone who has suffered from cystic acne in a big way or anything like that. I've always had a less is more approach when it comes to my skin; I don't wear a lot of makeup, so I don't have to worry about putting on as much product or removing it from my face. That said, one thing I've always noticed is that there's not a lot of innovation when it comes to products for darker skin types. So when I do find something that's more or less made for me — like this moisturizer — and I like it, I stick with it. I'm a creature of habit. I like how this feels on: It has the right weight, it's thick and creamy, but not too much.
This necklace holds a lot of sentimental value for me. My mom was always really obsessed with the Wizard of Oz when I was growing up. It was our favorite movie. We used to watch it all the time and the emeralds remind me of Oz and my mom. There's something kind of magical about the necklace — I wear it almost every day, and it goes with everything. The first thing I ever bought from the Last Line was a pair of diamond huggies, and I remember striking up a conversation with its founder. I love her. She has a really fun approach to gems and I became obsessed with the brand. Then this emerald necklace came into my life. I'm very lucky. Boyfriends come and go but, as they say, diamonds (and emeralds) are forever.
My grandmother got me into drinking martinis. She was a big martini drinker (she also never wore jeans a day in her life). I think I probably watched her make enough of them that I sort of knew how to make them even before I started drinking them. I did go to bartending school when I was 19, though, which some people don't know. I was a bartender for a little while when I was in college. For as long as I can remember, Bombay Sapphire has been the gin I've used for martinis. There's something about it that, to me, is very fun and fanciful. If I'm having a night out and I decide to drink, part of that is because I want to have fun; I think Bombay has been my gin of choice for that reason. Now that I'm a little older, though, I'm definitely more of a friends-coming-over-to-drink-martinis person. But I think that type of fun is a whole other level.
The Strategist is designed to surface the most useful, expert recommendations for things to buy across the vast e-commerce landscape. Some of our latest conquests include the best acne treatments, rolling luggage, pillows for side sleepers, natural anxiety remedies, and bath towels. We update links when possible, but note that deals can expire and all prices are subject to change.