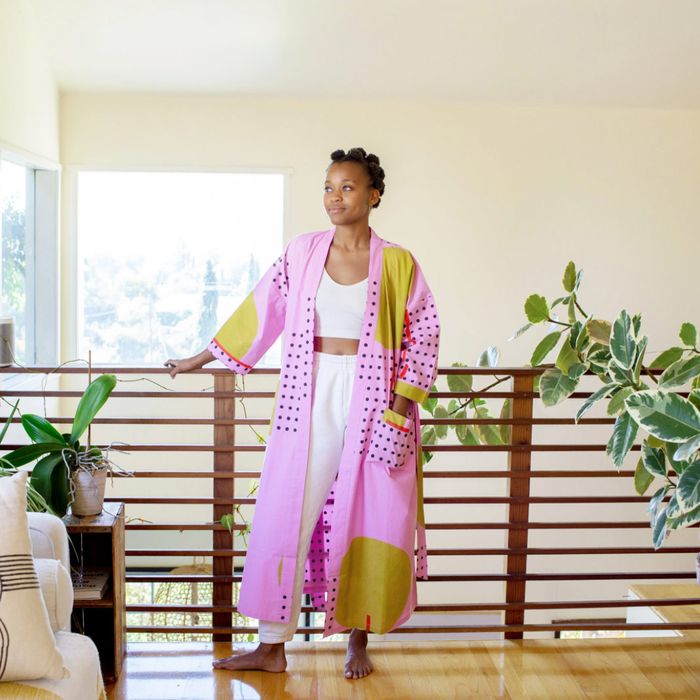 After nearly a year of working from home, we've all developed some pretty strong loungewear preferences. Maybe you're all about matching silk pajamas, or maybe you're more of the waffle-knit type. Or perhaps you like to pair a Zoom-appropriate top with some sweatpants. No matter your preference, throwing on a robe can add even more comfort and a touch of opulence to your at-home look. (Although it may not be the best choice for meeting attire.) Like a bathrobe, you can certainly wear a house robe straight out of the shower, but these are robes that you'd also be happy to keep on over your work-from-home ensemble all day. They're cozy enough to wear for hours and decent-looking enough to step out for a minute or two to fetch the mail. To round up some of the best house robe options, we consulted with 13 of the most stylish women we know, including designers, influencers, yogis, and more.
Best overall house robe
A favorite of three of the women we polled, the Parachute waffle robe earns points for both style and coziness. "It's thin, while feeling cushiony enough to give you those comforting spalike vibes," says Alisha Ramos, founder of Girls' Night In. "I like the waffle texture because it adds a bit of luxe visual interest." She wears hers every day while doing her skincare routine and making a cup of coffee or tea, adding that it's "perfect for lounging." Style blogger Chloe Alysse says the robe is "lightweight and cozy so it's perfect for both crisp mornings and hot summer days." Like Ramos, she tells us that she wears it "all the time now." Alex Yeske, an art director and graphic designer based in Los Angeles, admits that she "was not a robe person until I got this one as a gift a couple years ago." She likes that it has "a very squishy plushness to it," and agrees with Ramos and Alysse that it's soft and comfy without feeling too heavy. "I like layering it over pajamas for weekend morning lounging," she says.
Best cotton house robes
Josie Maran, CEO and founder of the eponymous Josie Maran Cosmetics, says this robe, also from Parachute, "is soft and luxurious and lives up to the 'cloud' in its name." Like the brand's waffle robe, it's airy and light, but with a slightly different, more gauzy texture. Along with your classic white and gray, it comes in some unique robe colors, like a rich mulberry and golden amber. "My routine is to shower, put on my whipped body butter and then wrap up in the robe while I do the rest of my skincare routine," says Maran.
While it's similar to a kimono, this bamboo-printed robe is actually a yukata, a more casual Japanese robe typically made from cotton and popular at hot spring resorts. Made in Kyoto, it's a favorite of Sky Ting Yoga co-founder Krissy Jones, who calls it "light, elegant, comfortable, and beautiful," and says, "I feel more put together wearing this around the house than a regular frumpy terrycloth robe."
Note: This robe is out of stock until early March, but you can email the retailer at customercare@amayori.com to be added to the waitlist.
Style blogger Sara Watson says that she's "usually a traditional robe type of person," but during quarantine she wanted to ditch her classic terry styles for "something that had a little more personality." She found what she was looking for in this bright robe that's been block-printed in Jaipur by fifth-generation artisans. "It's bold, fun, and breaks up the monotony of loungewear day in and day out," says Watson. "I totally plan on wearing this beauty outside as part of an outfit when the weather gets warmer."
"A perk of my background in lingerie and loungewear PR is that I've had every sort of robe you can think of within reach, from ultra-luxury to super wallet-friendly," says Melissa Tate, director at the communications firm Bollare (which, in case you're wondering, does not represent Offhours). Tate's favorite robe, after trying pretty much everything on the market, is this oversized cotton one that's basically a wearable comforter (you can read the Strategist review of it here). "I love sleep, so it makes sense that a robe that quite literally felt like I was still under my covers is my fave," says Tate. "If they made bedding, I'd probably buy that too."
Best linen house robes
Christina Remenyi, founder of Fortnight Lingerie, says she instantly "fell in love" with Lotte.99's kimono-style robe after first seeing it on Instagram. "It has a great shape, drapes beautifully and is a perfect lightweight robe," she says. Plus, Remenyi likes that it's made from upcycled linen so it's a sustainable choice, too.