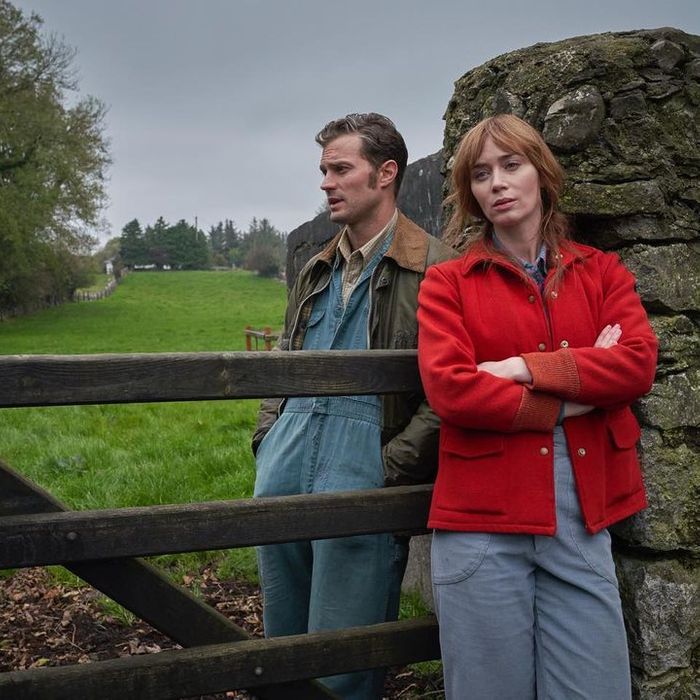 In our advice column, Ask the Strategist, we take your most burning shopping questions and survey friends, call up experts, and draw on our own personal experience to answer them. If you have an online-shopping question of your own, please send it to strategist@nymag.com with the subject line "Ask the Strategist." We're here to help.
I've been obsessed lately with Emily Blunt's bright-red jacket from Wild Mountain Thyme. It looks perfect for unpredictable, chilly spring weather. I've been trying to track it down to no avail. Could you please help, or would you have suggestions for dupes?
The key to tackling unpredictable, chilly spring weather is to layer up. You can easily remove coats or sweaters if it becomes too warm, but when you're not sure how nippy the wind will be or if it might suddenly start misting, you'll be thankful you bundled up. To layer properly, of course, you need a good jacket — and there's perhaps no better one (at least in my own recent memory) than the jaunty red jacket worn by Blunt in Wild Mountain Thyme.
To help track it down, I reached out to Kasia Walicka-Maimone, who was the costume designer for Blunt's character. Unfortunately, she told me the jacket was vintage, and she doesn't remember the brand. Although that means you won't be able to get the exact jacket Blunt wore, Walicka-Maimone told me she believes it was made of wool, so I started there. Because it doesn't seem as if the red color is as important to you as the style, I threw in a few coats in other colors, too. Below, you'll find ten options similar to the jacket Blunt wears in the movie — some vintage, some new; some affordable, some rather budget breaking. And if you need additional pieces of clothing to help you properly layer, check out our roundups for sweaters and long sleeves (or short sleeves), too.
If you'd prefer something new
In my hours-long internet sweep, this is the absolute closest thing I could find to Blunt's jacket — however, it will cost you. This fancy option from AMI Paris is 100 percent virgin wool, so it will be warm yet easy to layer under, like Blunt's, and it even has the same pocket detailing. But if you're looking for something a bit easier on the budget — and who could blame you? — I found lots of other options below.
This doesn't have the same punchy color that Blunt's has — this red, called "hickory heather," is much more subdued. It's also a peacoat style and quite a bit longer than Blunt's. But I think it's a great option for unpredictable weather because it's made from extra-soft Italian lambswool with a Thinsulate liner to add a layer of warmth without bulk.
This single-breasted wool-blend Sam Edelman coat is much longer than Blunt's, but it's still a good option. It comes in a similarly vibrant shade of red, and although the black statement buttons do change the look, you could always swap them for matching tomato-colored ones. (This one's deeply discounted — a bonus — but that means sizes are flying off the shelves.)
If you'd like something vintage