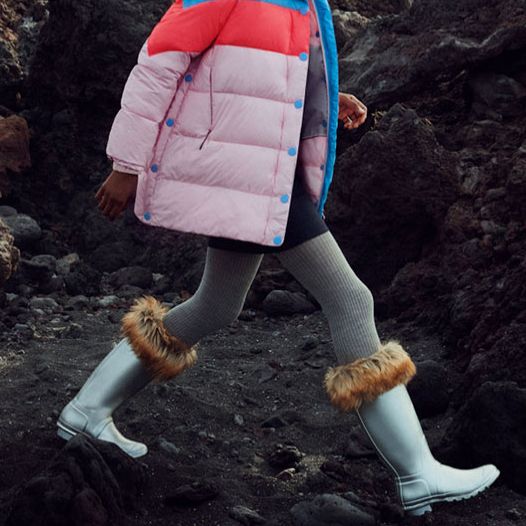 Wearing the wrong footwear when it starts to pour can make for a miserable experience. Step in a puddle and feel water seep through your shoes and socks and you know you're in for a day of soggy, cold-footed misery. We understand the temptation to sacrifice function for fashion, but with the variety of actually good-looking rain boots out there, you don't have to choose one over the other.
Whether you're into classic Wellies or duck boots, or you're looking for bold high-heeled or clear boots, good options abound that will actually keep your feet dry. We spoke to five stylists and stylish women (from rainy locales) and found the 13 best picks.
Best traditional rain boots
These might be an obvious choice, but they're a favorite for a reason. Style blogger Heidi Grey, based in rainy Seattle, says, "They're made from one plastic block, so you don't get any leakage at all." Karrie Meiklereid, creative director for the Style Room at Zappos, calls Hunter "the go-to brand for rain boots," and the celebrity stylists at Erica x Taylor call them a "forever fave."
Newly released, these iridescent, metallic Hunter boots are an unexpected spin on the original. If you want to give your rainy day wardrobe a bright twist, act fast, though, as we predict these will quickly sell out.
They're on the pricier side, but if you're going for a dapper rainy-day look (with your matching Burberry trench and cane-handle umbrella), you might as well go all-in with the boots. Meiklereid says Burberry rain boots are "investment pieces with elegant details will make you stand out in the crowd." The matte black zipper down the front adds some edge.
Best statement rain boots
Two Seattle-based fashion bloggers called out this clear plastic boot as a fun rainy-day choice. Grey loves that, unlike most rain boots, this pair has actual heels. And Dana Landon of It's My Darlin' calls them "a really fun pair [that] would be amazing with some socks like these."
If you want to eschew classic rain boots entirely but still stay dry, follow celebrity stylist Katie Keim's lead. "For me, it's about a chunky, hard leather boot that can take on the elements," she says. "Look for a coated boot or one with a thick rubber sole. Also, look for boots in patent leather because you stay in a cool fashion vein with that material, [and it's] naturally water-repellent." She likes Tony Bianco boots, and these have a subtle Western vibe, with silver studs and a curved upper.
Best duck boots
If Hunter's Wellington-style rain boots are the British contribution to the rain-boot canon, the American equivalent is arguably the made-in-Maine L.L. Bean duck boot. Landon says she's "been wearing these for rain, slush, and mud since high school. I never get sick of them and they last forever."