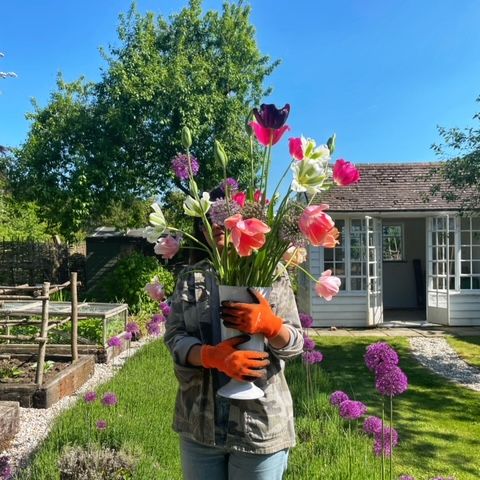 I became an eccentric flower woman sometime between my 40th birthday and the morning I was browsing an antique store in the Cotswolds and discovered the only thing chicer (and more exclusive) than an old Celine crombie jacket was a vintage Constance Spry vase. So I converted a small patch of land at the bottom of our garden, deep in the British countryside in the wilds of Kent, into a cut-flower patch. I bought a bunch of tulip bulbs and dahlia tubers, dug them into the ground, and thought that was it. Oh, how wrong I was. Here's the Murphy's Law of growing your own flowers: The more beautiful the flower, the bigger the pain in the ass it usually is. Flowers are divas. They need the right soil, the right secateurs, the right vase, and particularly the right temperament (lots of patience and the occasional whisper does the trick) to get the best out of them. But here's the thing: It's worth it. Because not only does growing and picking your own flowers allow you to have bunches of jewel-like blooms in your house all year round, the likes of which you will never, ever find in your corner bodega, but the very act of nurturing flowers from bulb to bloom feels akin to a spiritual awakening. I swear, half an hour with my cut flowers feels exactly the same as seven days at a yoga retreat. I've spent four years, almost every waking hour, and literally thousands of pounds on figuring out what works and what doesn't. Here's what you need, from the best gardening gloves to the bots that will change your life.
When you pop flowers in a vase, here's what will happen: They will wilt and die at different rates. It's annoying. But rather than having to pull the entire bouquet out to remove the older flowers (which, by the way, you must do, since dead flowers leave bacteria in your water), just lop off the older blooms with a pair of snips. I know you think a pair of craft scissors will do the same job, but they won't. You need super-sharp, nimble little scissor-type things to creep in and cut. The very best are by Felco and will last a lifetime. This is what all the best head gardeners use for their cut-flower arrangements, a famous garden designer recently told me.
Believe me when I tell you I have tried every single gardening glove on the market and the only ones that really work are not even called gardening gloves. What you need is a pair of builder's gloves (which are usually worn by construction workers). These latex goodies allow full movement of your hands, are usually fleece lined (so perfect in all weather), and best of all, you can chuck them in the wash and they come up good as new. They're also super-cheap.
A flower frog is basically a piece of metal with several menacing spikes on its surface. You simply impale your flowers onto said frog and they will stand soldierlike within your vase. If you've ever seen an exquisitely styled vase of flowers, then at some point flower-frog chicanery will have been employed. Flower frogs mean you can display flowers in any vessel, from ceramic bowls to the hardest-to-fill vase, and they will look cool and elegant. The best are by Japanese brand Niwaki and come in sizes from mini to XL. The most useful to carry in your cut flower kit are three teeny-tiny frogs, which are ideal for those minuscule bud vases that are usually grouped in threes and are terribly in vogue right now. And one XL, for big vases or weighty flowers like dahlias. That's it.
It's back to the builder's yard, I'm afraid, for your gardening boots. Wellies are too restrictive and impossible to crouch in — and you will do lots of crouching when picking flowers — while nothing ruins a pair of leather Doc Martens like damp soil. Believe me; I've lost two pairs. And so the only shoes that combine practicality (waterproof, chunky soled, warm) and style are Australian workman's boots, otherwise known as Blundstones. You want the 584 thermal version, which keep you warm in winter and cool in summer and are as happy in scorched earth as they are in a boggy British border.
The thing about gardening is you always have to haul around more stuff than you think you do. Those pretty canvas garden bucket bags are nice in theory, but the painful reality is you store all your tools in them and then forget where you put the damn thing. So you need a "bum bag" (I believe Americans refer to this as a "fanny pack," which is a phrase guaranteed to turn any Brit the same shade of red as their begonias). Kavu's is big and waterproof and even has a "canned beverage holder" that I use for holding my misting spray (see below). There's enough room for a pair of floral scissors, secateurs, a handful of label tags, and some hand cream. Plus it looks chic.
[Editor's note: Kavu lists all prices in euros, so the price shown here is a conversion to U.S. dollars.]
There is an art to picking your cut flowers (I did warn you they were divas). Simply picking them and putting them in a vase will result in sulky, wilty blooms. Firstly you need to pick at the beginning or end of the day. This is when the plant's water content is at its highest so it won't be such a shock to its system. As soon as you pick them you then need to pop them in a bucket or, even better, a vintage milk pail of cold water and then place them in a dark, cool room for the day. Now, some flowers, namely hydrangeas, will still wilt. That's because they lose water through their petals. The best way to perk them up is to mist them with water. This misting spray is no looker, but it's perfect for the job and so much better than carrying a misting bottle around with you.
[Editor's note: Ebay U.K. lists all prices in euros, so the price shown here is a conversion to U.S. dollars.]
You would not believe how helpful this stuff is. Use it to attach fresh flowers to jacket lapels, string flower garlands together, and create beautiful dried-flower wreaths.
I've thrown away so many pairs of rusty garden tools thinking they were beyond repair. Then I discovered this miracle product. Seriously, it's like Elizabeth Arden's Eight Hour Cream for your tools. It blasts away sap and rust with just a few swipes, leaving tools as good as new.
For a whole year, I made the novice mistake of thinking a pair of regular scissors would do for cutting flowers, both from where they're growing in the garden or when I'm preparing to put them in a vase. Big mistake. Huge. Regular scissors are simply not sharp enough, which results in blunt cuts that leave your flowers open to bacteria. The only thing that gives a truly sharp snip (always cut on the diagonal) is a pair of floral scissors. They are weighty things with Teflon-coated carbon-steel blades that can cut through flowers (and twigs) with one deft snip.
The Strategist is designed to surface the most useful, expert recommendations for things to buy across the vast e-commerce landscape. Some of our latest conquests include the best acne treatments, rolling luggage, pillows for side sleepers, natural anxiety remedies, and bath towels. We update links when possible, but note that deals can expire and all prices are subject to change.