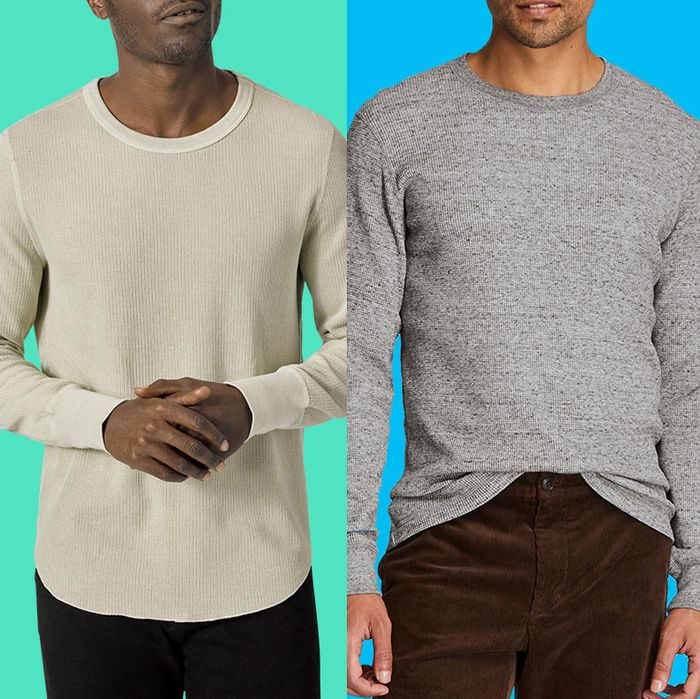 Photo: Courtesy of the vendors
Traditionally made from heavyweight cotton, or a blend of cotton and wool, thermals are a bit more old-fashioned than their high-tech, base-layer counterparts. But if you're not trying to scale a snowy mountain or jog outdoors in January, they are comfortable and effective as insulating layers during winter. Many find natural fibers such as cotton to be more breathable and comfortable than other fabrics, and most shirts in this style have a textured, waffle-knit pattern that gives them a classic vibe (one reason you see thermals at a lot of old-school Army Navy surplus stores). In search of the best thermal shirts, we consulted 11 store owners, menswear experts, and stylists, who pointed us to the 13 options below.
Best crewneck thermals
With three recommendations, Uniqlo's waffle thermal was the clear favorite due to its high quality and low price. Albert Imperato, who shows off his "rugged style" to almost 8,000 followers of his Instagram account @upstatestyleguy, told us that he's been "wearing thermals since high school." But even though he's worn some "beautiful and much more expensive thermals," Uniqlo's are his favorite and the ones he turns to for daily wear. They're "very well priced, and most importantly, formfitting — but not constricting," he says. Celebrity stylist David Thomas and Neil Berrett, the owner of menswear store Standard and Strange, are also fans. If you want to get creative with layering, Thomas likes wearing a vintage T-shirt or short-sleeved button-down over the thermal. If the gray is not your style, it's also available in lots of other classic shades like black, navy, and olive.
Adam Levy at Dave's New York tells us this thermal from Indera Mills is a customer favorite. "They're economical, so they are great for workers who wear them every day and can buy them in bulk," he explains. This one is woven in a raschel knit, which is less bulky than the traditional waffle knit, so it would make a great cold-weather undershirt if you want something a little slimmer with a more body-hugging fit.
Everlane's waffle-knit thermal has the clean, minimalist look the company is known for. It's a favorite of Piper Gore, a personal stylist who works with a lot of men. "Great assortment of colors and only $40 — stock up on these," she says. That assortment of colors includes this navy heather and six others (including neutrals like gray heather and off-white, and warmer earth tones), so there are options that work with almost any outfit.
Both Gore and Tyler Luellen, who runs the men's style Instagram account @tyler368, like this USA-made thermal from Buck Mason. It's a bit more formfitting than the Everlane thermal above, and has more of a vintage look that's similar to some of the more expensive options we'll get to later. It's "double knit" — the outside has a more rugged waffle-knit pattern, while the inside has a softer weave. It also comes in "beautifully weathered color options," according to Gore, who thinks this is a really good price for the quality. It has also has an "incredible fit," says Luellen, thanks in part to the "curved hem."
Luellen told us he's a fan of this Gap heavyweight thermal, which he adds can often be found on sale. This shirt is part of Gap's "1969 Premium Collection," put out to celebrate the brand's 50th anniversary and pay homage to some of its archival designs. It's made from a thick 100 percent cotton fabric with a waffle weave, and has a "V stitch" on the collar referencing vintage athletic wear. Gap also makes a lighter-weight waffle-knit thermal that might be better for layering since it's not quite as thick; it comes in bright colors — at least bright in terms of the generally subdued thermal shirt palette — like red, blue, and yellow.
Berrett likes this heavyweight thermal from Mack Weldon. It's higher price is in part due to the fact that it's made from a high-tech blend of modal, polyester, wool, and spandex, so it will wick moisture better than a 100 percent cotton shirt. It's also "super thick," according to Gore, who is a fan of the henley version (which is made from the same material).
Three people mentioned 3sixteen's waffle-knit thermal. It's also expensive for a plain, 100 percent cotton shirt, but they told us that if you want something special, the quality construction and heavyweight fabric are worth the premium. "You can definitely feel the quality of it against your skin," says Imperato, who has it in this natural, off-white color. "3sixteen is the best in my opinion," adds Luellen. "[It has] heavyweight slub cotton, a great trim fit, and it's made in the USA."
Best thermal henleys
Thermal henleys, with their trademark half-button front, have a lot of fans, too. While crewnecks are generally thought to be the most traditional style of thermal, a heavyweight textured henley definitely falls into the larger thermal universe — and the style can often be more flattering and add a little more flair to an outfit (whether layered or worn on its own over a T-shirt). Tim Melideo, of the menswear site Stay Classic, just bought this Goodthreads thermal henley to wear on a road trip through the Midwest, and he says it really came in handy to wear as an under layer during the day and to sleep in at night.
Luellen likes this formfitting Banana Republic waffle-knit henley, which is made from a cotton-poly blend for maximum breathability. "It feels much more expensive than its price would let on," he notes, adding that it has "nice buttons and a great slubby texture, where some yarns are set up higher than the others to create depth."
Brian Davis, the owner of vintage store Wooden Sleepers, says this thermal henley from L.L. Bean is his favorite. "I stock and enjoy vintage military shirts from the '60s and '70s, but those are harder and harder to come by," he says. Davis likes how this thermal's "hefty wool blend" is similar to the sturdy construction of his favorite vintage thermals. This one has a fuller fit than some of the others on this list, so it would be a good choice if you like something a little looser.
If you're looking for a dressier, slimmer-fitting thermal henley, Gore says you really can't do better than this waffle-knit one from BOSS. "It always looks good," she says. It's 100 percent cotton with a fine waffle-knit texture and besides this nice dark blue, it comes in other sophisticated colors like a winey red and a light camel brown.