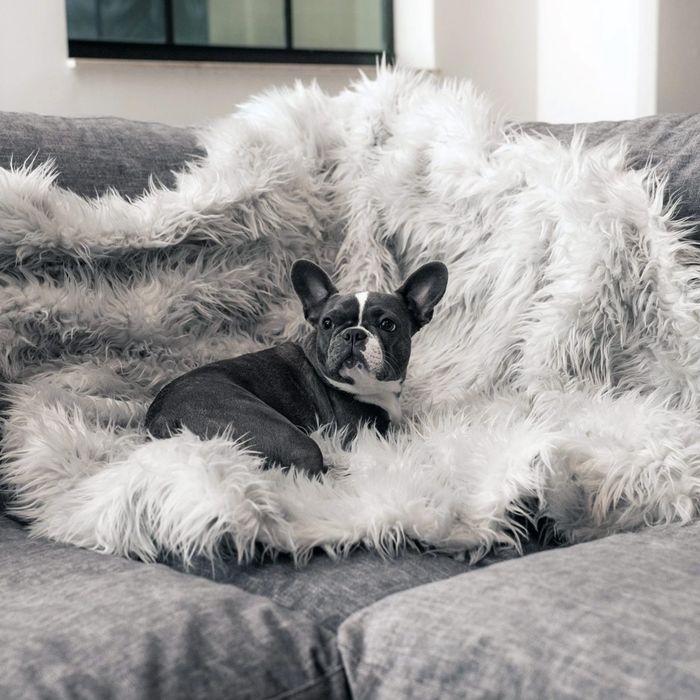 In our advice column, Ask the Strategist, we take your most burning shopping questions and survey friends, call up experts, and draw on our own personal experience to answer them. As always, please email any online-shopping-related queries to strategist@nymag.com with the subject Ask the Strategist — we're here to help.
It has come to my attention that all of my throw blankets are in a horrendous state. What would you suggest for those of us with pets that want to cuddle on the sofa, but who need something less embarrassing than the usual fleece, knits, or sherpa that tears from nails or attaches to fur like Velcro?
As a cat owner who also takes a modicum of pride in the appearance of my living space, I feel you. We all know people who have trained their pets to stay off the couch, but isn't snuggling up with your furry friend one of the best parts of pet ownership? The downside is that pets' shedding and scratching can leave your furniture looking a little worse for wear. We've covered some solutions, like the best vacuums for getting rid of pet hair and the best pet-safe cleaning products for taking care of dog- and cat-related messes, but we've yet to tackle the issue of pet-friendly throw blankets. To help you out, I asked some animal experts and interior designers what blankets they use and recommend. One warning: I know you asked for no fleece or sherpa blankets, but I had to include a few (they're nice-looking ones, I promise!) because experts agree they're often the best at hiding fur and stains, and stand up well to frequent washing.
Best synthetic pet-friendly throw blankets
"A little trick in the interior-design industry is to avoid natural materials when designing pet- and kid-friendly homes," says Devin Shaffer, lead interior designer at Decorilla, an online interior-design service. They're much easier to clean, and "with modern advancements in both materials and fabrics, style doesn't have to be stunted." He loves this polyester throw that features a "linenlike textured weave."
If your main issue is fur shedding rather than scratching, Shelby Semel, senior trainer and founder of Shelby Semel Dog Training, loves this option from West Elm. "I have a white dog, so I buy the white, but I would recommend navy for a dark dog. Then the fur blends right in!" She likes that the blanket is "soft and high quality," but inexpensive enough that she can replace it if needed.
This microfiber blanket, which looks more like a standard, solid throw than a pet blanket, came recommended by two of our experts. Kate Karam, a resident pet expert at Chewy, likes that, along with being machine washable, it's waterproof to protect your furniture from spills and accidents. Nicole Ellis, a pet lifestyle expert and certified dog trainer with Rover, is also a fan, telling us these throws "match furniture very well" and are "soft, versatile, and look nice, too." She also recommends Mambe's waterproof bed blankets if you share your bed with your pet.
Grant K. Gibson, an interior designer and dog owner, understands your frustration about not being able to find a stylish throw blanket that your pets won't destroy. "No offense to dog blankets with cute bones or details like that on them," he says, "but for me personally, I want something maybe a bit more tasteful and that doesn't stand out or interfere with the interior." He recommends this quilted L.L. Bean blanket, which he tells us "can really blend into any interior, traditional or modern."
There's no fleece or sherpa to be found on this double-sided twill blanket, another of Ellis's favorites. In heather gray, it would add some nice visual texture to your sofa or side chair, and since it's also waterproof, Ellis says it's "perfect for your pet to snuggle up on while keeping your furniture neat and clean."
Linen is another unexpected material for a pet throw blanket, and Karam says this faux-linen version has "a semi-rustic look and feel but also reverses to soft plush faux fur." You can have it personalized with a pet's name — which fits in with the trend of customizable pet merch we've been seeing lately. And unlike real linen, you can easily machine wash and dry it, no ironing required.
The houndstooth print on this fleece blanket makes it look a bit more sophisticated than most pet blankets. Kerrie McKeon, a cat expert at the animal welfare and adoption organization Bideawee, says it's the "perfect weight and softness for nesting," so you won't have to do much cajoling to get your cat or dog to sleep on it instead of your off-limits fancy chairs. Plus, it's machine washable.
If you're more concerned with protecting your sofa than your throw blanket, Mikel Maria Delgado, a certified applied animal behaviorist and the resident cat behavior expert at cat-food company Smalls, likes this reversible throw. "I can't say it doesn't attract a bit of pet hair, but I always think the point of couch throws is to keep the pet hair off the couch and on the throw," she says. It's waterproof and machine washable, so you can easily clean the hair off, too. In the red-and-black buffalo plaid print it looks a little Pendleton-esque.
Best cotton and cotton-blend pet-friendly throw blankets
You don't always have to go with synthetics, as Decorist celebrity designer Noz Nozawa demonstrates with this 100 percent cotton throw that can also be tossed in the washing machine. "One of the easiest ways to hide our pets' paw prints and dirt smudges is with patterns," says Nozawa. Thanks to the blanket's double-sided print and "the subtle denimish stain-hiding weave," she says it's an "ideal blanket for pets."
Because they're made from durable and easy-to-clean materials, blankets meant for babies and kids are good options when you're living with pets, too, according to Shaffer. He says this widens your selection of throws, including ones that aren't so obviously designed for littles ones, like this navy honeycomb-patterned quilt from West Elm.
Another strategy, especially for pets who are heavy scratchers, is to look for blankets with bumpy, textural details that are better at hiding claw marks than smooth blankets. "There is an endless selection of throw blankets that already have a unique rough aesthetic so that when your pet scratches it, the damage is substantially less noticeable," says Jing Xue, co-founder and COO of DecorMatters. She suggests these two throws, which have raised stitches and fringed edges, so they aren't too precious.