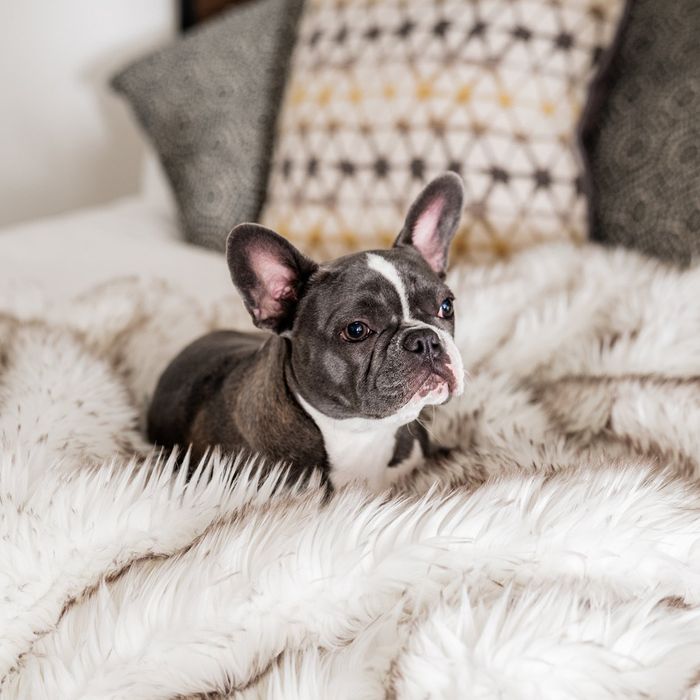 As a cat owner, I understand the struggle of wanting to maintain a nice-looking living space while co-habitating with an animal whose natural behaviors (shedding, scratching, the occasional hairball incident) are often at odds with that goal. We all know people who have trained their pets to stay off the couch, but isn't snuggling up with your furry friend one of the best parts of pet ownership? The downside is that pets can leave your furniture looking a little worse for wear. We've covered some solutions, like the best vacuums for getting rid of pet hair and the best pet-safe cleaning products for taking care of dog- and cat-related messes, and now we're tackling pet-friendly throw blankets. A durable throw blanket can protect your furniture from fur and stains, but it's also important to find one that actually looks good and blends in with your décor. To find the best options, we asked 14 animal experts and interior designers what blankets they use and recommend. Click one of the links below to jump to a specific option or read more to learn about what to look for in a pet-friendly blanket.
Best sherpa | Best cotton | Best faux-fur | Best (less expensive) faux-fur | Best machine-washable faux-fur | Best waterproof faux-fur | Best wool | Best reversible | Best furniture-protecting | Best customizable | More pet-friendly throw blankets
What to look for
Material: "A little trick in the interior-design industry is to avoid natural materials when designing pet- and kid-friendly homes," says Devin Shaffer, lead interior designer at Decorilla, an online interior design service. Instead, she recommends synthetics, which are easier to clean. This is why pet-specific blankets (and ones meant for kids) are often made of acrylic or polyester. Lots of these are cozy fleece or sherpa styles, but if you prefer the breathable feeling of cotton or the warmth of wool, there are some machine-washable options available that are more pet-friendly. Faux-fur is also popular among pet owners because it easily hides actual fur; just be sure to choose one that's easy to clean if you expect any messes.
Durability: There's no objective scale for throw blanket durability, so we've relied on the testimony of our experts here. Does the blanket snag or rip easily from pets' claws or teeth, and can it stand up to the feistiest cats and dogs? After multiple washings, does it look worn out or good as new?
Cleanup: No matter how durable your throw blanket is, there will come a time when you need to clean it. We've specified cleaning instructions for each of the blankets below. Machine-washer- and dryer-friendly blankets will be the best choice, but if you have a relatively neat pet, you might be fine going with a dry-clean-only blanket. If you anticipate accidents, consider a waterproof blanket that will protect the surface underneath.
Best sherpa pet-friendly throw blanket
Polyester microfiber | Texture hides fur and claw marks | Machine-wash, tumble-dry | Waterproof
Lined with soft, snuggly sherpa, this flannel-like blanket comes in a variety of solid colors and plaid prints and is designed to withstand messes. Mikel Delgado, a certified applied animal behaviorist and the resident cat-behavior expert at cat-food company Smalls, likes how well it protects her furniture. "I can't say it doesn't attract a bit of pet hair, but I always think the point of couch throws is to keep the pet hair off the couch and on the throw," she says. It's machine washable, so you can easily clean the hair off, and waterproof, meaning any wetness on top of the blanket won't seep through to your sofa. In the red-and-black buffalo-plaid print, it looks a little Pendleton-esque.
Best cotton pet-friendly throw blanket
Cotton | Texture hides claw marks | Dry-clean only
Cotton blankets aren't always as easy to clean as synthetic ones, but our experts say you can still go with natural fiber as long as you pick a durable option. Look for blankets with bumpy, textural details that are better at hiding claw marks than smooth blankets, especially if you have a pet who's a heavy scratcher. "There is an endless selection of throw blankets that already have a unique rough aesthetic so that when your pet scratches it, the damage is substantially less noticeable," says Jing Xue, co-founder and COO of interior design community DecorMatters. She suggests this throw, which has raised stitches and fringed edges, so it isn't too precious. Because it's dry-clean only, avoid this blanket if you anticipate a lot of messes that'll need thorough cleanings.
Best faux-fur pet-friendly throw blanket
Acrylic and polyester | Hides fur and dirt | Dry-clean only
When we asked interior designers about their favorite throw blankets for non-pet homes, we heard a lot of raves about faux-fur blankets. As it turns out, designers agree that they're among the best for pets, too. As Megan Wright, a designer at online decorating service Decorist, says, "What better way to hide fur than with fur itself?" Decorist designer Noz Nozawa, who loves this Restoration Hardware blanket, tells us, "The great thing about brown and gray faux furs is that they're already the color of dirt and dust," so you can simply shake them off to extend the time between full cleanings. That's a plus, considering this blanket is dry-clean only. If your faux-fur blanket gets matted from your pet licking it (which Nozawa says can happen), she recommends using a dog brush to smooth out any affected areas.
Best (less expensive) faux-fur pet-friendly throw blanket
Acrylic and polyester | Hides fur and claw marks | Dry-clean only
For a slightly more affordable pick, try this CB2 blanket, which Wright says is "sure to hide your dog's fur and add a luxurious touch of texture to your sofa." Sara Malek Barney, founder and principal designer at Bandd Design, also likes faux-fur throws from CB2. She says, "Pet hair just slides right off of it, and claws won't make it through its thickness." It's a safe choice if your main concern is hair and claw marks (but not wetness) because, like the Restoration Hardware blanket above, it has to be dry-cleaned.
Best machine-washable faux-fur pet-friendly throw blanket
Polyester | Hides fur and claw marks | Machine-wash and dry
Although its texture looks and feels similar to that of the luxurious throws above, this blanket has bonus features to make it especially pet friendly: It's machine-washable, and you can throw it in the dryer. Kerrie McKeon, a cat expert at the animal-welfare and -adoption organization Bideawee, says both cats and dogs flock to this plush throw (from the maker of a Strategist-favorite dog bed). "I've seen as many as three or four kittens squeezing onto one, even with other cozy beds and blankets available," she says. "It stays nice and soft even after multiple washings." It'll also hide fur and scratch marks like our other faux-fur picks.
Best waterproof faux-fur pet-friendly throw blanket
Faux fur and microsuede | Hides fur and claw marks | Machine-wash, air-dry | Waterproof
This machine-washable faux-fur blanket is more expensive than the one above, but it's also waterproof and will protect your furniture from any leaks. Shelby Semel, the founder of Shelby Semel Dog Training, has used these with her own dogs, and Amy Kohlbecker, senior manager of Cat World, a home for rescued cats at Best Friends Animal Sanctuary, says they're the "cat-approved favorite blankets" among the sanctuary's hundreds of felines.
Best wool pet-friendly throw blanket
Wool | Resistant to scratches and pilling | Machine wash, air dry
In our roundup of the best throw blankets, Pendleton was mentioned by several designers. As interior stylist Emily Henderson says, "Its plaid patterns are timeless and will never go out of style." Wright adds that Pendleton is known for "durability and quality products" that can stand up to pets. The Oregon-based family-owned brand has been producing wool products in the Pacific Northwest since 1863 and offers a line of machine-washable wool blankets that could work well for pet owners. Available in plaid, stripes, or solid colors, there are options to match a variety of décor styles and tastes.
Best reversible pet-friendly throw blanket