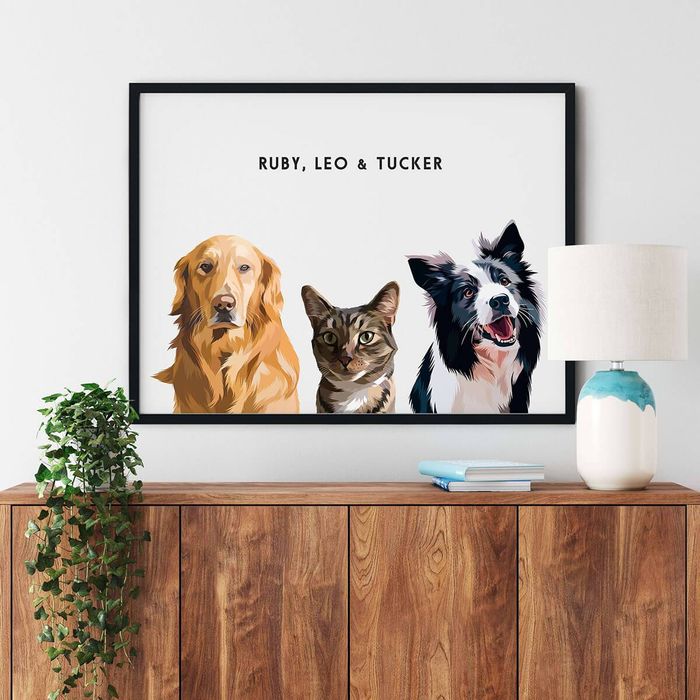 Over the past nine months, my dog, Uli, has served as a furry antidepressant. She makes this adorable, weird crying sound while searching for just the right spot to "bury" her Greenie and then she pretends to push dirt over it with her muzzle. She distracts me from bad news by demanding I throw her squeaky flamingo toy across the room. She forces me to go outside even in the worst weather, and if I'm sad or anxious, she climbs on top of me and perches on my neck in her own little dog version of a hug.
She's an important part of my life — a family member I always want to show off. Clearly, I'm not alone in this desire, because there is an entire industry of customizable pet merchandise out there. The options range from simple engraved jewelry and note cards to Regency-style portraits and miniature stuffed statuettes. Is it a little silly to order magnets with your pet's face on them? Maybe! But it's also a fun way to spark a little joy every time you open the fridge. Whether you're a lifelong animal lover looking to immortalize a new addition to your brood, or a friend of a cat lady looking for a funny and heartfelt gift, we found the best personalized pet merch available, arranged in increasing order of fanaticism.
Dabbler
Turn one of those 10,000 pet photos into a custom rubber stamp so you can add your pet's stamp of approval to notes, letters, and greeting cards.
Artist Leica Lucien (sister of New York Magazine photo editor Lyne) makes pet portraits you can stick on your laptop, notepad, or scrapbook pages. The customized stickers are vinyl and waterproof and come eight to a sheet.
Surprise your pet co-parent with magnets of your cat's (or cockatiel's) face.
Illustrator Samantha Lee creates note cards printed with a watercolor portrait of your dog or dogs. Each order comes with the original four-by-six-inch painting.
Enthusiast
Staud collaborated with artist C.Bonz on this series of custom-embroidered pet-portrait sweatshirts that feature both your pet's image and name.
Strategist newsletter editor Mia Leimkuhler recently got this mini-pendant necklace engraved with her dog Reggie's name. She loves that it looks like a classier version of his dog tag. The brand lets you customize every detail, including material, chain type/length, and font.
For less than a hundred bucks, West & Willow will turn a photo of your pet into an illustrated digital print. Strategist senior editor Casey Lewis had one made of her dog, Bear, and the striking portrait now hangs in her living room. "It turned out so well I'm thinking of doing it for my parents' dogs," she says.
Although you can't get these wineglasses customized with an image of your actual pet, you can choose from many different breeds of cats, dogs, and other animals. Plus, there's the option to add your pet's name in your preferred font. Strategist senior editor Anthony Rotunno has a set of these featuring a Sphynx cat that looks just like his cat Pebbles.
Obsessive
Artist Katie Kimmel specializes in funky, sculptural ceramics. Her custom pet vases come recommended by Strategist writer Dominique Pariso and can be ordered with the faces of one, two, or three pets.
Felting, like rug tufting, weaving, and embroidery, has become super-popular during the pandemic. To make these tiny pet replicas, artists sculpt a base and then apply different colored wools to it by poking it with a long needle. The result is a very convincing miniature of your pet.
Several Strategist staffers have some version of a felt pet sculpture at home. Anthony Rotunno recommends Shelter Pups, the company his mother has used to order a stuffed likeness of his cat as well as three of her dogs. "We actually let Pebs play with hers because it's very cute to see her trot around the corner with her mini-me in her mouth," he says.
Lots of sellers on Etsy offer to tr