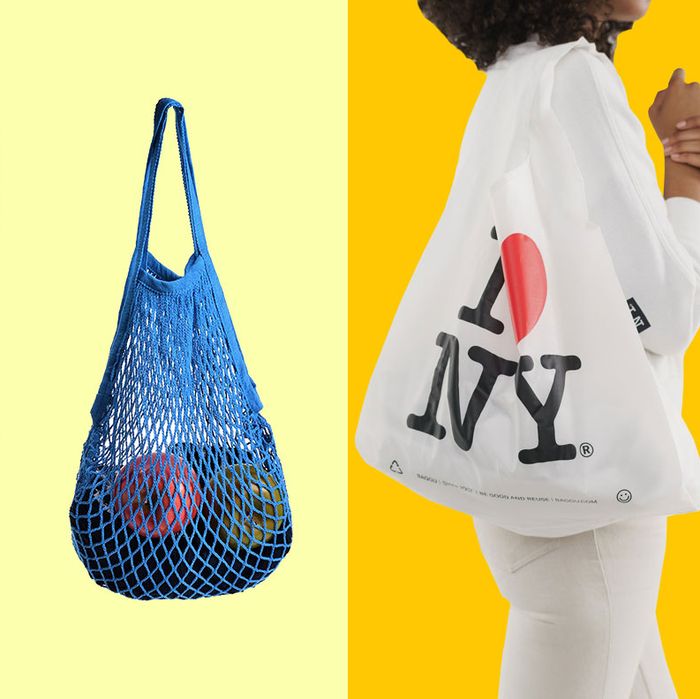 Photo: Courtesy of the vendors
Starting on March 1, 2020, all single-use plastic bags will be banned in New York. That means no more plastic bags at the grocery store (though you still can get takeout delivered in a plastic bag). There are only two options: Pay five cents for a paper bag, or bring your own bag with you when you go to market. And since that five-cent fee is collected per bag, you're probably going to want to bring your own, especially for any big, multi-bag shopping trips.
To prepare for a post-plastic New York, we've put together a list of the best reusable bags that we've written about on the Strategist, including nylon open-top bags and zippered canvas totes. Here are the best reusable bags that you'll actually remember to bring for every kind of shopping excursion, from bodega runs to drugstore trips.
Best packable shopping tote
Photo: kabir fernandez
It's kind of the obvious choice, but the foolproof Baggu, reminiscent in shape to an actual plastic bag, is truly the ultimate no-fuss, carryall tote. Made of ripstop nylon, the standard Baggu's open-top design, carrying pouch, and multiple colorways make it a favorite among Strategist editors and writer, resident cool guy and columnist Chris Black, Coming Soon co-founder Fabiana Faria, and Lisa Bühler, founder of Lisa Says Gah!, who uses it at the beach "because sand just falls out of it." That's because the ripstop nylon is gloriously low maintenance — water-resistant and easy to clean, no matter what spills. Plus, the tote folds into a little pouch, so it's easy to pack into your work bag, backpack, or purse, in case you need to pick up some ingredients for dinner on the way home. And in honor of the forthcoming plastic-bag ban, Baggu has made this limited-edition I Heart NY version.
Best Baggu alternative
If you're over the Baggu craze but still looking for something similar in size, shape, and functionality, author Curtis Sittenfeld loves these reusable bags that also fold up into a pocket-sized package. They also "hold the equivalent of two grocery bags," she adds.
Best carryall tote
Another obvious choice for a shopping bag is the L.L. Bean Boat and Tote, which we've written about at least six different times. This sturdy canvas tote was originally designed for hauling ice, but Strategist writer Hilary Reid uses her set for carrying laundry, water bottles, books, and any other knickknacks she needs to transport (including a desk lamp). Chris Black calls the Boat and Tote "the answer" to the question of whether or not adults should wear backpacks. (Answer: "No. Carry the Boat and Tote.") The structured canvas tote comes in four different sizes and two different handle lengths, and we've found the large size hits the sweet spot for grocery excursions.
Best lined carryall tote
If you like the size and shape of the classic Boat and Tote, but you're looking for something that has less of a chance of staining or getting dirty, try the Hunter's tote. According to designer and potter Jonathan Adler, it's the "bargain of the century." Plus, the tote has a thermoplastic interior coating, making it more water-resistant than its preppier canvas sister. And for those supporting heavier loads, an extra layer of polyester reinforces the bottom.
Best zippable shopping tote
The Lands' End tote bag is the more secure, customizable cousin to the open-top L.L. Bean Boat and Tote. It's zippered and slightly less-expensive, but there are still embroidery options, so you can get a little dog or steamboat sewn on the side if you want. According to Strategist editor Alexis Swerdloff, the totes are sturdy and arrived quickly to her door, and are, like the Boat and Tote, stain- and water-resistant. The medium size and zipper are ideal for those smaller midweek grocery trips, or for securing your laptop during your commute.
Best produce tote
The status bag of two summers past, the netted bag still reigns as the premium produce tote. The flexible cotton netting protects your squash just like a plastic produce bag, and the stretchy cotton accommodates a range of sizes — Parisians even used them in the '60s and '70s as market bags for toting baguettes.
Best oversize tote
This ginormous cotton tote from socially conscious brand Everybody.World is best for when you're making the dreaded toilet paper run, or stocking up on pantry essentials. The thick straps prevent shoulder slippage and the stitching on the bottom reinforces its shape, so the bag feels secure rather than cumbersome. "I can carry all of my essentials without things getting unwieldy," says photographer Danielle Levitt.
Best stain-proof shopping tote
This nylon mesh tote, outfitted with eight pockets, is both stain-resistant and waterproof, even more so than the L.L. Bean Hunter's tote. You can spot clean or rinse it out in the sink, though the mesh repels both dirt and liquid by design. The various compartments will keep your produce organized while still allowing it to breathe, and one reviewer praised its long straps for being "very comfortable, even when the bag is loaded down." For frozen items that might sweat on the trek home, this option won't show any water marks either like a cotton tote might.
Best foldable shopping tote
Chris Black also recommends these basic totes with reinforced straps for everyday grocery shopping and is confident that "any one of them can safely carry a case of Oatly home from Whole Foods." Sturdy straps aside, they fold up flat, making them easy to stack and store when not in use. They are also surprisingly roomy — one reviewer fit over $100 worth of groceries "with lots of room to spare."
Best cross-body shopping tote
Though this tote has top handles, snap closure, and a little inner pocket, the adjustable cross-body strap is really what makes Baggu's Duck Bag stand out. The cross-body strap prevents the bag from sliding down your shoulder, especially when you're wearing a thick puffer. It's machine-washable and the seams are taped, meaning you won't have to worry about stain removal or tears. It easily fits a 15-inch laptop too, so you can still stuff in a few extra groceries on the wa